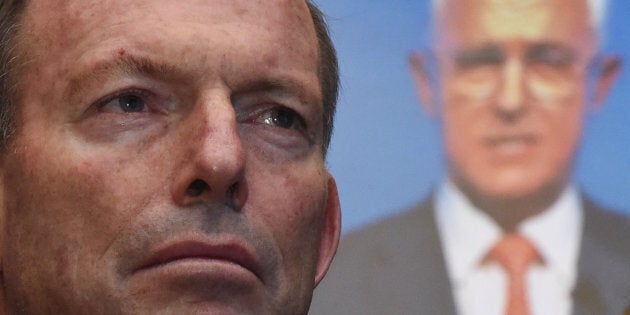 It is a year since Malcolm Turnbull took the prime ministership from Tony Abbott, but the former PM's spectre still looms large over the government.
On Monday's Q&A, the panel debated whether Abbott, now a backbencher, was the reason Turnbull has not been able to implement reform.
An ABC audience member asked: "Tony Abbott was the most vicious Leader of the Opposition at the time of the Gillard Government. Now he's playing the same role as Kevin Rudd in undermining the Turnbull Government. Is it time he shut up and retired to a company directorship?"
Conservative commentator and newspaper columnist Rowan Dean defended Abbott, saying "all he's said is factual things".
"Malcolm Turnbull was panicked by the ABC into the Don Dale commission. He called it the very next morning. That's fine," he said.
Last Friday, Tony Abbott criticised Turnbull's decision to call a Royal Commission, saying he failed to "pause and think" about the implications.
"To criticise that decision is not to say Turnbull is a hypocrite, which is what Kevin Rudd did," Dean said.
"The difference is Tony Abbott is saying, 'I would have done this if I was still in power'."
When asked by Q&A host Tony Jones if he things Tony Abbott "should or could" become Prime Minister again, he responded "Tony Abbott? Certainly."
Shadow Minister for Housing and Homelessness, Doug Cameron, believes the problem lies with Turnbull himself, calling him a "jelly back".
"Doesn't matter, Tony Abbott, Malcolm Turnbull -- because you are going to get exactly the same right wing policies," he said.
"He won't stand up to his own back bench, he won't stand up to the rights wingers and the community has lost confidence in him."
Queensland Greens Senator Larissa Waters said Abbott may as well be still in power because Turnbull is trotting out Abbott's agenda and this is why the public is so deeply disappointed in the new Prime Minister.
"There was talk of climate change action, there was support for marriage equality back before Turnbull was Prime Minister, now when the guy is in a position to actually deliver on those things, he's chosen not to stand for those values."
"I don't think it's Abbott destabilising him, so much as him choosing not to stand up to his own backbench," she told Monday night's audience.
Nationals Senator for Victoria, Bridget McKenzie, said Abbott has every right to express his opinion and his conscience.
"He's doing that because he was an ex-PM. Maybe it has a little more weight. Maybe people pay a little more attention to it than they might if somebody else said it but he's well within his rights," she said.