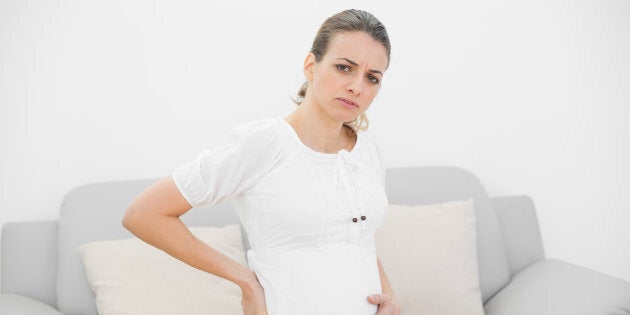 You would never walk up to a non-pregnant woman on the street and touch her stomach, remark on its size or demand it perform in some way, would you?
So why do so many people find that exact same practice acceptable if the woman happens to be expecting?
Welcome to the strange world of pregnancy etiquette, where even the most reasonable people can lose sight of what constitutes acceptable behaviour the minute they spy a bulging belly.
While yes, pregnancy can be an exciting time and, sure, you may find it difficult to suppress your own enthusiasm; it's important to remember the fact someone is pregnant does not mean her body or her business are suddenly common property.
As such, The Huffington Post Australia spoke to etiquette expert and founder of The Good Manners Company, Anna Musson, for the ultimate do's and dont's of pregnancy behaviour. (In a nutshell: if you wouldn't do it when they weren't pregnant, it's probably not a good idea to do it now).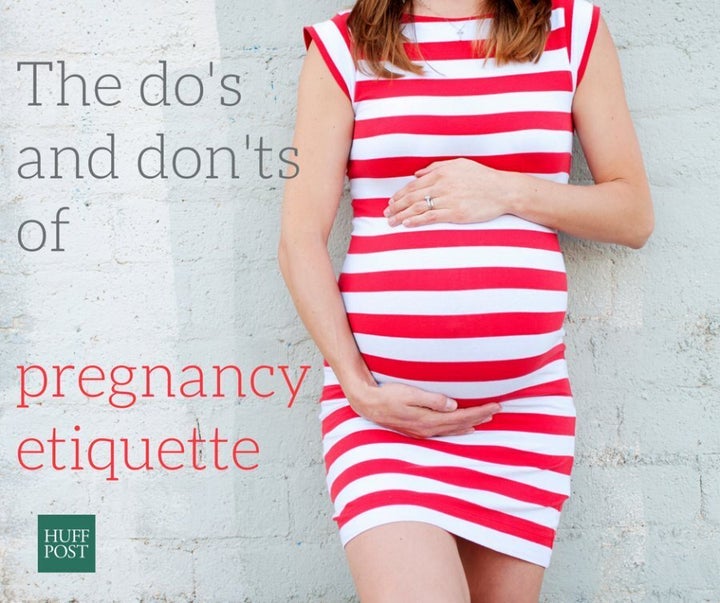 Hands off the bump
"It is not good form to approach a pregnant woman and place your hands on her stomach," Musson told HuffPost Australia.
"One of the biggest faux pas when it comes to pregnant etiquette is touching a belly uninvited.
"You wouldn't do it when they weren't pregnant, so just because they are growing a little human in there, it doesn't give you permission."
Of course, that's not to say all women hate the idea of having their pregnant tummies touched -- some are more than happy for people to get up and busy with the bump. The important lesson to take here is always ask first.
"And be prepared for them to say 'not right now, thank you'," Musson said. "Also think of it from your own perspective. How would you feel if some random person came up and put their hands on you? You probably wouldn't be a fan.
"The same goes for singing to it, talking to it, drumming on it -- any interaction whatsoever. Ask first."
Inappropriate questions
Just like belly-touching is something that seems reserved only for pregnant women, so are questions that would ordinarily be deemed completely inappropriate.
"It is not a good idea to ask a pregnant woman how much weight she has put on or to talk about how huge she looks," Musson said. "Mind your own business.
"The thing is, while you might think it's okay to talk about, she is actually likely to be sensitive about her size and uncomfortable about that aspect of her pregnancy, such as clothes not fitting.
"Pregnancy weight is a very sensitive topic and best avoided, unless you are going to be complimentary."
Other questions Musson recommend you avoid include:
Are you pregnant?
How much weight have you put on?
Was it planned?
Is it a boy or a girl?
What are the names you've chosen?
Are you planning to give birth naturally or via C-section?
Are you going to have the abnormality tests?
During labour, are you going to have drugs or not?
"The answer to all of these questions is 'none of your business'," Musson said.
"What people often fail to take into account is women will often have various levels of privacy, so someone on their fifth baby might be much happier to divulge information than someone on their first.
"My advice would be to err on the side of caution rather than plough right in."
In regards to asking women whether they are having a boy or girl (which this reporter actually thought was on the 'safe list' in terms of acceptable questions), Musson says this:
"Many people actually want to keep it to themselves. A safer question would be 'did you find out the sex?' and that way they can tell you if they feel like it, and you're not putting them on the spot."
Appropriate questions to ask a pregnant woman:

How are you feeling?
Have you set up the baby room?
What hospital have you chosen?
What is your due date?
Have you been well?
Is [your partner] excited?
Unwelcome comments
We've said it before, and we'll say it again. Do NOT EVER comment on a pregnant lady's weight.
"Do not say, 'whoa, you look huge!' or anything along those lines," Musson advised. "If you have to comment on their size, you would be better off saying, 'wow, you look amazing. Like a stick with a bump out the front', or something like that."
Similarly, any mention of swelling ('your feet are enormous!') or other bodily changes should be considered firmly out-of-bounds, unless you are going to pay the pregnant person a compliment.
Finally, it should be assumed your opinion regarding their name choices or birth plans is best kept to yourself, no matter how much you want to tell them you prefer Samantha to Sandra or that a water birth is a stupid idea.
"When it comes to asking about the name of the child, expecting parents will often find that when they share something like 'we've chosen Janet' or 'we really like Cooper', people will have an opinion on that," Musson said.
"That's not on. Firstly, you shouldn't ask about the names in the first place -- it's much safer to ask 'do you have a shortlist of names?' And secondly, if they tell you, only respond in the positive. Even if the names are weird and awful."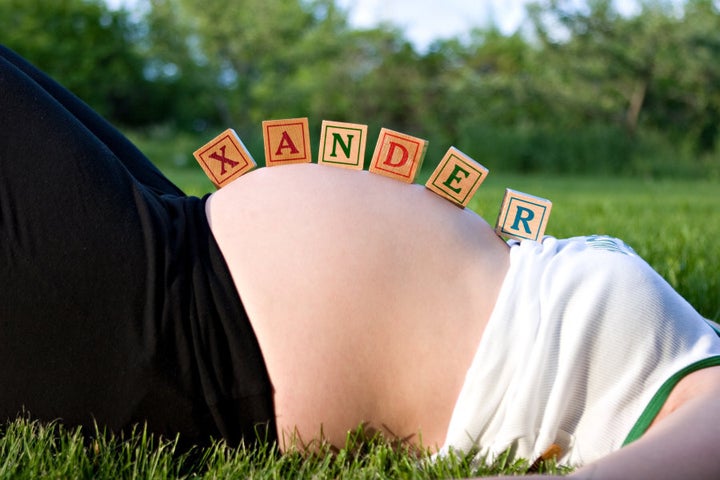 No judgment
"Everyone makes their own choices in regards to their pregnancy or birthing, including what they are going to eat or drink, and it's not your place to say whether or not you agree," Musson said.
"If they are going to have a water birth and choose to eat raw fish during their pregnancy, that is their call. It is not your place to suggest someone shouldn't do something."
Similarly, it is not your place to assume something about someone's pregnancy choices without asking first. A good example of this is alcohol.
"Many pregnant women enjoy a glass of wine in their pregnancy," Musson pointed out. "So if you are hosting an event, the correct thing to do is offer a pregnant woman a choice of beverages, such as water and juice and wine, and allow her to choose what she wants. Do not assume she will only be having the water or the juice.
"It's very inclusive to offer them the same things as you would offer everyone else. It helps them feel normal.
"It's not up to you to police what they put in their mouths."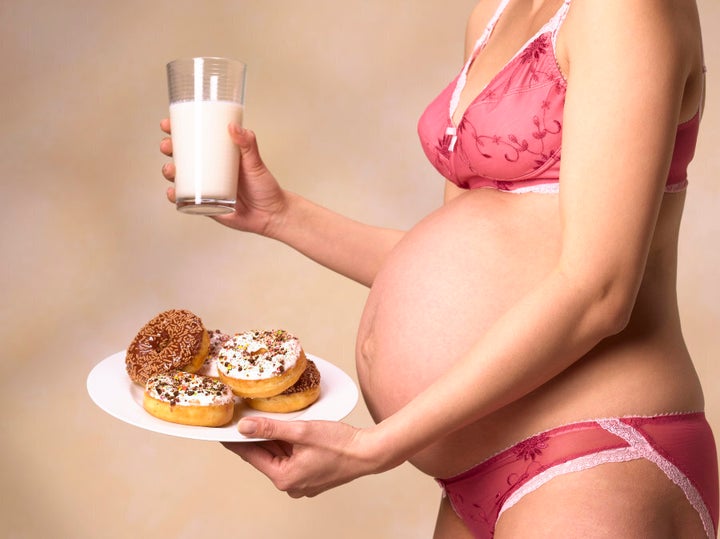 Advice for pregnant women
Finally, a word of pregnant etiquette advice for the stars of the show: the pregnant ladies.
"Pregnancy is really a very special time, and it's very exciting and wonderful to tell your colleagues when you are ready," Musson said. "But be mindful of the details you share.
"For instance, you might tell a colleague you are six months along, but perhaps don't mention how tired you are or how many times you got up to pee during the night.
"Stick to the G-rated, generic version. If they want to know more or sound fascinated, you can go from there. But don't just jump in with all the gory details."