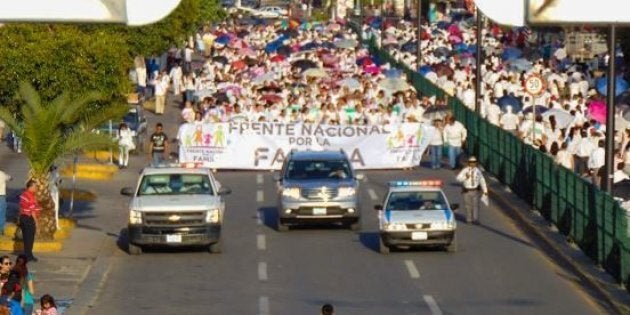 A 12-year-old Mexican boy became an overnight icon after a journalist snapped a photograph of him attempting to block an anti-LGBT demonstration.
The image was shot at a Saturday protest in Celaya, Guanajuato that targeted President Enrique Peña Nieto's proposal to legalize same-sex marriage nationwide. The Celaya demonstration, which drew 11,000 people, was just one of dozens that took place across the country over the weekend following marriage equality victories in Mexico City and nine Mexican states, The Los Angeles Times reports. (Watch a short video of the protest below)
Journalist Manuel Rodríguez originally published the image, which shows the boy standing in the middle of the street with his arms outstretched in an effort to block the oncoming march, in the Mexican publication Regeneración.
Rodríguez's captivating photo has drawn comparisons to the famous "Tank Man" shot of a young Chinese man stepping in front of a line of tanks in Beijing's Tiananmen Square in 1989, just one day after China's military killed hundreds of protesters. It's since been reposted by USA Today, The New Civil Rights Movement, Attitude and Pink News, among other publications around the world.
The journalist told Regeneración that he thought the boy, who has not been named in the media, was "just playing." However, he soon found out that the 12-year-old had a personal reason for getting involved.
"I have an uncle that is gay, and I don't like people hating him," the boy reportedly told Rodríguez, according to a translation of the Regeneración article provided by The Huffington Post.
If a picture is truly worth a thousand words, we hope this one has enough power to start a revolution.