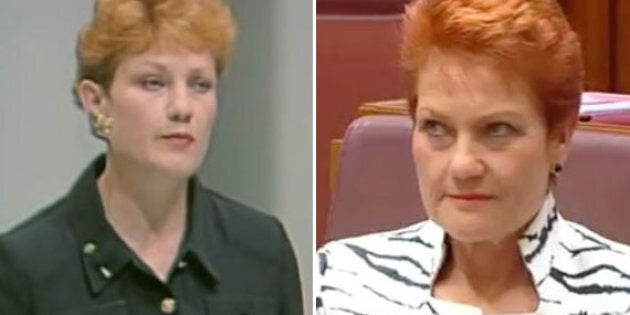 CANBERRA -- Pauline Hanson will on Wednesday make her maiden speech to the Senate.
"Wait, maiden speech?" we hear you ask. "Didn't she already make one of those? Where she was talking about Australia being swamped by Asians?"
Yes you're right. This will be Hanson's second maiden speech, as much of a contradiction that might be. Hanson was indeed elected to the House of Representatives in 1996, and on September 10 where she made the fiery, famous speech talking about reverse racism, denied Aboriginal people were disadvantaged, criticised multiculturalism, and gave a warning about immigration from Asia.
As the ABC has noted, Hanson's fears about being "swamped" were unfounded, with only eight percent of Australia's population in 2011 being born in Asia.
Hanson lost her seat at the next poll. But with Hanson's re-election to the parliament in July, this time to the Senate, she becomes eligible to make another maiden speech. Her second maiden speech will come exactly 20 years and four days after her first.
A maiden speech is generally accepted as the moment a politician "announces" themselves to the world; their new colleagues, journalists, and the nation at large. They are given an extended period of time to speak, with the Speaker of the House telling those present that the new member be given "the usual courtesies" -- including that they won't be interrupted or jeered.
The rare opportunity to speak at length, uninterrupted, is used in different ways by different politicians. Many give heartfelt addresses thanking their family, friends and colleagues, reflecting on their path to parliament. Others talk about the causes close to their heart. Labor MP Linda Burney, the first Indigenous woman to be elected to the House of Representatives and a proud Wiradjuri woman, invited other Wiradjuri women to sing from the public gallery. Derryn Hinch used his first chance at parliamentary privilege to name convicted paedophiles.
It is unclear how Hanson will use her second shot at a first speech. Will she make a fiery speech similar to her first, updated with her concerns about 2016? Will it be a moderate and relatively sedate speech, in an attempt to officially recast herself as the politically powerful lynchpin she has become, leading a trio of other One Nation senators as the fourth-largest voting bloc in the parliament? Or will it be something completely different, catching us all off guard? We'll know from 5pm, when she gets up to speak. You can watch along online here. In the meantime, let's revisit her 1996 speech: