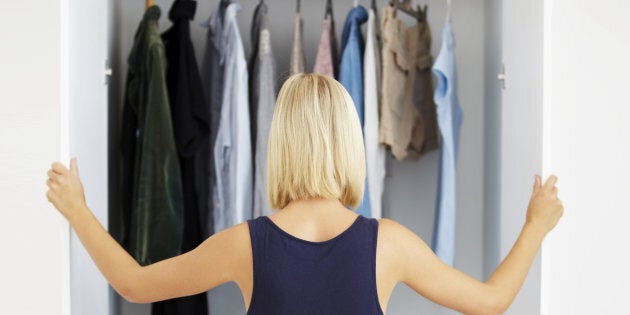 Fast fashion: it hangs on the idea that the more you have, the happier you are, though as anyone who's ever purchased a so-called "look of the moment" would know, speedy style doesn't last.
Does it really surprise anybody? Nope. Because it's become the norm to spend as much as you would on your lunch as you would on a basic white t-shirt.
Aside from the obvious inconvenience of having to spring clean your wardrobe every season (or every other week, for some) the impact it has on the planet is enormous.
With 80 billion pieces of clothing sold every year, the fashion industry is the second largest polluter in the world after oil. Remember that white t-shirt? A huge amount of natural resources were used in its production, from harvesting to the thousands of litres used to manufacture it.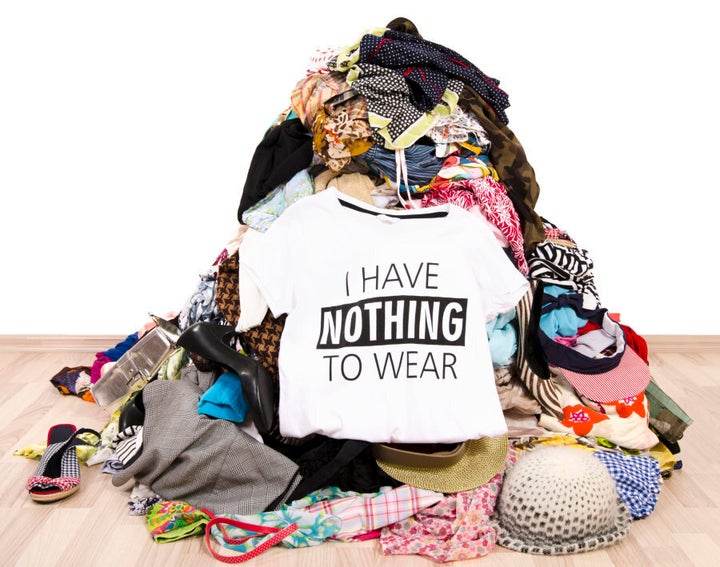 After a couple of washes it will eventually reach its fate -- in the bin -- and on its way to landfill.
It's a lot to take in but as the conversation around sustainability continues to build and such practices become more transparent, the question of how we solve it gets easier. And the best place to start? In your own wardrobe.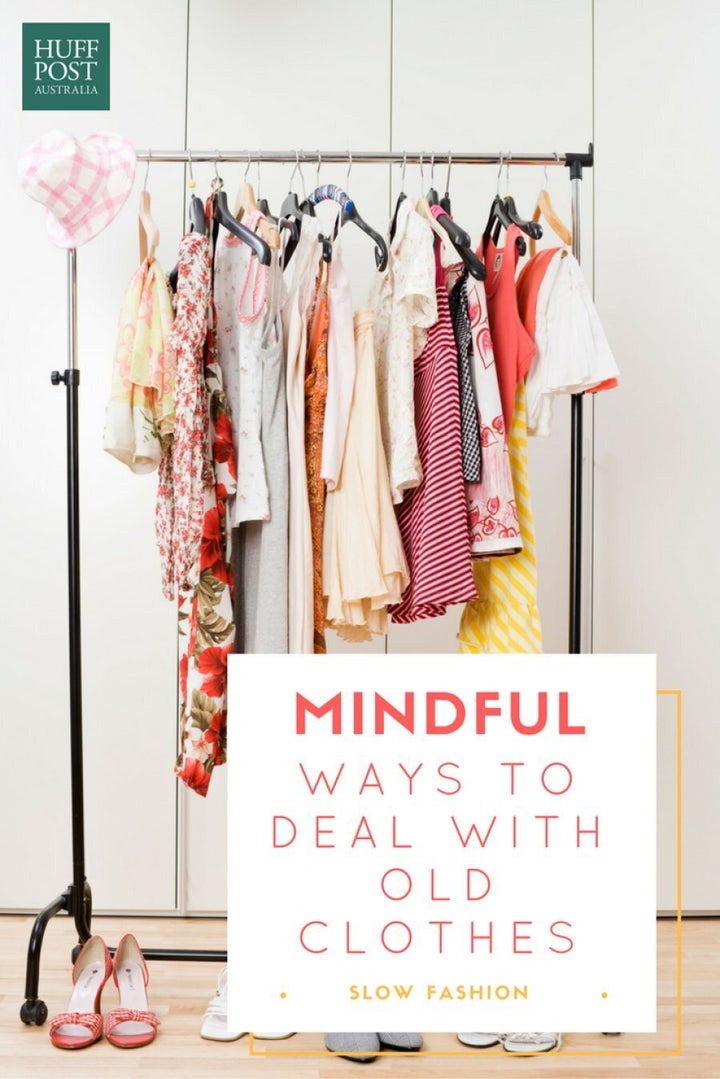 Think before you bin
"This starts even before the purchase -- try to change your habits around clothing in general, the golden rule is always quality over quantity -- and this saves you from having to throw out pieces after one season," Alanah Pickup, fashion editor at Jones told The Huffington Post Australia.
If your wardrobe is on the verge of exploding, Pickup recommends first seeing whether any of the pieces can be upcycled into something else and also, to check with your siblings and friends first, they might love that pair of jeans you were looking at throwing out.
"Another option is to have a clothes swap party, where you invite your friends over and everybody brings the items they no longer want -- one person's trash is another's treasure," Leda Ross, freelance fashion editor told HuffPost Australia.
"Old denim jeans can be upcycled into some denim cut-offs for summer and if you've got lots of t-shirts that aren't in great condition, cut them into strips and use them as rags," Pickup said.
"As for the clothing in good condition -- donate, donate, donate!"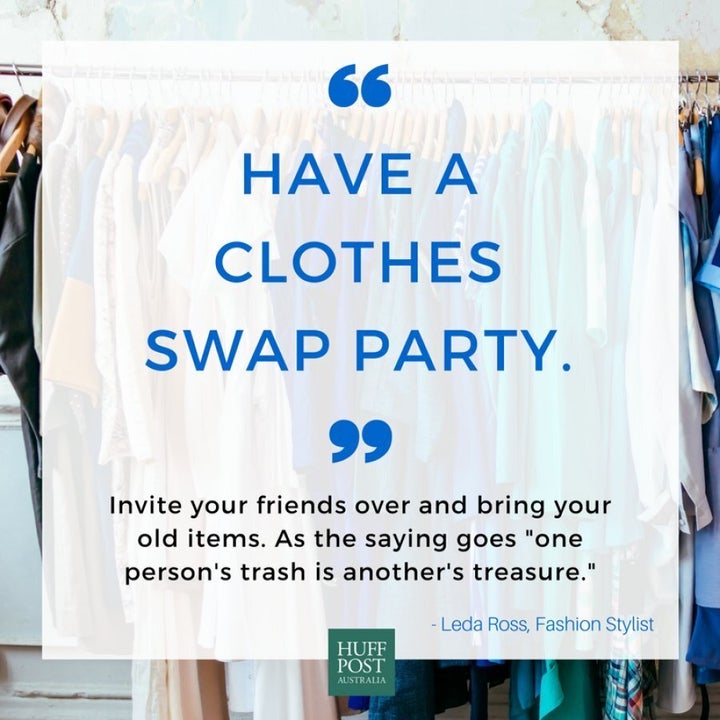 Grab a friend, hold a market stall
If you're only looking to part ways with clothing because you need the space -- and the cash -- definitely look at holding a market stall.
"Even better if you enlist the help of a friend as it splits the cost of actually having the stall -- usually around $60 plus -- and it means you aren't there alone all day," Pickup said.
"The key to a successful stall is being organised -- either price everything individually or have general signs for all items. For example T-shirts, $10, Pants, $10, Sunglasses, $5."
"Make sure everything is at a decent price -- remember you are wanting to get rid of these items and people who come to a market are looking for a bargain -- so make sure you're open to hagglers and 2-for-1 deals," Pickup said.
Donating your clothes? Follow these golden rules

From Jeff McCartney, area manager from the Salvos Stores Eastern Sydney

First and foremost, ensure clothes are washed.
If they are ripped, torn, stained or have pieces missing it's likely they won't make it to the shop floor, only pieces in good condition are sold in Salvos stores.
That said, whatever pieces that are rejected get put in a bale press and are recycled in other ways.
Try to drop your old clothes off in-store during trading hours, so as to avoid them getting wet or contaminated.
Salvos Stores also offer a free pick-up service if you can't make it to a store.
Jump online
"eBay is a great option when you're wanting to sell more higher-end items, or only have a few items to part with -- so not enough to warrant holding a market stall," Pickup said.
Pickup recommends ensuring your photos are clear, on a plain background and show the item on a (human) body -- as it makes it easier for the customer to visualise themselves wearing it.
Similar to eBay, Instagram is also a great way to sell unwanted clothes with many stylists and those in the fashion industry having an additional account, solely for selling items.
"Much easier than eBay, it's free and gives you an opportunity to reach both your friends and wider network. Just be sure you are monitoring your page often to answer any questions," Pickup said.
Join the movement
Slow fashion doesn't have to mean everything you buy needs to be eco, but try and make sure it is ethical.
"Slow fashion brands focus on using local resources and materials and try to support the development of local businesses and skills -– rather than factory produced items," Pickup said.
A good place to start is actually looking in your closet and seeing what you are missing or, what you can upcycle.
"Take an old piece to a seamstress and see what can be done with it within your budget. That long sleeve dress can be altered into a summer shift," Ross told HuffPost Australia.
Slow fashion is about buying less, and fewer purchases of higher quality, designed and created to last.
"Focus on having a curated, minimal wardrobe that can get you through all occasions without the need to buy that fast-fashion piece that you'll likely only wear once and last one round in the washing machine," Pickup said.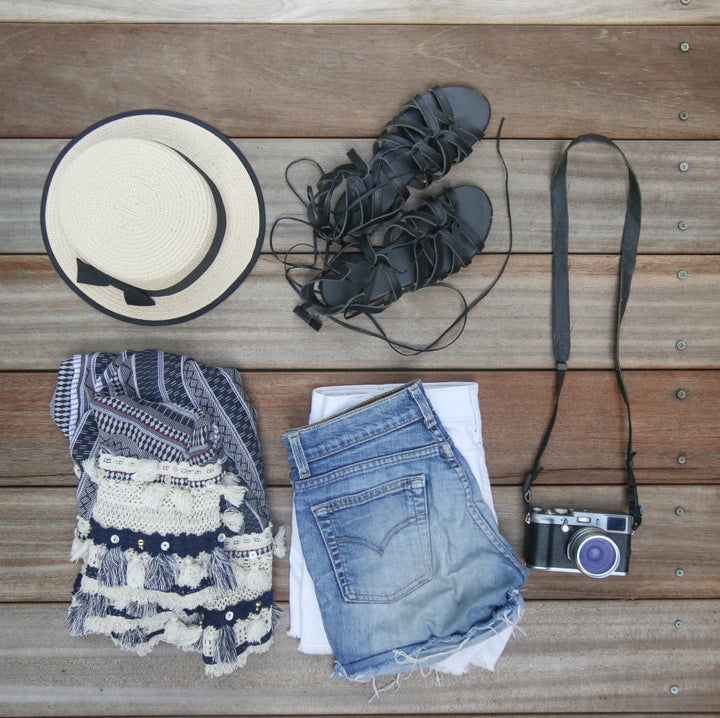 Utilise hire sites
It's not good for the environment (or your bank account) to buy a new dress for every wedding or engagement party you attend, so before you head to the shops have a look at hire companies.
"You can wear a new-season designer dress for half the price and it means you won't have this in your wardrobe for seasons to come," Pickup said.
Further to hire sites, borrow from a friend or sibling!
"There is no harm in checking, if someone has bought a great dress for a different event (and have already worn it!) there is no harm in asking to borrow it, the dress will just be sitting in their wardrobe otherwise," Pickup said.
"Just be sure to have it dry cleaned before returning, and preferably return the dress within a week of wearing it. It also helps if you're open to lending out your clothes too!"