You probably don't know much about Julian Leeser. The new Liberal MP for Berowra, taking in Hornsby and The Hills in the north of Sydney, entered the parliament without the fanfare or established media profile of his fellow newbie members Pauline Hanson, Derryn Hinch, Tim Wilson or Linda Burney. He was just another one of the 39 new MPs and senators to join the parliament this year, a face in the crowd.
"I went to the garage and saw the car was missing," Leeser told the chamber.
"We called the Police and later they came round to tell us that they'd found my father's body at the bottom of The Gap at Watsons Bay."
"There is a point in life when you are supposed to become a man. As I stood on the veranda and watched the sun come up that morning, I knew my day had come."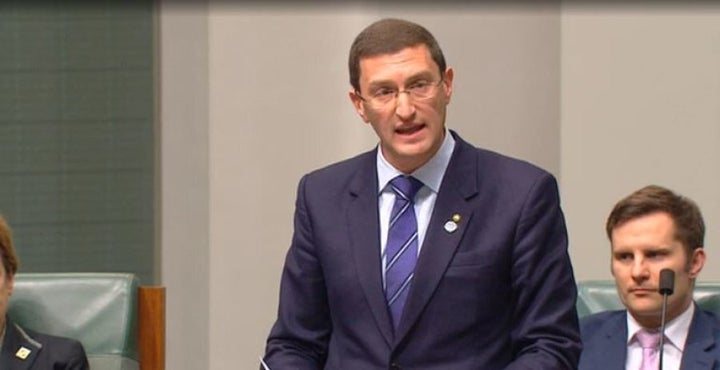 On the back of several landmark maiden speeches in the parliament's opening weeks -- Hanson, Hinch, One Nation senator Malcolm Roberts, Burney being sung to her seat by Wiradjuri women -- Leeser's speech was not previously marked as a highlight. He had the hard task of being not far behind Hanson's fiery, controversial speech. That quickly changed on Wednesday night, social media quickly lighting up as political watchers implored followers to tune in to watch the thin man in the rimless glasses speak from the heart.
"In my electorate over the last eight years, over 100 people have taken their own lives. Despite all the goodwill in relation to mental health policy and a lot of government funding put in here, the figures don't seem to improve," he told The Huffington Post Australia on Thursday.
"I wanted to put on the public record my own experiences with suicide. I lost my father when he took his own life 20 years ago, and I wanted people to know they're not alone and that there are people in this parliament who are going to focus on this issue and focus on reducing the number of people who die by suicide every year."
Leeser said he had been nervous about making the speech, but said he had been buoyed by his inbox "overflowing" with messages of support, congratulations and good wishes from all sides of politics since last night.
"It was such a seminal moment in my life, my father's death," he said.
"Writing the speech, retelling the story, as a very emotional experience for me and the family... but what has surprised me is the reaction across the board to the speech."
"That's very humbling. Often I think people wonder about the capacity of people in this place to do good and connect with ordinary people, so I wanted be able to do some good in this space."
Leeser said his father was 55 when he died, and called for more mental health support for older people, as well as encouraging Australians to have open, honest conversations about mental health and wellbeing. He said sometimes it can be as simple as asking someone "are you OK?"
"The best thing we can do is be aware of the people around us, our family, the people we work with, our friends, even the people you see at the train station of a morning. Think about, do they seem different today? Go up and ask, 'are you OK?' " he said.
"In asking that question you might just save a life."
If you need help in a crisis, call Lifeline on 13 11 14. For further information about depression contact beyondBlue on 1300224636 or talk to your GP, local health professional or someone you trust.