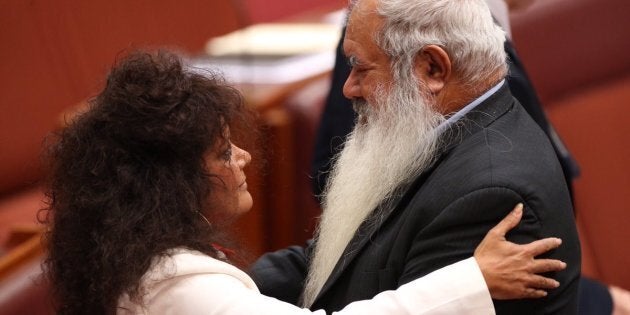 Northern Territory Senator Malarndirri McCarthy has used the public vitriol prompting Adam Goodes' retirement as an example of why the marriage equality plebiscite should be ditched.
Delivering her first maiden speech in the senate, McCarthy called on Prime Minister Malcolm Turnbull to reconsider the plebiscite bill, as she teared up before saying she stands with "the sister girls and brother boys who struggle with their sexual identity."
"Please reconsider your plebiscite bill. Make marriage equality a reality in this parliament," McCarthy urged the Prime Minister.
Speaking of the toll racist abuse in the public domain took on former Swans player Adam Goodes, McCathy said "don't let that happen here to any of these families in Australia".
With an indigenous print draped over her podium, the former journalist voiced her concern for Indigenous inequality as well as marriage equality and urged the Federal Parliament to find a vision for the Northern Territory.
"Is it not time to consider a vision for the north? We need a vision that unites over 100 Indigenous language groups in the NT alone," McCarthy said.
The ALP Senator's speech made a stark contrast with One Nation Senator Pauline Hanson, who preceded her on Wednesday night. Hanson called for a complete halt to immigration and said Australia was being swamped by Muslims (which you can read all about here).
Greens senators left the chamber while Hanson spoke but returned to hear McCarthy's maiden speech, which received a standing ovation.
McCarthy thanked her predecessor and the first Indigenous woman to hold a senate seat, Nova Peris. After speaking, Mcarthy was embraced by Linda Burney who was recently elected to become the first Indigenous woman in the House of Representatives.