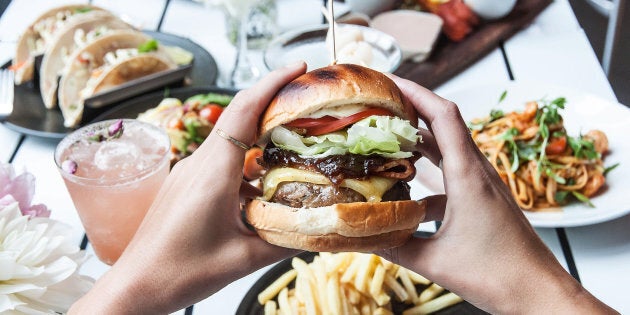 Look, we know there's a day for everything (there's even an Elephant Appreciation Day, aww), but no one can pass up the opportunity to make -- and eat -- indulgent, delicious cheeseburgers.
There's just something about cheeseburgers that we never get tired of. Maybe it's the winning combo of cheese and pickles, or the soft buns and the smoky patty, or the challenge of finishing a burger mountain and becoming the reigning champion amongst your mates.
Either way, burgers are the best -- which is why we've compiled four cheeseburger recipes for you to make and enjoy on National Cheeseburger Day (or any day of the year, really).
These mouthwatering burgers have been created by top chefs, and each has their own tips and tricks on how to make the best cheeseburger.
But the number one tip? Use freshly ground, good quality mince.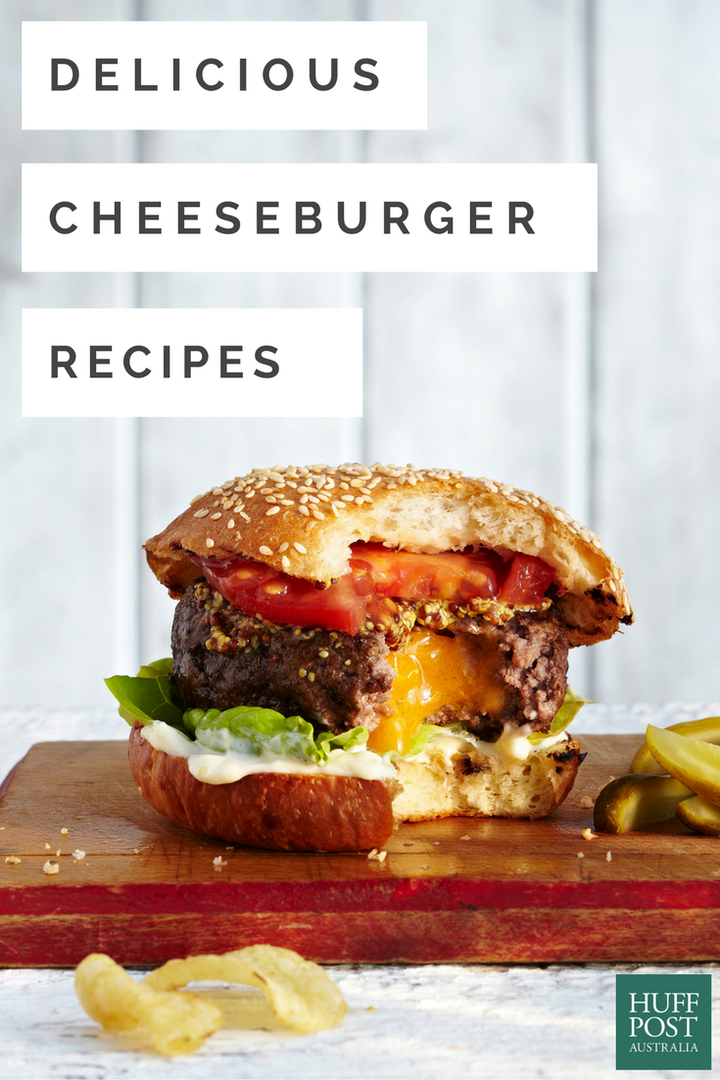 1. Papi Chulo cheeseburger
Papi Chulo burger by executive chefs, Patrick Friesen and Christopher Hogarth.
"Burgers are about a lot of small things done well. This is how we make the Papi Chulo burger," Friesen told HuffPost Australia.
INGREDIENTS
50g ketchup
25g mustard
20g chopped Westmont dill pickles
1 teaspoon Knorr liquid seasoning
150g Angus beef, chuck and brisket cuts, ground fresh
Salt, to taste
Streaky bacon
American cheese
Soft burger bun
Japanese mayo
Iceberg lettuce
Heirloom tomatoes, thinly cut and seasoned
Brown onions, sliced into rings
Dill pickles, sliced
METHOD
1. Pre-heat the grill. Form a patty with the Angus beef and season with salt right before grilling.
2. Slam it onto the grill to flatten. This keeps the meat fibres loosey goosey.
3. Fry some bacon -- use streaky smoked bacon. The best you can buy.
4. When you have a crust on one side of the patty, flip it and immediately add three slices of American cheese so it can melt. Cook to just under medium.
5. To assemble: butter the bun and grill the flat side. You don't want to make it crispy but you want to warm the bun and melt the butter into it.
6. Starting from the top, this is how we assemble the burger:
Top bun
Japanese mayo
Iceberg lettuce -- just one slice, it's not a salad
Heirloom tomatoes -- thin cut and seasoned
Sliced brown onions
Sliced dill pickles
Smoky bacon
Cheese
Angus patty
Burger sauce
Bun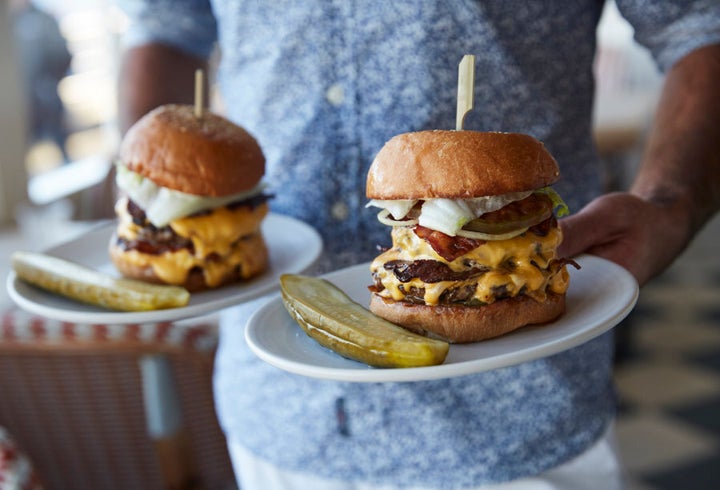 2. The Newport's classic cheeseburger
The Newport classic cheeseburger by executive chef, Sebastien Lutaud.
"Always make sure you have good quality beef that is freshly minced, but keep an eye on it as you don't want to overcook it," Lutaud told HuffPost Australia.
"The cuts of meat are very important to making the texture and flavour of the burger just that little bit more awesome."
INGREDIENTS
4 x 140g beef patties (100 percent grass fed beef, in even quantities of chuck, brisket, rump, blade)
2 vine ripened tomatoes, sliced ½ cm thick
16 slices B and B pickles (if you can't get B and B pickles replace with dill pickles)
Green oak lettuce, leaves cleaned
8 slices American cheese
4 potato buns
40g Kenko mayonnaise
30g ketchup
5g American mustard
4g hot English mustard
METHOD
1. To make the burger sauce, mix all sauce ingredients together.
2. Make the burger: cook the beef patties on a grill to medium, and rest. While resting beef patties, put one slice of cheese on top so it slowly melts.
3. Cut the buns in half, butter and toast the inside.
4. Place a slice of cheese on the bottom base and sauce the top bun with the burger sauce. Then put the patty on the bottom base. Add two slices of tomato, then four slices of pickles, and finally one leaf of lettuce.
5. Pop the top bun on top and you're done. Enjoy!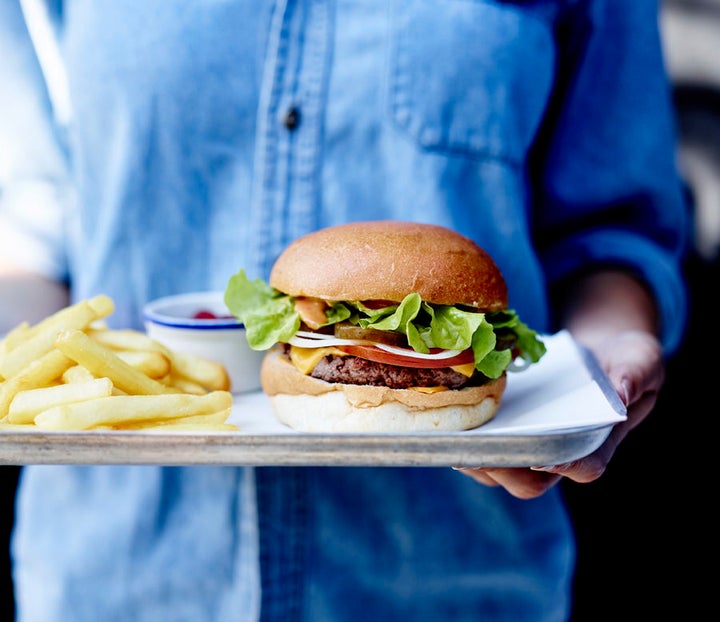 Coogee diner burger
"Think of the bun as the edible napkin. A heavy bread bun gets in the way and leaves you full. The idea behind this burger is that it gives you all the flavour of the ingredients, while the bun is there to hold the burger package together," Toft told HuffPost Australia.
"It is my take on the classic American milk bar burger with traditional condiments and a few slight twists to bring it to the tastes of today, including the burger sauce -- the mix of hot English mustard with American yellow mustard gives it just the right amount of kick that you want in a burger classic."
INGREDIENTS
Bread Top milk buns
6 x 180g portions of minced chuck, skirt, shortrib, aged trim beef (freeze the leftover patties)
American cheese slices
Tomato, sliced
White onion, raw, thinly sliced
Green oak lettuce
B and B pickles
Burger sauce (combine Heinz ketchup, American yellow mustard, hot English mustard and Kewpie mayo)
Smoked streaky bacon, crisped (optional)
METHOD
1. Combine minced cuts of meat into patties and cook to your liking.
2. Cut the buns in half, butter and toast the inside.
3. Place a slice of cheese on the bottom base and pop the patty on top, covered by another slice of American cheese.
4. Add sliced tomato and thin slices of raw white onion. Squeeze on the burger sauce -- I always add a little bit extra on the top bun, as well. Then add the slices of B and B pickles before adding lettuce.
5. If you feel like a bit of extra meat, a couple of smoked streaky bacon strips should do the trick. Then place the top bun on and you're ready for a massive nostalgic flavour sensation.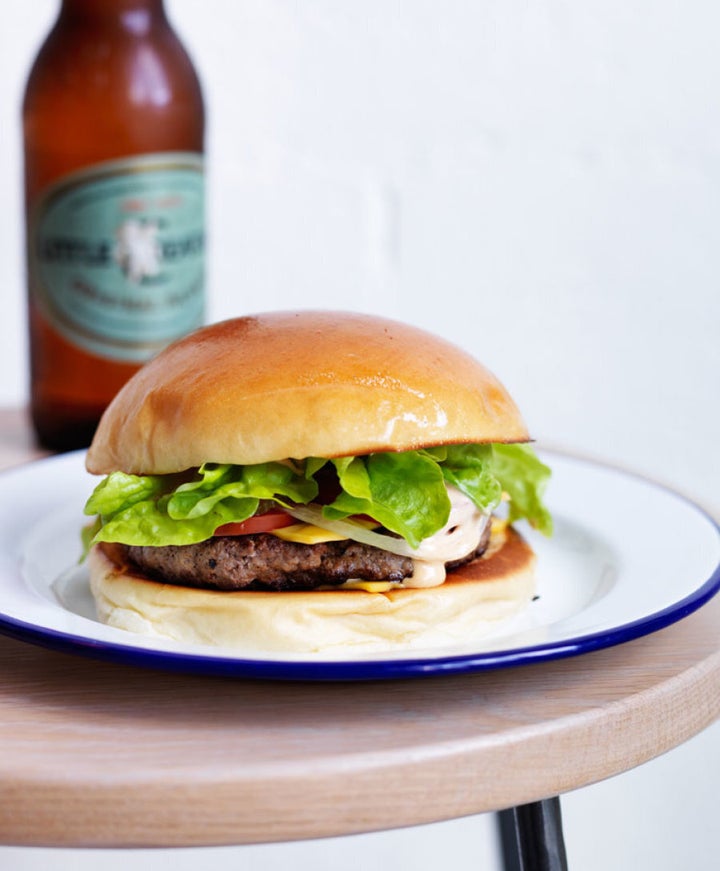 The ultimate cheeseburger
By executive head chef at PHMG, Ben Varela.
"Make sure the bun is soft and warmed through, and use good quality of meat or one with a high fat content," Varela told HuffPost Austalia.
"Swap out your ketchup for a relish and used caramelised onions for a twist. You can change your cheeses up to give a different flavour, too. Try Jack cheese or a smoked cheddar."
INGREDIENTS
680g wagyu mince
8 slices American cheese
½ diced onion
Ketchup
Mustard
2 sliced pickles
4 soft steamed buns or milk buns
60g melted butter
Salt and pepper, to taste
METHOD
1. Make 170g patties and place them on a hot grill. Cook to your liking. Season with salt and pepper.
2. Place cheese over the patties to melt.
3. Brush your bun with melted butter and toast on a flat plate.
4. To assemble, place the bottom bun down, spread with mustard, top with patty and cheese, a sprinkling of onions, sliced pickles and ketchup, then the top bun.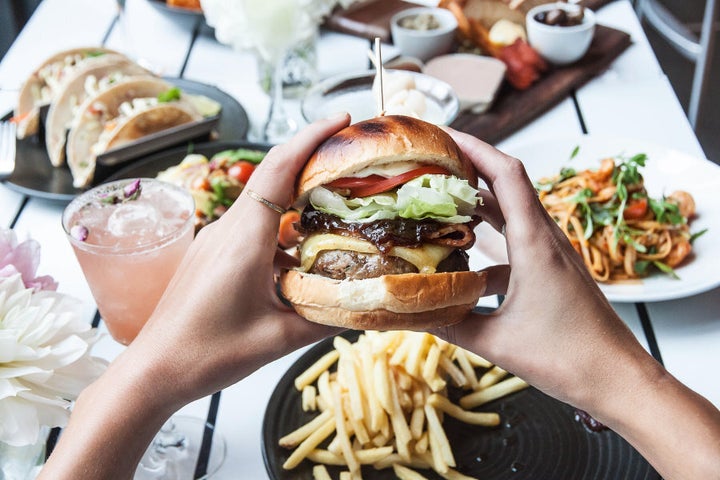 Click below to follow HuffPost Australia on Snapchat!