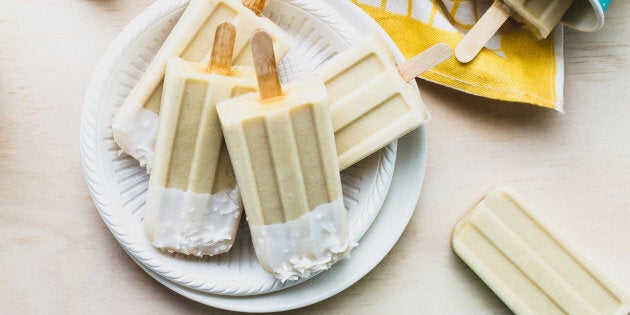 You know it's time for spring and summer when the smell of sweet, fresh, ripe pineapple overwhelms you at the markets. It's a sunny reminder of long days at the beach, weekend adventures and barbecues with your mates.
Aside from eating it plain or in fruit juices (with watermelon and orange, to be exact), there are tonnes of ways to enjoy pineapple -- both sweet and savoury. Yes, really.
To celebrate the sunny, warm months to come, The Huffington Post Australia chose six surprisingly succulent pineapple recipes to tempt your taste buds.
We say surprising because, unless you're a pineapple-on-pizza kinda person, you probably wouldn't expect pineapple to go well with tacos, in salads or grilled with cinnamon. But they do, and these recipes are next level delicious.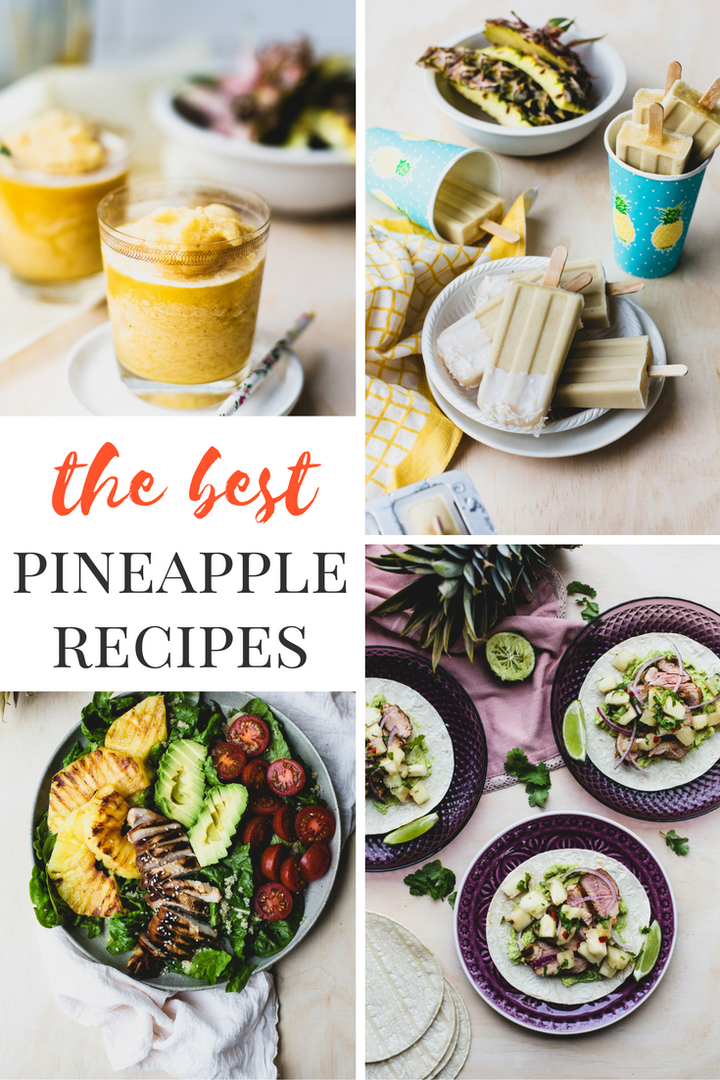 1. Spicy pork tacos with pineapple salsa
INGREDIENTS
350g pork fillet
2 teaspoons olive oil
1 tablespoon peri peri spice mix
½ pineapple
¼ small red onion
Small handful freshly chopped coriander
½ long red chilli
2 teaspoons apple cider vinegar
¼ teaspoon sea salt or to taste
Pinch freshly ground black pepper
1 small avocado
1 lime
8 mini tortillas
METHOD
1. Preheat oven to 180°C.
2. Drizzle the pork with olive oil and sprinkle with peri peri spice mix, rubbing it well into the meat. You can cut the fillet in half to allow it to fit into the pan.
3. Heat a large frying pan over medium to high heat and sear the pork for 5-6 minutes on each side, turning regularly. When the meat is cooked, allow to rest wrapped in aluminium foil for five minutes.
4. Peel, core and finely dice the pineapple. Peel and finely slice the onion. Cut the chilli in half, remove seeds and finely dice the flesh. Finely chop the coriander. Combine the pineapple, onion, chilli and coriander in a bowl and season with apple cider vinegar, salt and pepper.
5. Scoop avocado flesh into a small bowl and drizzle with juice from half a lime. Cut remaining lime into wedges and reserve for serving. Heat tortillas wrapped in aluminium foil in the oven for 10 minutes.
6. Once the pork has rested, slice into 5mm thin slices.
7. To serve, top each tortilla with a spoonful of avocado, 4-5 slices of pork and a generous topping of pineapple salsa. Serve lime wedges on the side.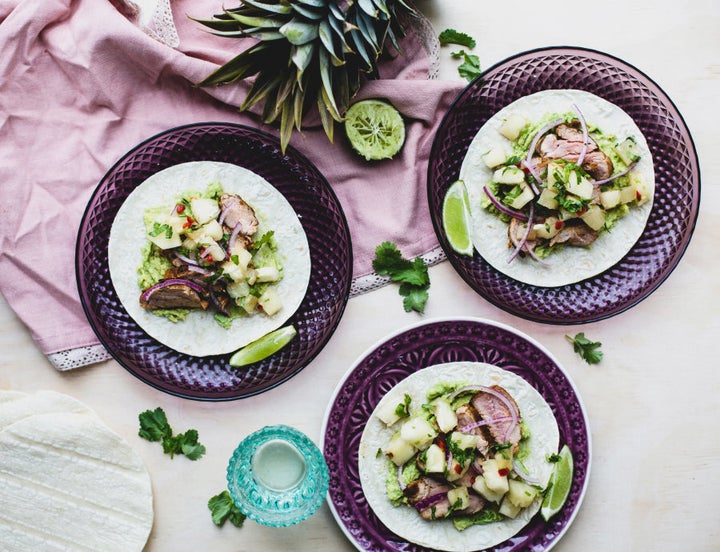 2. Caramelised cinnamon and lime pineapple skewers
Cooking time: five minutes.
INGREDIENTS
½ pineapple
1 tablespoon honey or rice syrup
1 tablespoon lime juice
¼ teaspoon cinnamon
METHOD
1. Peel pineapple and cut into quarters lengthways, removing the core. Slice each quarter into three.
2. In a small bowl, mix together the honey or rice syrup, lime juice and cinnamon. Baste the pineapple wedges with the mixture before cooking in a grilling or frying pan set over medium high heat on each side for one minute, or until caramelised.
3. Remove from heat, serve remaining juices on the side and enjoy immediately. Alternatively, cool and store in an airtight container in the fridge for up to four days or freeze chopped pieces for up to six months.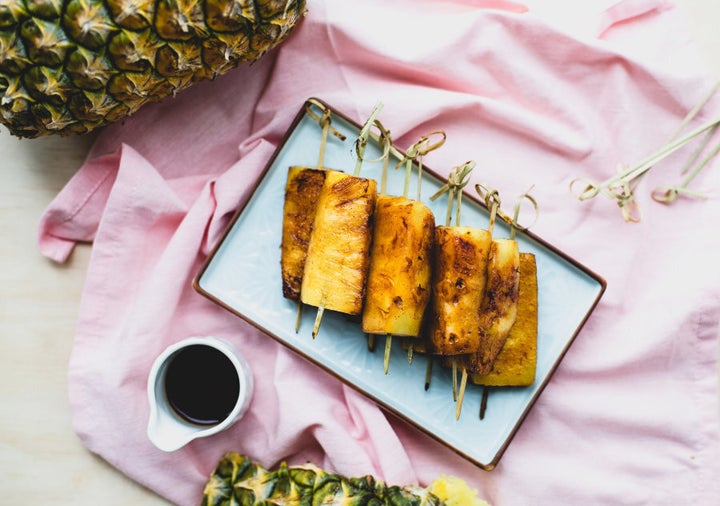 3. Piña colada popsicles
Cooking time: five minutes (plus eight hours freezing time).
INGREDIENTS
3 cups fresh pineapple chunks
3 tablespoons coconut sugar
1 (270ml) can coconut cream
½ teaspoon vanilla extract
¼ cup rum (optional)
¼ cup coconut oil, melted
1 tablespoon shredded coconut
1. Heat a large frying pan over high heat. Add pineapple chunks and two tablespoons of coconut sugar and cook, stirring, until the sugar has melted and pineapple caramelised.
2. Transfer the caramelised pineapple to a blender and add coconut cream and vanilla extract. Process on high for two minutes or until the mixture is smooth and airy. Divide between 10-12 ice pop moulds and freeze for eight hours or overnight.
3. Just before serving, mix melted coconut oil and shredded coconut in a small deep bowl. Dip each popsicle in the oil to create a shell. Serve immediately or place in zip lock bags and store in the freezer for up to three months.
Note: for a grown up version of this treat, stir ¼ cup rum into the mixture before freezing.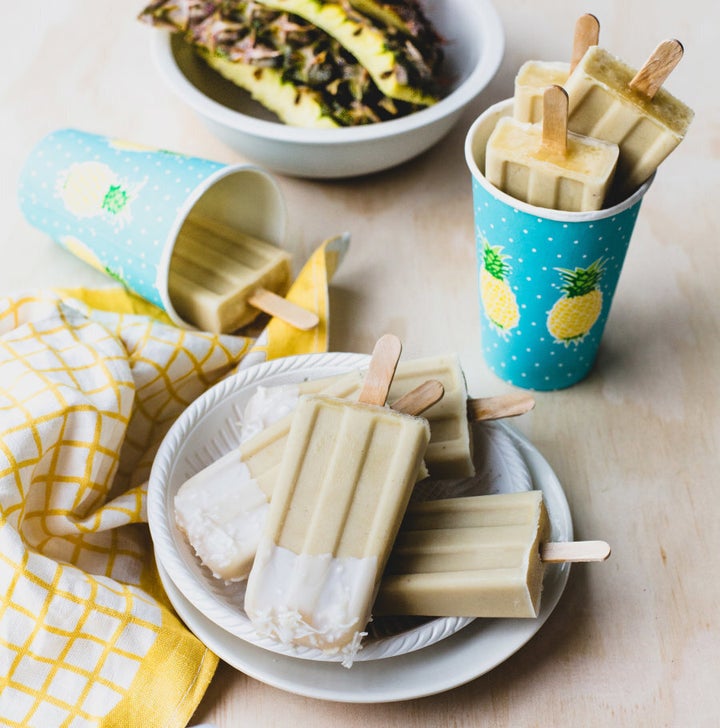 4. Turmeric and pineapple crush
Prep time: five minutes (plus four hours freezing time, if using fresh pineapple).
INGREDIENTS
1 cup pineapple chunks, frozen
½ teaspoon turmeric powder
¼ teaspoon cinnamon
¼ teaspoon ginger powder
Pinch ground cloves
1 cup green tea or coconut water, chilled
METHOD
1. Place all ingredients in a blender and process until slushy. Divide between two glasses and serve.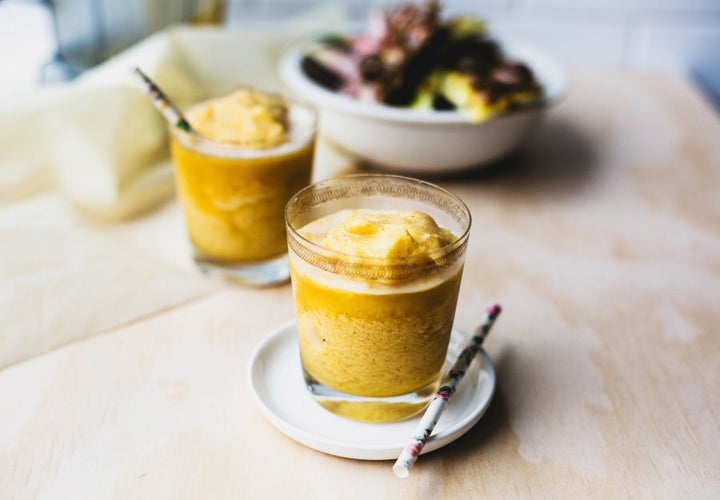 5. Teriyaki chicken and grilled pineapple salad
Cooking time: 15 minutes.
INGREDIENTS
3 tablespoons tamari
1 teaspoon honey or rice syrup
1 teaspoon sesame seeds
2 chicken breasts
½ pineapple
1 baby cos lettuce
½ cup cooked quinoa or rice, cooled
12 cocktail or large cherry tomatoes
2 small avocados
2 teaspoons sesame seeds
METHOD
1. In a large bowl, whisk together the tamari, honey or rice syrup and sesame seeds. Add the chicken breast and mix well. Marinate for five minutes.
2. Meanwhile, peel and core the pineapple and chop into 1cm thick slices. Heat a large frying pan or grill pan on high and cook the pineapple slices for one minute on each side. Remove from heat. Add the chicken to the pan, reduce heat to medium high and cook on each side for 5-6 minutes.
3. Slice the cos lettuce and divide between two serving plates then sprinkle evenly with quinoa. Cut tomatoes in half, scoop the flesh out of the avocado and arrange both on top of the lettuce along with the pineapple. Slice chicken into strips and transfer to the salads then sprinkle with sesame seeds.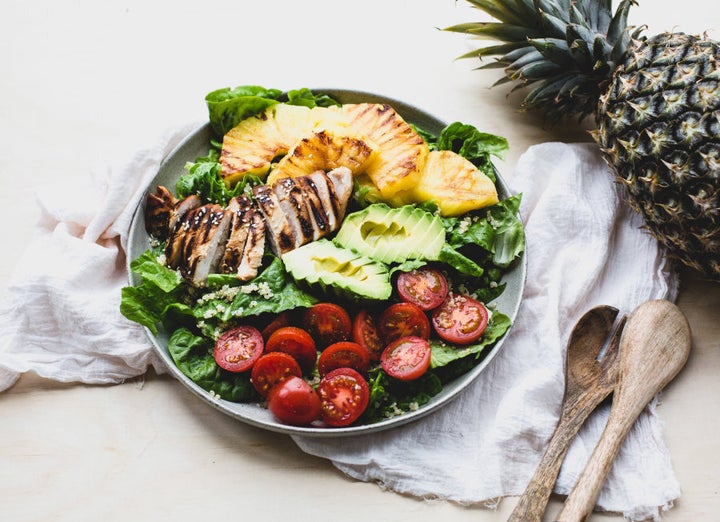 Click below to follow HuffPost Australia on Snapchat!