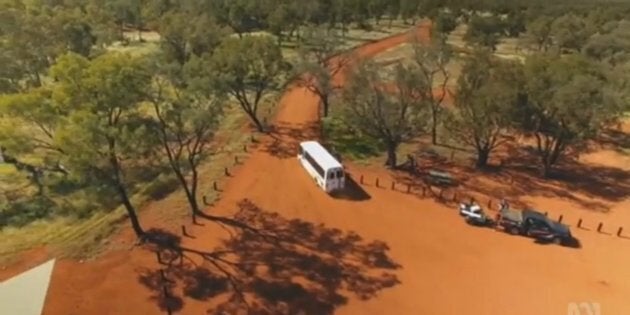 It's no secret that Indigenous Australians are disproportionately represented in Australia's justice system, and the country town of Bourke in north-west New South Wales is no exception.
Bourke has the highest rates of domestic violence and offences committed by young people in the state, and Aboriginal children make up a large part of that statistic.
Now, the town of 3000 is home to the Justice Reinvestment program, which funds community programs to reduce incarceration rates and the number of people reoffending.
Aboriginal Legal Service solicitor Sarah Hopkins is head of Just Reinvest NSW. She brought the idea to Bourke from the United States.
The program has joined forces with a local Aboriginal group called Maranguka to help facilitate change.
"Justice Reinvestment is really about spending more on communities and less on prisons," Hopkins told Four Corners on Monday night.
"So, it involves working out ways that you can shift resources out of the prison system into early intervention and crime prevention and diversion."
Four Corners visited Bourke to uncover the change already sweeping the town, with the introduction of driving lessons, early education programs and a collaborative approach with the police -- all aimed at getting to the bottom of the underlying issues of juveniles offending.
The local rugby team, Bourke Warriors, has also taken a public stance against domestic violence and made players sign a code of conduct. If players are violent, they are benched for three games.
Authorities are also responding to domestic violence incidents early, with Constable Greg Moore leading early visits to perpetrators and victims, often with a health worker who specialises in substance abuse.
Of the 70 to 80 homes police have visited early -- to let couples know they can call authorities for advice before an incident gets out of hand -- no one visited has re-offended.
"I actually don't think you could run a justice reinvestment initiative without the police at the table. From the outset, the police have been very much at the table in this project," Hopkins told the program on Monday night.
Nine out of ten boys in Bourke who are incarcerated re-offend within 12 months, so the consultative approach has been extended to reduce offending rates of young people.
Police are becoming more consultative and youth who break the law are given a chance to engage with local community leaders and address the underlying reasons for their behaviour.
As part of the Justice Reinvestment initiative, Peter Mackay is also teaching teens how to drive for free.
In just nine months, Mackay has helped 50 people get their 'L' or 'P' plates and the number of people jailed for driving offences in Bourke is currently the lowest in a decade.
Many of the young people involved have no one to teach them to drive and can't afford private lessons, so these lessons can be the difference between finding employment and jail time.
The number of people jailed for driving offences in Bourke is currently the lowest in a decade.
NSW Community Services Minister told Four Corners the issue is "beyond politics".
"I think that generally across Australia there is an earnest willing energy about trying to do something different -- they're just not sure what it is," Hazzard said.
"We've had a couple of hundred years of, really, complete failure. And how we now approach the experiment in Bourke is important, I think, across Australia. Australia will be watching."