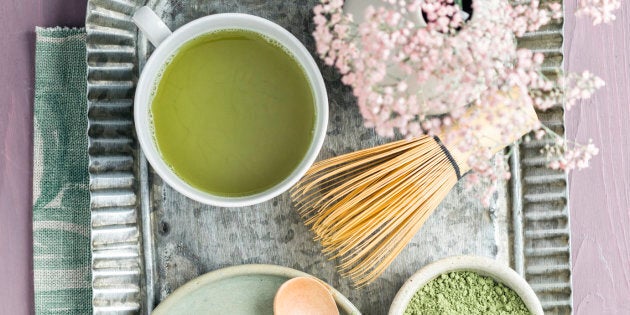 'Superfoods' can be a bit hit and miss. While some taste great (hey there, acai bowls) others taste like grass, quite literally (we're looking at you, barley grass powder).
Matcha is one which many people love. While it's considered a superfood by some people, matcha is part of an ancient Japanese tea ceremony and was around long before we started adding chia seeds to our smoothies.
To learn about this vibrant green tea powder and the myriad ways to use it, we spoke to Sarah Holloway and Nic Davidson, the co-founders of Matcha Maiden which source pure, certified organic matcha from the birthplace of matcha in Kyoto.
"The ancient matcha tea ceremony, also called 'The Way of Tea', is a Japanese cultural ritual traced back to Zen Buddhist monks," Holloway told The Huffington Post Australia. "It has evolved over many centuries into an elaborate and fundamental part of Japanese culture."
The ceremony involves the choreographed preparation and serving of matcha using graceful and precise hand movements, and the ceremony can vary depending on different levels of formality.
"It requires special tea utensils to perform, can take hours of preparation and many years of study to perfect," Holloway said.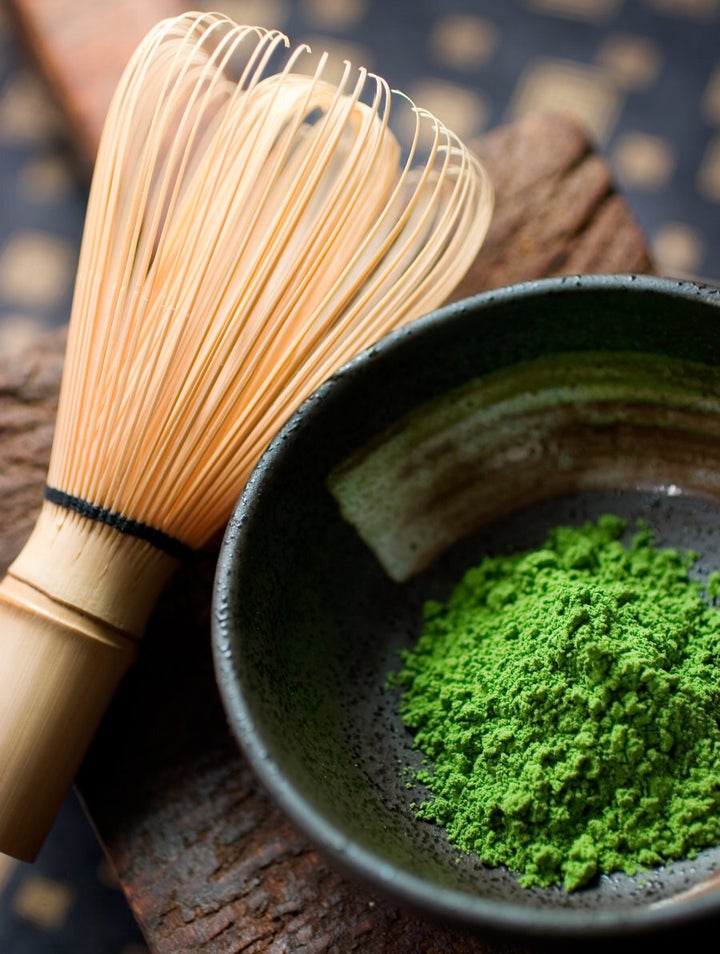 "The tea ceremony is not just about drinking tea. It is quite a spiritual and transformative practice based on four underlying principles: harmony, respect, purity and tranquillity.
"The ritual brings people together to truly connect with each other, mindfully appreciate the experience of the tea, and peacefully enjoy the now. Guests are encouraged to leave the worries of the world at the door and enjoy a moment of serenity, grace and beauty together in a calm and clean environment."
If you've never tried this green tea powder, the best way to describe it is earthy and subtly sweet.
"[The taste] can vary (some would say significantly) depending on the quality of the powder, but matcha generally has a similar flavour to regular green tea, only more full bodied and earthy," Davidson told HuffPost Australia.
"It can range from quite bitter to quite sweet when enjoyed on its own, and this flavour can be enhanced or muted by adding other ingredients and textures."
Essentially, the experience varies significantly depending on how adventurously you use matcha.
"But that's the best thing about matcha -- you can experience it in so many different ways so there is something that suits everyone," Davidson said.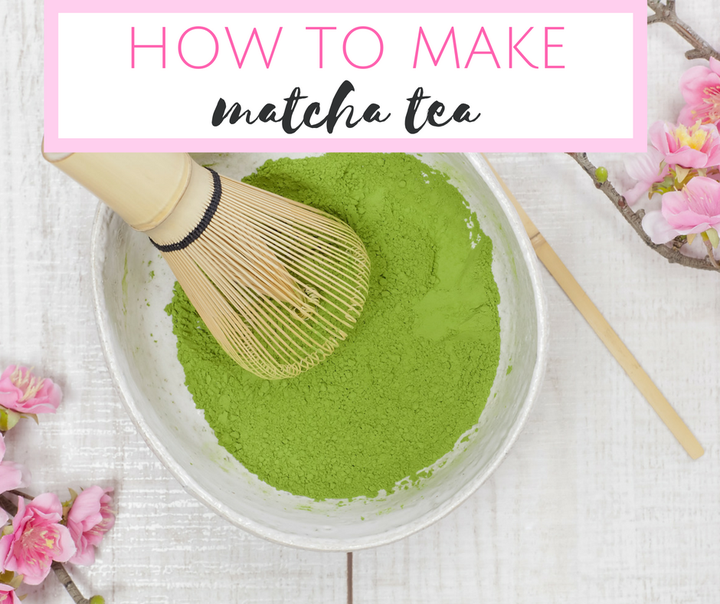 To make traditional matcha tea at home, you will need the following ingredients and utensils.
"Traditionally, there are two grades of matcha -- ceremonial and ingredient/cooking grade," Holloway explained. "You will need ceremonial grade tea for the tea ceremony, as well tools such as a kettle for boiling the water, a bamboo scoop to measure the matcha, a whisk to stir it and a bowl to make the tea in."
Holloway said you can hold a tea ceremony anywhere as not much decoration is required. Traditionally, however, you may find hanging scrolls that feature quotes or proverbs, and simple flower arrangements are also common.
"There are different types of ceremony but the basic steps are the same," Holloway said.
1. Wash hands and mouth
"The ceremony begins with guests cleansing and purifying by washing their hands and mouths with clean water," Holloway said.
2. Greet guests and serve sweets
"The host greets each guest with a bow as they enter the tea ceremony location," Holloway explained.
"Small sweets or a full meal in more formal ceremonies would then be served."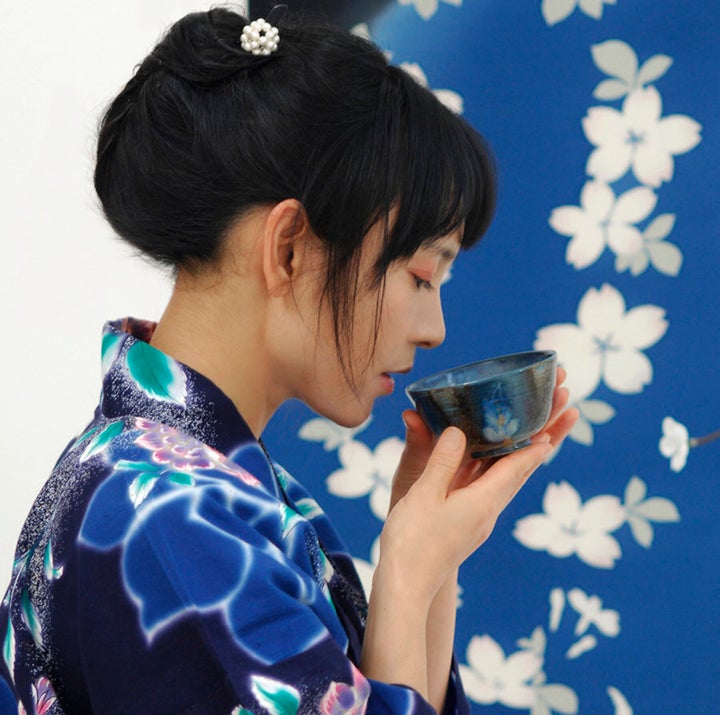 3. Prepare tea
"Then the host will clean the tea utensils and prepare the tea in a series of choreographed and graceful gestures much like a dance," Holloway said.
To prepare the tea, a small amount of matcha is added to the matcha bowl and then a small amount of hot (not boiling) water.
"Using the bamboo whisk, the host will rapidly stir the mixture to create a vivid green paste. Additional hot water can then be added and whisked into the mix.
"Matcha should be whisked back and forth (and not in a circular pattern in a vigorous motion) to create a nice frothy texture for you to enjoy."
When making matcha as a plain tea at home, Holloway recommends sifting the matcha through a tea strainer first to aerate it and keep it nice and fluffy.
"The whisk will also be more flexible if you soak the prongs in water before use," she added.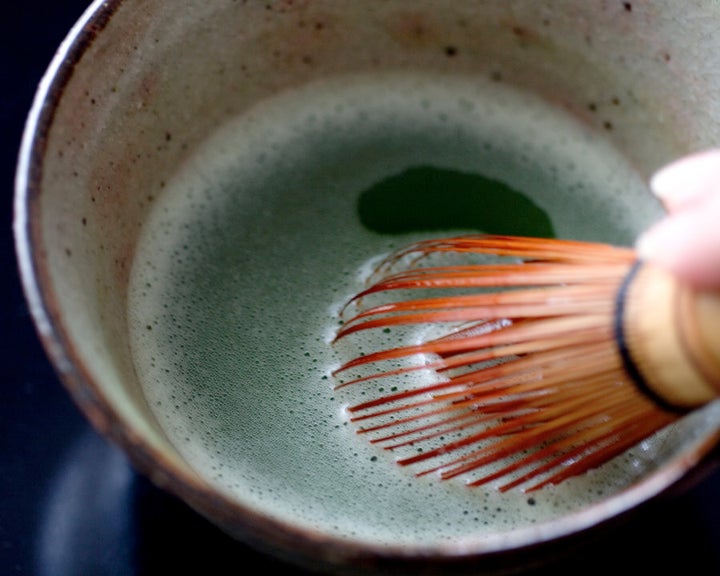 Today, matcha isn't limited to just tea. Depending on the grade, you can add matcha to cakes, pastries, ice cream, smoothies, raw desserts and more.
"As we mentioned, matcha is historically either 'ceremonial' or 'ingredient' grade, but ours strikes a new middle ground balance blazing a bright green trail," Davidson said.
"While we greatly appreciate the deep cultural roots and beauty of the tea ceremony, we have moved our focus away from the more expensive 'special occasion' ceremonial blends in favour of showcasing the versatility of matcha and encouraging a broader audience to give it a try."
"We throw matcha into our green smoothies, bliss balls, salad dressings, stir fries, soups and even skin care," Holloway said. "There are basically no limits to how you can use it, so why not get creative when you're in the comfort of your own kitchen.
"Raw desserts are also big on our hit list and our recent favourite has been raw matcha mint slices -- so good!"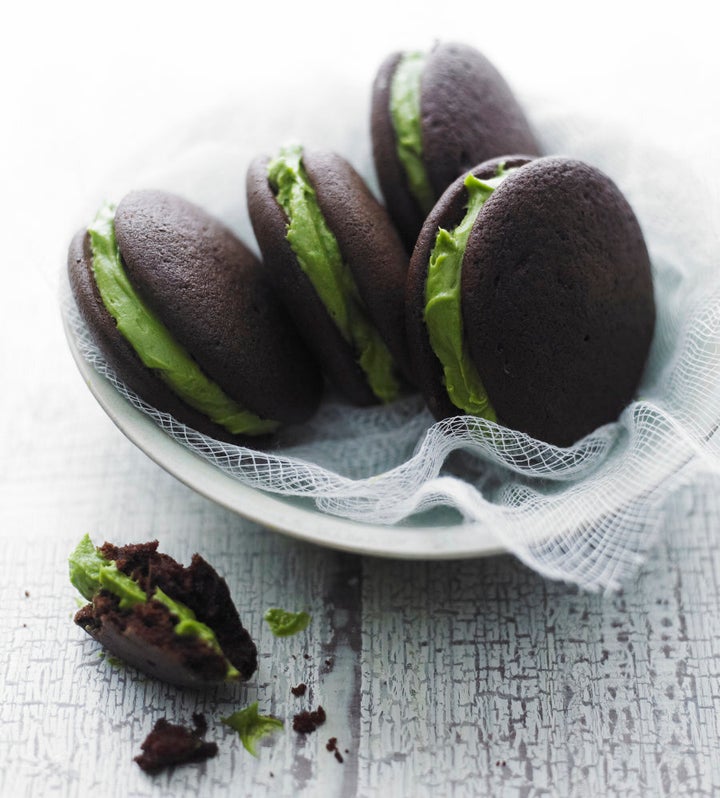 Keen to try matcha, aside from tea? These hotcakes with a matcha filling are droolworthy.
Adzuki bean hotcakes with matcha filling
Recipe courtesy of Matcha Maiden.
INGREDIENTS
½ cup buckwheat flour
¼ cup coconut flour
1 cup cooked adzuki beans (soaked overnight, cooked until tender, drained and cooled)
1 cup soy milk (or any preferred milk)
1 egg
1 banana
5 tablespoons tahini
1½ tablespoons rice malt syrup
3 teaspoons matcha
Strawberries
Kiwi fruit
Greek yoghurt
Granola
Pistachios
Cinnamon
Peanut butter spread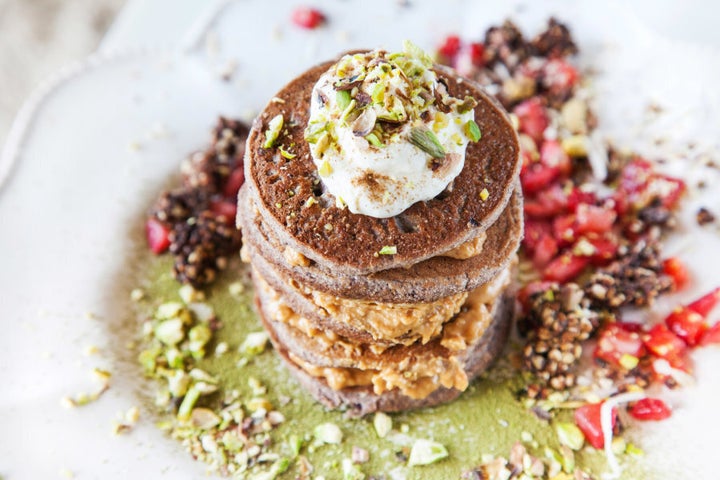 METHOD
1. Firstly, prepare matcha filling: mix all ingredients for the filling in a small bowl. It will become quite thick, but if not, add small amounts of rice malt syrup until the mixture forms a ball and pulls away from the sides of the bowl.
2. Roll the filling mixture into small discs, around 4cm in diameter and ½cm thick -- this equates to a teaspoon of the mixture for each disc -- and put aside.
3. Process or blend all pancake ingredients together in a blender or food processor until smooth -- the batter should be quite thick, but still loose.
4. Heat a non-stick frying pan over medium heat.
5. Cook three heaped tablespoons of batter at a time. You may have to shake the pan lightly to spread the batter. This should form small 10cm in diameter pancakes.
6. Place a disc of the matcha filling into the centre of the pancake, on the uncooked side, and press down lightly.
7. Cover the disc with a tablespoon of pancake batter until the disc is fully covered.
8. Flip the pancake after 2-3 minutes or when the bottom is lightly brown and easy to lift with a spatula.
9. Cook for a further 1-2 minutes, remove and place onto a plate. Repeat steps until all pancakes are cooked.
10. To serve, stack pancakes and layer peanut butter in between. Add toppings and enjoy.