Here it comes again. As predictable as unbuttered hot dogs on stale breadrolls outside a footy ground, a fresh wave of anti-GWS Giants rhetoric is pouring out of Melbourne in the lead-up to this weekend's preliminary final, in which the Giants will host the Western Bulldogs.
Normally such trash talk is led by Eddie McGuire and the usual Victorian suspects. This week's salvo has come from a fresh source in ex-Sydneysider Roy Masters, a veteran Melbourne-based Fairfax scribe and former NRL coach.
The Giants don't belong to Sydney; they belong to the AFL who has subsidised them over $100m, gifted them No 1 draft choices, salary cap concessions and exclusive access to NSW regions to put them in a position where they can make the grand final after five years.

How would you feel if you were a follower of the Western Bulldogs who have made two grand finals in nearly 100 years?

No wonder almost all Melburnians, except the AFL, are cheering for the team who last made a grand final 55 years ago, against a team who could make it after five years.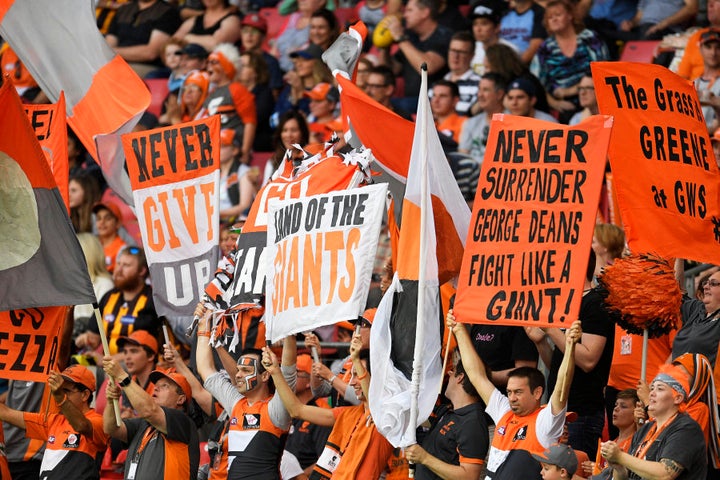 "There is very little historical support for AFL in this part of the world and the knockers and haters say therefore we shouldn't be here. But we say they left it 100 years late and we're making up ground," Shillito told The Huffington Post Australia.
"We have up to 15,000 members, which is within 100 of what the Bulldogs (GWS' opponents on Saturday) had in 1997. It took them 100 years to get over 15,000 members and it took us five."
Shillito is a 45 year old accounts officer. He's been a Giants fan from day one, and has toughed out the bad times. This reporter sat with him on the hill at the Giants old training ground of Blacktown Stadium on April 15, 2012, as the locals played their third ever AFL match.
The Giants lost, to the West Coast Eagles, by a score which was nearly as big as the 6,875 crowd. But Shillito never stopped cheering. You can't miss him in the crowd. He's the one with the booming voice. But one day soon he won't stand out as much. Because there will be so many more like him.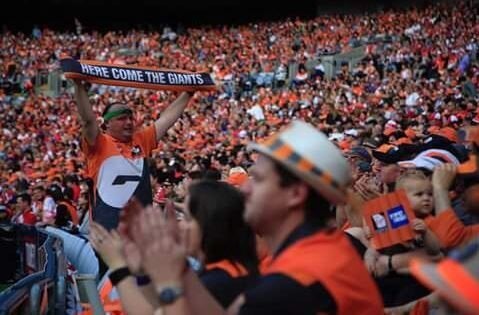 "I probably won't live to see how great the Giants can become, but no club started with 70,000 members. The big clubs like Hawthorn and Collingwood have grown to what they are today."
For those who are not across the Victorian backlash against GWS, here's a quick precis of the story so far. In the beginning, there was the VFL. That was in 1897. Then in 1990 the AFL was born, and with it, the era of expansion. In 2011 the Gold Coast Suns arrived. The GWS Giants followed in 2012.
The Giants were woeful as expected for their first three seasons, claiming two wooden spoons, then finishing 16th in current coach Leon Cameron's first year at the helm. Last year, they finished 11th, winning as many games as they lost. The improvement was there for all to see.
But flag contenders? No one dreamed it, until in round 6 this year, the Giants embarrassed reigning premiers Hawthorn by 75 points. That's the moment that set them on course for the top four. From there, they beat the Sydney Swans in the 1 vs 4 qualifying final. And now here they are. One match from the grand final.
"A sudden rise up the ladder this year has made many sit up and take notice. No longer the AFL's whipping boys, the young kids that were cannon fodder in the Giants' early years have grown up to become Giants.

But now there is jealousy and mistruth. It's human nature to try to cut down the tall poppies and put the upstarts in their place, but the record needs to be set straight.

As far as the Giants being gifted early draft picks; to get the truth, replace "gifted" with "traded". When the decision was made to expand the league, the 16 existing clubs unanimously agreed on what concessions would be made for the new clubs to enable them to build lists.

The concessions GWS Giants were given were similar to what Gold Coast Suns were given. Have GWS used theirs more effectively? Unquestionably so.

But the existing clubs were unwilling to trade quality players to the Giants. But they were happy to trade early picks. So when the question is asked how the Giants came to have so many early picks, the answer is simple. Other clubs willingly traded them.
Long story short, the Giants have built their impressive list with smart recruiting under the rules to which all clubs agreed.
"A lot of those players were young kids and not all of them made it," Shillito told The Huffington Post Australia.
But some of them, like established stars Stephen Coniglio and Jonathan Patton, were taken early and blossomed better than anyone could have hoped for.
The Giants have also benefited from their academy zone which encompasses a huge chunk of New South Wales as you can see in the pic below.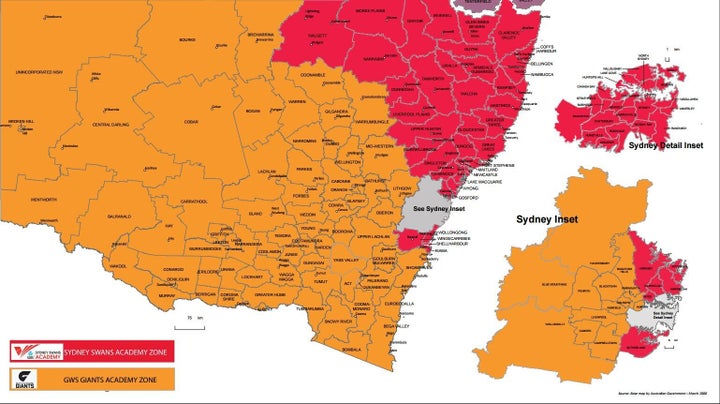 Shillito won't hear a word of any of that. "That area has hardly been an AFL goldmine. As recently as 2012, not one NSW player was picked in the entire draft," he said.
The bottom line is that the Giants have done a great job with what they were given. They've built a list of talented players. More importantly, they've built a great club culture. Take a look at the piece we wrote in May when HuffPost Australia went out to visit the Giants and you'll see what we mean.
"In the early days, being a Giants fan felt like being a pioneer," Shillito said. "But we're a club like any other after five years and we have supporters like any other in what I think is the best game in the world.
"And we're growing. There's plenty of room on this bandwagon."