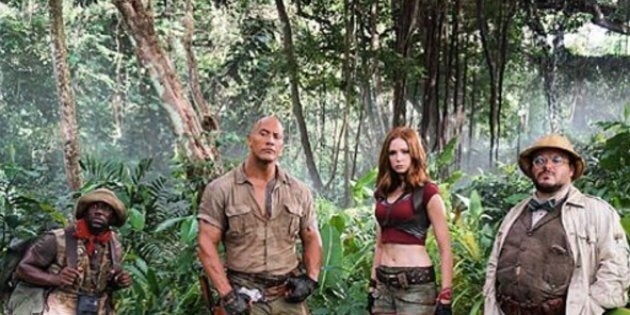 If you thought crop tops weren't jungle attire, well, you're obviously wrong.
That's the takeaway we got from the latest photo released from the set of the "Jumanji" reboot.
Actor and comedian Kevin Hart shared a snapshot from the first day of filming over Instagram, and we have a lot of feelings.
First of all, Dwayne "The Rock" Johnson looks absurdly fantastic in army greens. With that out of the way, we can address the others. Jack Black looks like a quirky professor type ― which we totally buy, with the hope he'll also adopt some affected accent for the role.
But what is going on with Karen Gillan's outfit?
Girl, you are in a damn jungle. That outfit cannot be comfortable for dodging all the critters you will inevitably need to dodge.
We know women in films must look like sex objects in order to present themselves as viable characters, but, what about bug bites? Did she put bug spray on her midsection? This is "Jumanji." Does she not remember those giant spiders? What about the demon vines and flowers? Leather boots and cute camo shorts won't protect from those.
We should probably just be thankful she's not wearing heels like Bryce Dallas Howard did as she ran from dinosaurs in "Jurassic World." At least Gillan can run comfortably in her sensible footwear.