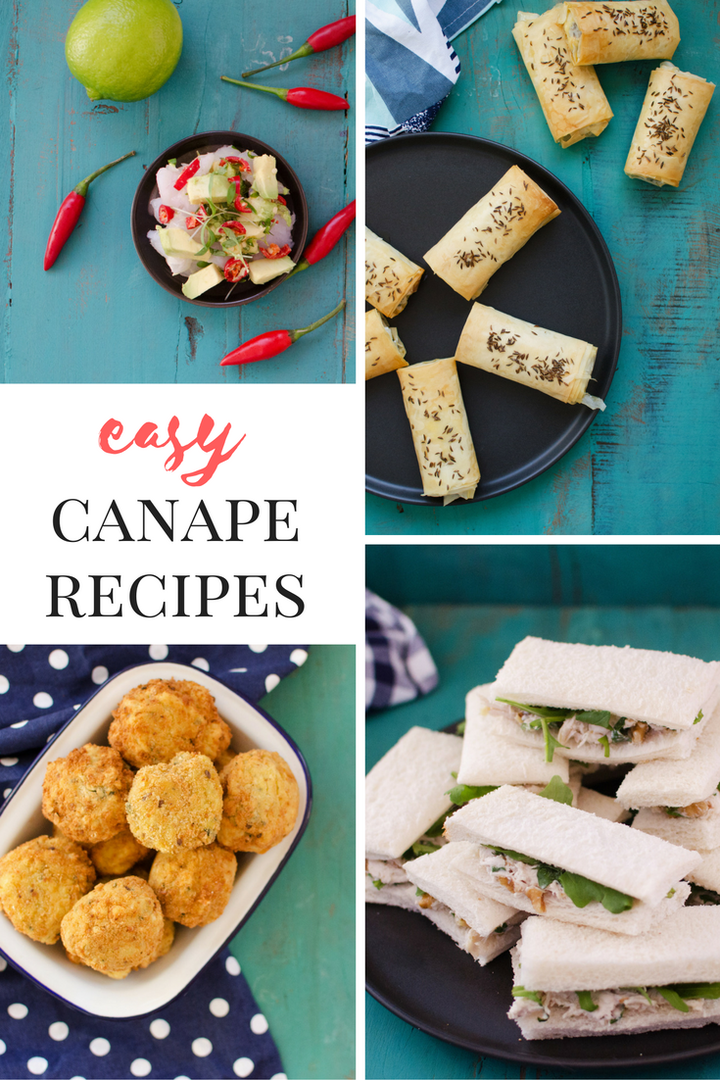 Let's be real, the best part of weddings, functions and events are those fancy, delicious little canapes you get served and eat unashamedly the whole night long. They're just so good.
You probably think they're impossible to recreate for your own party, right?
We thought that, too, until we went on a mission to make the best, easiest and most delicious canapes ever.
Think mini kale and feta filo fingers, arancini balls and fancy chicken sandwiches, but the cheat's version. That's right, no par-boiling, no piping, no measuring. Just simple ingredients with amazing outcomes.
1. Kale and feta filo fingers
INGREDIENTS
2 teaspoon olive oil
½ bunch green kale
20g butter
1 leek, pale section only, thinly sliced
½ teaspoon dried chilli flakes
180g Australian feta, crumbled
1 egg, lightly whisked
12 sheets filo pastry
50g butter, melted
Caraway seeds, to garnish
DIRECTIONS
1. Preheat oven to 180°C. Wash kale and chop finely.
2. Heat a saucepan on low-medium heat and add olive oil. Add kale and softly sauté for 4-5 minutes, or until kale has partly wilted but still vibrant and green. Remove from heat and set aside to cool.
3. Melt butter in a frying pan over medium heat. Add leek and sauté until it softens. Add chilli flakes and cook for one minute. Remove from heat and add crumbled feta and raw egg. Mix well.
4. Brush a single filo sheet with a little butter. Spoon one tablespoon of the spinach mixture on one end of the filo pastry, leaving room on each side. Fold in sides and roll up to enclose filling (like a spring roll). Finish with a brush of butter on top and sprinkle with caraway seeds. Repeat with remaining spinach mixture.
5. Place each filo finger on a baking tray. Bake in preheated oven for 15 minutes or until golden brown. Serve warm or at room temperature.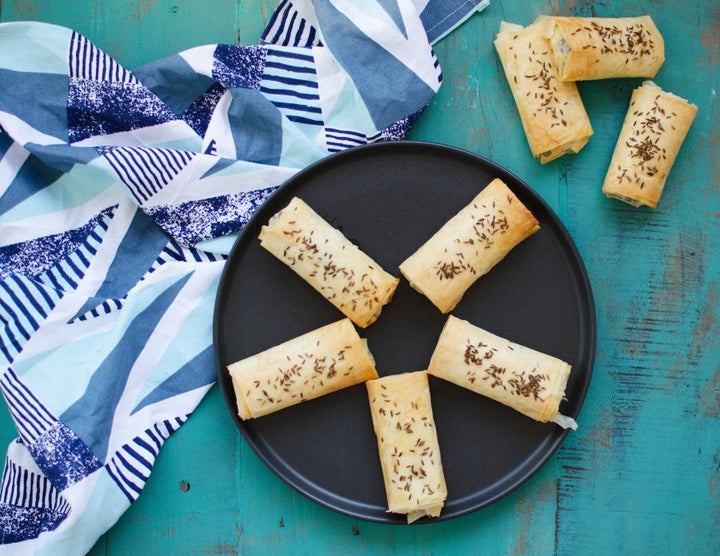 2. Arancini balls
INGREDIENTS
2 pouches (2 X 500g) of pre-made risotto, flavour of your choice
4 eggs
2 cups breadcrumbs
1 cup plain flour
100g mozzarella, broken into 2cm pieces
Vegetable oil, to deep fry
Tomato relish or chutney, to serve
METHOD
1. Gently heat pre-made risotto per the packet's instructions and reduce on low for 20 minutes, until risotto is a thick consistency. Once reduced, take off heat and let it cool.
2. Add two of the eggs and stir until well combined.
3. Place the breadcrumbs on a large plate. Place the flour on a separate plate. Using wet hands, shape three tablespoons of the risotto mixture into a ball. Place a piece of mozzerella in the centre of the ball, then mould the risotto mixture around the mozzarella to enclose.
4. Delicately roll the balls in the flour, followed by the breadcrumbs. Repeat with the remaining risotto mixture and mozzarella to make 10-14 balls. Place on a large plate and refrigerate for 30 minutes.
5. Add oil to a large saucepan to reach 5cm in depth. Heat over medium-high heat (it's hot enough when a bit of bread sizzles and turns golden). Add 3-4 risotto balls to the oil at a time and cook, turning once, for 4-5 minutes or until golden. Transfer balls to a plate lined with paper towel. Repeat with the remaining risotto balls.
6. Place the risotto balls on a serving plate and serve with tomato chutney, olives and feta.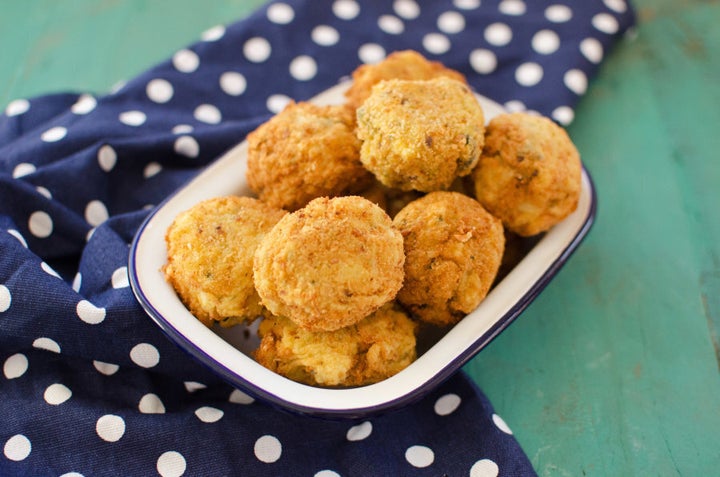 3. Fancy chicken sandwiches
INGREDIENTS
1 cold barbecued chicken, white meat removed and shredded finely, no skin
1 loaf white bread
3-4 tablespoons whole egg mayonnaise
Large handful rocket, finely chopped
⅓ walnuts, finely chopped
Salt and pepper, to taste
METHOD
1. Add chicken meat to a large mixing bowl. Add chopped rocket and walnuts, and combine well. Add mayonnaise gradually and combine well until the mixture sticks together when squeezed.
2. Cut off bread crusts and butter one side of the bread.
3. Take one heaped tablespoon and spread the mixture evenly on each slice of bread. Top with the other slice of bread and cut in half. Repeat until mixture is finished.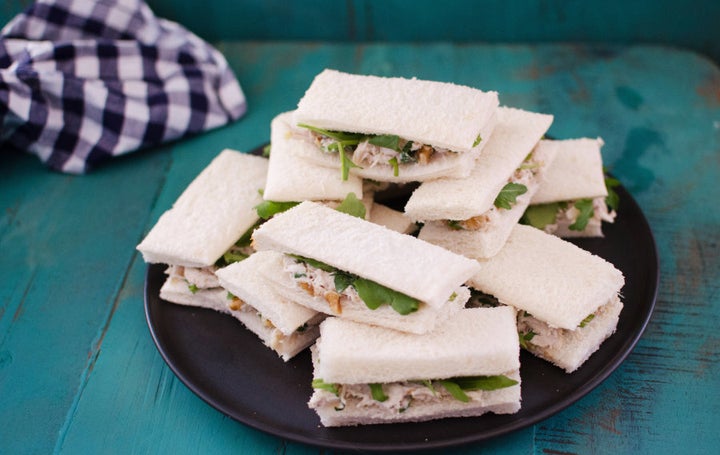 4. Ceviche
INGREDIENTS
250g fresh, raw kingfish sashimi, diced into 1cm cubes
¾ avocado
2 tablespoons lime juice
¼ cup micro coriander, plus extra for garnish
3 baby chillies, seeded if you don't like it too hot
METHOD
1. Combine all ingredients in a bowl and serve on spoons. Garnish with extra micro coriander.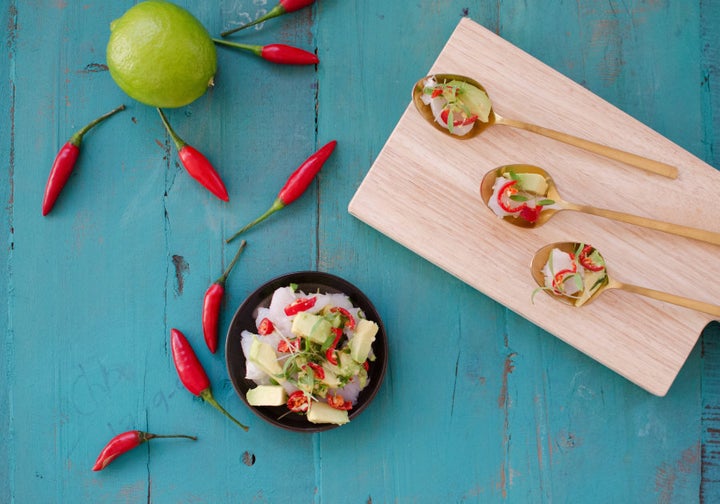 Click below to follow HuffPost Australia on Snapchat!