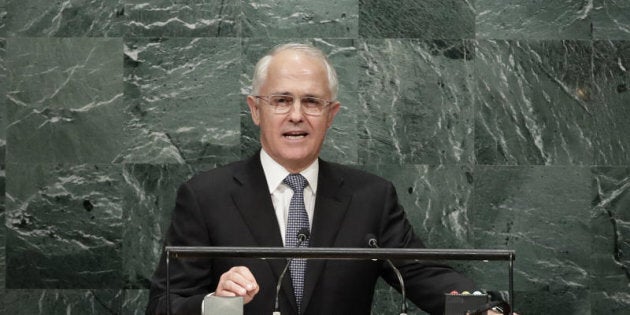 CANBERRA – Prime Minister Malcolm Turnbull has used his maiden address to the United Nations General Assembly to urge world leaders to follow Australia's harsh but "effective" and "compassionate" immigration policies, while railing against protectionism and pitching for Australia's first ever seat on the Human Rights Council.
In a broad-ranging speech framed by global conflict, instability and the greatest refugee crisis since World War II, Mr Turnbull said "secure borders are essential" and "Australia's experience sheds some light on what the solutions are".
"Strong borders, vigilant security agencies governed by the rule of law, and a steadfast commitment to the shared values of freedom and mutual respect," Mr Turnbull said.
"These are the ingredients of multicultural success. And they are lessons we can share to drive more effective, coordinated approaches to meet our humanitarian responsibilities.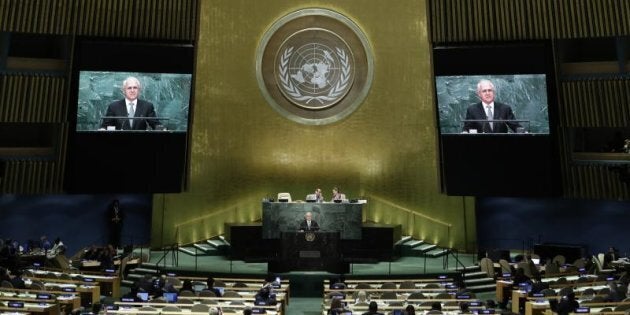 To a less than packed audience, the Prime Minister described Australia's response to the global surge in migration as having "strong border controls," a "compassionate humanitarian policy" and "effective international and regional cooperation".
And, despite international criticism, Mr Turnbull said the Australia's immigration program of mandatory detention, asylum boat turn-backs and offshore processing on Manus Island and Nauru was crucial for public confidence.
"Porous borders drain away public support for multiculturalism, for immigration, for aid to refugees," Mr Turnbull told the UN General Assembly.
"Most importantly, the only way to stop the scourge of people smuggling is to deprive the people smugglers of their product and secure borders do just that."
With many millions of refugees and forcibly displaced people around the world, the scale of the problem is too great for lifting the rates of resettlement alone, according to Mr Turnbull.
"The most urgent priority is to re-establish stability and assure security in the regions of conflicts," the Prime Minister said as he listed the deadly trouble zones in Syria, Iraq, Afghanistan, South Sudan, Libya and Yemen.
"Ultimately we will only find sustainable solutions by addressing the root causes and drivers of this displacement," he said.
Mr Turnbull called protectionism -- which has been championed by populist politicians like Pauline Hanson and Donald Trump -- as "not a ladder to escape the low growth trap, but a shovel to dig it deeper."
"Economic freedom between markets and within them, super charged by the internet, innovation and technology have enabled the longest run of economic progress in the history of the world," he said.
The Prime Minister used the UN speech to pitch for Australia's first ever seat on the Human Rights Council, citing the "maturity" and "honesty" which he said was evident in Australia's recent diplomacy with the rogue nation of North Korea.
Mr Turnbull said Australia would seek to identify problems, "address them and learn from them, and we will hold others to the same standard that we hold ourselves".
Australia wants a seat on the Council for the 2018-2020 term.