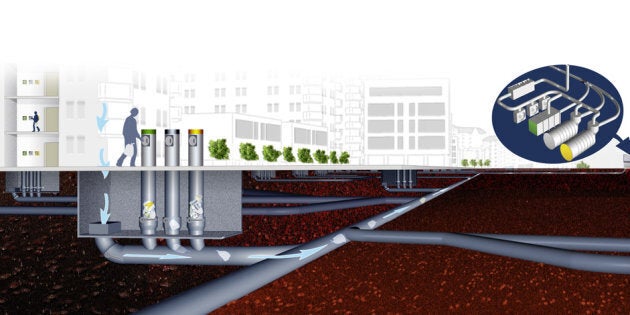 A Queensland council has unveiled plans for an automated, underground waste collection system, and it quite literally sucks.
Instead of using wheelie bins, waste in the Maroochydore City Centre will be transported through a 6.5km system of underground vacuum pipes, from commercial buildings and apartments, at speeds of up to 70kmh.
Sunshine Coast Mayor Mark Jamieson said the waste system would be installed in stages over the coming decade, and at a cost of cost $21 million.
"The rubbish revolution means that city workers and residents will never have to walk past rows of wheelie bins or be woken early by noisy garbage trucks in the Maroochydore City Centre," he said in a statement.
"Common aspects of waste collection such as odours and vermin will be avoided, and the costs of daily street cleaning will be reduced."
Each building in the Maroochydore CBD will include at least three waste inlets – for organic, recyclable and general waste, the council said in a statement.
Waste dropped into each inlet will be stored in a sealed compartment below ground until the vacuum pump is activated at the central waste facility, usually twice each day.
The company who designed the bins, Envac, has installed waste systems in other city centres, including Nyhavn in Copenhagen and Palma de Mallorca, where the underground system serving restaurants, homes and small shops in the city.