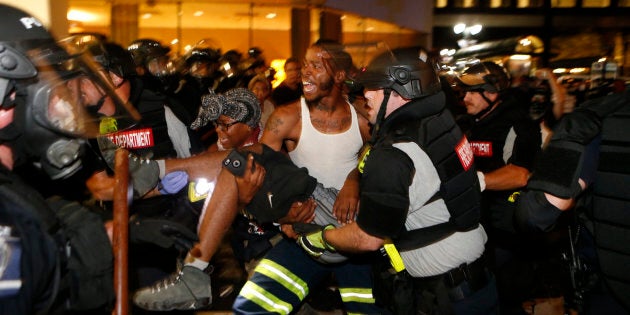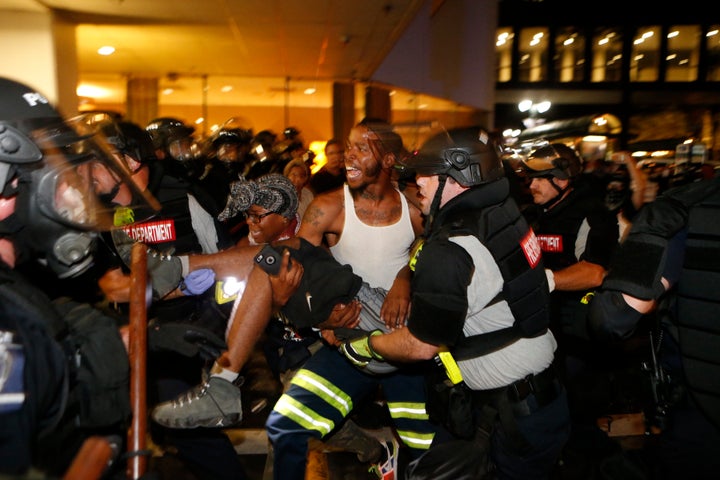 CHARLOTTE, N.C. (Reuters) - Residents of Charlotte, North Carolina, woke up to a state of emergency and the National Guard and State Highway Patrol deployed to their city on Thursday after a second night of unrest sparked by the fatal police shooting of a black man.
According to police, Keith Scott, 43, was shot and killed by officers on Tuesday after he refused to drop a handgun. His family and a witness to the shooting said Scott was holding a book, not a firearm.
A peaceful rally in response to the shooting turned violent on Wednesday as protesters threw rocks and bottles at police in riot gear, smashed windows and doors and looted stores in downtown Charlotte. Officers fired rubber bullets, tear gas, flash-bang grenades and used pepper spray to disperse the crowd.
One protester was shot and gravely wounded by a civilian, and four police officers suffered non-life threatening injuries, city officials said on Twitter.
Scott's wife, Rakeyia Scott, issued a statement describing her family as "devastated" and appealing for calm. "We have more questions than answers about Keith's death," the statement said.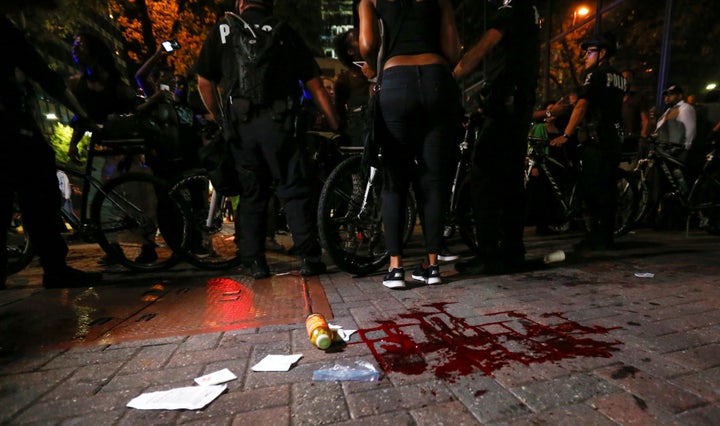 Protesters smashed windows and glass doors at a nearby Hyatt hotel, whose manager told Reuters that two employees were punched. The slogan "Black Lives Matter" was spray-painted on windows.
Demonstrators were also seen looting a convenience store after smashing its windows and a shop that sells athletic wear for fans of Charlotte's National Basketball League team, the Hornets. Others set fire to trash cans.
It was the second night of unrest in North Carolina's largest city and one of the biggest U.S. financial centers. Several protesters and 16 officers were injured on Tuesday night.
The turmoil prompted Governor Pat McCrory to declare a state of emergency and deploy the National Guard and highway patrol officers to the city to help restore peace.
"Any violence directed toward our citizens or police officers or destruction of property should not be tolerated," McCrory said in a statement.
President Barack Obama spoke by telephone on Wednesday with the mayors of Charlotte and Tulsa, a White House official said.
The American Civil Liberties Union urged police to release their camera footage of the incident. Police vehicles typically have a dashboard camera and officers are required to carry cameras on their persons.
Roberts said she planned to view the footage on Thursday, but did not indicate if or when it would be made public.
"We call for the full release of all facts available," said William Barber, president of the state's chapter of the National Association for the Advancement of Colored People (NAACP), in a statement.
Barber said NAACP officials planned to meet with city officials and members of Scott's family on Thursday.
(Additional reporting by Brendan O'Brien in Milwaukee; Editing by Raissa Kasolowsky/Jeremy Gaunt)
UPDATE: 11:15 p.m. ET ― This article has been updated to reflect that the shooting victim is not dead, as officials initially said.