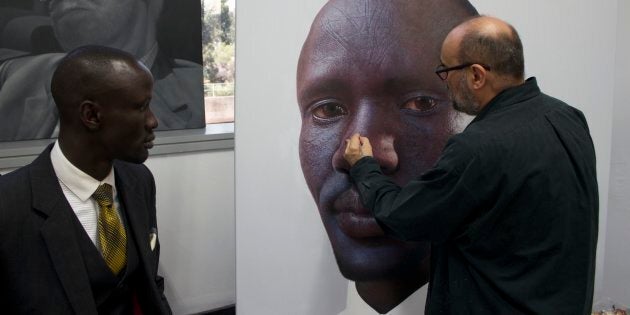 Deng Adut is a self-proclaimed Yes Man.
So when Sydney artist Nick Stathopoulos asked Adut, a Sudanese refugee and former child soldier turned criminal lawyer, if he could paint him for the distinguished Archibald Prize of course he said yes.
The lawyer told The Huffington Post Australia he felt comfortable when Stathopoulos took photos, but the uncomfortable part began to sink in not long after the paint hit the portrait.
"I began to think, 'What have I done?' I really struggled to sit still," Adut told HuffPost Australia.
"The last time I sat for Nick the portrait was pretty complete. I remember thinking, I look like a monster," Adut said. This moment is captured in the photo above.
For me, perhaps it's a bit worse because I have scars which stem back to my childhood.- Deng Adut
"I think anyone who had a giant portrait of themselves painted and put in a national exhibition would find it confronting too.
"For me, perhaps it's a bit worse because I have scars which stem back to my childhood."
If you haven't heard of Deng Thiak Adut, his story became a well known one when Western Sydney University told it in a video campaign (you can watch this below).
Adut was born in Sudan, but at the tender age of six he was captured by rebels and became a child soldier.
Eventually, after being smuggled out of Sudan into Kenya, Adut made it to Australia with the encouragement from his half-brother, John, and the help of the United Nations.
Growing up in Western Sydney from 1998, Adut taught himself English at just 15-years-old and put himself through a law degree at Western Sydney University.
Now, the Sudanese refugee works as a criminal, family and immigration lawyer in Sydney while also helping out the local Sudanese community in Western Sydney.
Upon hearing the news the Federal Government will increase the humanitarian refugee intake from 12,000 to 19,000, the lawyer said "it's a step in the right direction".
"Now let's shut down those offshore camps," Adut told HuffPost Australia.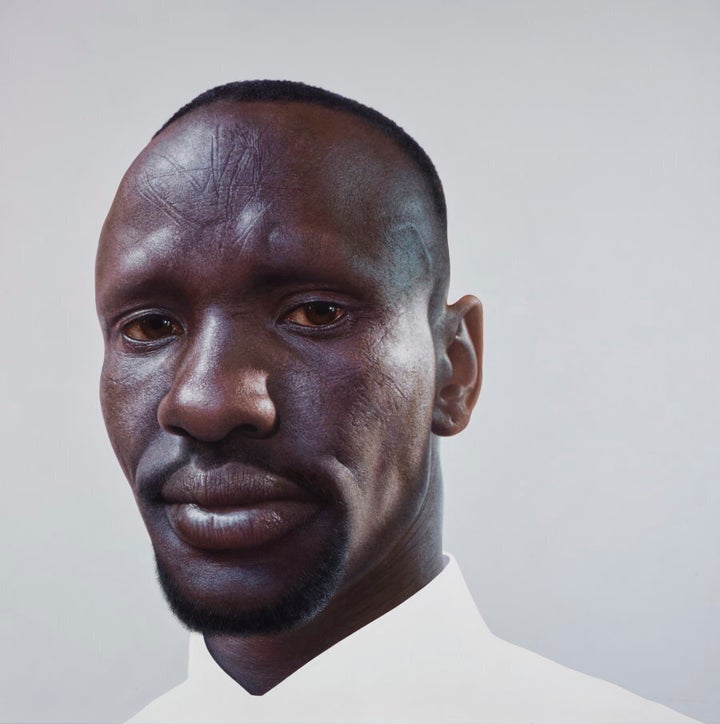 It's been a big year for the Sudanese refugee. Before the Archibald People's Choice Award, Adut delivered the NSW Australia Day address following an invitation from NSW Premier Mike Baird.
His first book will be released in late October. And that's just the beginning.
"At the end of my Australia Day address, I said that I wanted to start a charitable foundation in my late brother's name," the lawyer told HuffPost Australia.
Deng is establishing The John Mac Foundation which will work in the justice and education space in both Australia and South Sudan.
I try to say yes to as much as possible. I'm a yes person, for sure.- Deng Adut
In 2014, John Mac Acuek was killed trying to evacuate people out of a city in South Sudan to safety in the country's capital city of Juba.
"John was a remarkable person... He was a humanitarian and an activist. I'm proud we can continue his legacy through the foundation, even though he is gone."
And the Western Sydney University video has given Adut more than just a condensed version of his life's history. It's helped him forge an even more powerful path.
"People know my story now before I even meet them, and I get the sweetest reactions," Adut told HuffPost Australia.
"One guy told me that whenever he wants to have a cry but can't do it, he just puts that video on."