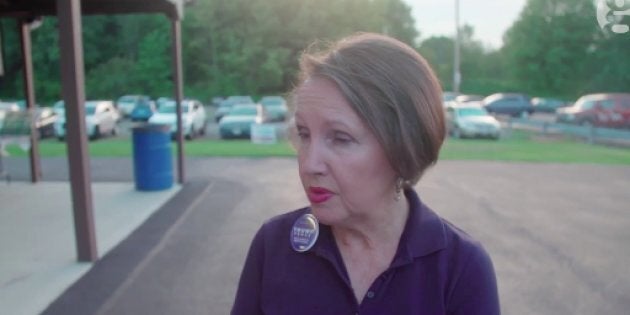 The chair of Donald Trump's campaign in an Ohio county resigned on Thursday after claiming that racism against African-Americans didn't exist before President Barack Obama.
"My personal comments were inappropriate, and I apologize," Mahoning County chair Kathy Miller said in a statement. "I am not a spokesperson for the campaign and was not speaking on its behalf. I have resigned as the volunteer campaign chair in Mahoning County and as an elector to the Electoral College to avoid any unnecessary distractions."
Miller's resignation came hours after The Guardian published an interview in which she blamed low voter turnout among African-Americans on the way "they're raised" and stressed that blacks have only themselves to blame if they haven't been successful "in the last 50 years."
Video of the remarks ricocheted across the internet, prompting swift action from the Trump campaign.
But in an interview with The Huffington Post, Miller defended the central tenet of her argument, even challenging a reporter to name specific ways in which blacks have been discriminated against.
"In the last 30 years before Obama, what has happened that has been racism?" she asked. "What has changed is we are more fragmented than we were before. And the comment about Black Lives Matter ― what is wrong with 'all lives matter'? To focus in on a narrow point of view has got people going in different directions. When someone calls me to buy a house, I don't ask what their nationality is. I don't do that. That's not what I do."
In the last 30 years before Obama, what has happened that has been racism?Kathy Miller
Miller stressed that she was not racist. "Certainly," she said, "my background isn't that." She asserts that discrimination existed in multiple forms and has only recently been broken down and discussed along racial lines. She cited her personal history repeatedly.
"The interview I gave was in relation to me and my experience. I am white and I was discriminated against as a white woman," Miller, a real estate agent from the Youngstown area in Ohio, said of her early career. "I was so dumbfounded that they would pay me less than the men."
"So I think it is more about discrimination than racism," she concluded, noting that the day prior she had attended Trump's diversity coalition meeting at a Cleveland church.
Asked if she felt her comments were offensive to black voters, she replied, "They haven't called to tell me that. They haven't called to tell me that."
As she spoke, Miller seemed painfully unaware of the controversy her words had unleashed. She said she'd only seen parts of The Guardian interview and hadn't even known it was online until she got a call about it in the morning. Soon after, it was clear that her role with the campaign was coming to an end.
"There was just a general conversation about going forward," she said, when asked if the Trump campaign had encouraged her to resign. "I don't want this to be a distraction. I could see this is not good for Mr. Trump."
Bob Paduchik, the chair of Trump's campaign in Ohio, said in a statement that Miller did not speak for the campaign. And Miller, likewise, stressed that she was merely relaying her own opinions and experiences. "I'm sorry I had to be part of a story yesterday," she said. "That wasn't my intention."
She did not expect her comments to affect African-Americans' support for Trump, even as he's dogged by allegations that he has cozied up to and outright enabled racism throughout his candidacy.
"I do think he will win black voters," Miller said. "We all want the same thing. We all want good jobs, a safe neighborhood and good schools for our children. We all want the same thing. So that is why I think he will be really successful. I think this will be a huge election for him."
Miller said that she had not voted for Obama in either of the past two presidential elections, but her sister had. Asked if she felt inspired at all by Hillary Clinton's candidacy since she, too, was a woman who had confronted gender hurdles in her field, Miller responded curtly.
"Maybe in another time I would have been," she said. "She is not inspiring to me because she has never worked in the real world."
This story has been updated throughout to include Miller's comments from an interview with HuffPost.
Editor's note: Donald Trump regularly incites political violence and is a serial liar, rampant xenophobe, racist, misogynist and birther who has repeatedly pledged to ban all Muslims — 1.6 billion members of an entire religion — from entering the U.S.