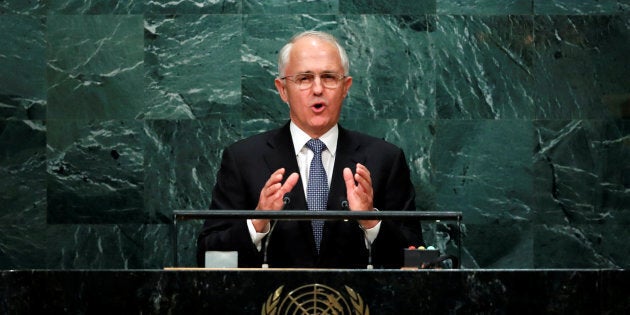 Prime Minister Malcolm Turnbull has praised the work of the United Nations in his first address to its General Assembly in New York.
Deeming the U.N's work "hugely important", Turnbull highlighted the progress the organisation has made to address climate change and assist refugees.
"Whether it be vaccinating children, helping subsistence farmers to improve their crop yields, facilitating democratic elections or delivering emergency humanitarian support, they demonstrate the approach we need to take as we face the challenges of the future," Turnbull said on Thursday.
"Over the past five years, the UN system has produced a global Arms Trade Treaty, a pivotal global agreement on climate change, a transformational set of Sustainable Development Goals, and a global blueprint for disaster-risk reduction."
The PM was also quick to spruik Australia's strict immigration policies, saying that our "secure borders" have allowed Australia to "mitigate risk and focus humanitarian assistance on those who need it most".
So how have our immigration policies been received globally over the past couple of years? Does the United Nations agree with Malcolm Turnbull's assessment?
The Huffington Post Australia takes a look at how Australia's action on immigration and climate change has fared -- and, unfortunately, there's not quite as much praise.
In March, 2015 a UN report found Australia's asylum seeker policies were violating a number of asylum seekers' rights.
This included the treatment of detainees and harsh conditions on Manus Island, as well as the unprecedented powers the Australian Government had to detain asylum seekers intercepted on the boats of people smugglers.
Countries including Spain, Germany, Turkey, Iran, Switzerland, Bangladesh and North Korea urged Australia to wind back laws around offshore processing and mandatory detention.
The treatment of women and children detainees were mentioned regularly, as more than 100 countries provided recommendations to Australia in addressing human rights.
Obama pledged $US3 billion to the Green Climate Fund and said the Great Barrier Reef was under threat.
The U.S President urged young Australians to keep fighting to address climate change and challenge the "entrenched interests".
Annan named Australia as one of the four worst G20 nations which, he claimed, had "effectively withdrawn" from the fight against climate change.