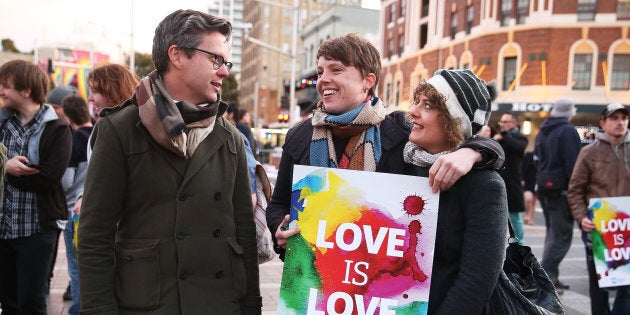 The South Australian Government has introduced a bill which would recognise same-sex marriages from overseas.
The move comes after Premier Jay Weatherill vowed to amend laws across the state after British tourist David Bulmer-Rizzi died on his honeymoon in Adelaide.
His husband, Marco Bulmer-Rizzi, was devastated when David's death certificate did not recognise their marriage because of South Australian legislation.
On Thursday afternoon, Assistant Minister to the Premier Katrine Hildyard introduced the bill to state parliament in a moment she deems one of her proudest.
It became all the more bittersweet as Marco Bulmer-Rizzi flew in from the United Kingdom to stand in the chamber.
"He was just so courageous today," Hildyard told The Huffington Post Australia.
"He spoke a lot about his husband, and in particular, his love and commitment for him.
"This bill we hope will make a difference for couples like Mark and David, but I also hope it will make a difference to all couples who are not married."
The Relationship Register Bill, if it passes the state parliament, will allow unmarried couples in both the LGBTIQ community and heterosexuals across the state register their relationship. This will give them access to the same legal entitlements a marriage does.
And importantly, the register will recognise the overseas marriages of LGBTIQ couples. This would include Australian same-sex couples travelling overseas to wed.
The bill introduced on Thursday is another piece of legislation aiming to make South Australian laws more inclusive, following a review by the South Australian Law Reform Institute.
Recommendations were made after the review found 140 pieces of state legislation discriminated against the LGBTIQ community.
Hildyard said the legislation was "partly" made in light of the Federal Government's delayed action on marriage equality, but was mainly about giving state citizens access to equality.
"We want to lead the way in removing the discrimination from our laws across the state," the Labor MP said.
"Sadly we don't have marriage equality and we want to remove some of that discrimination as a result of not having equality yet."
The bill is set to be debated in state parliament over the next month.