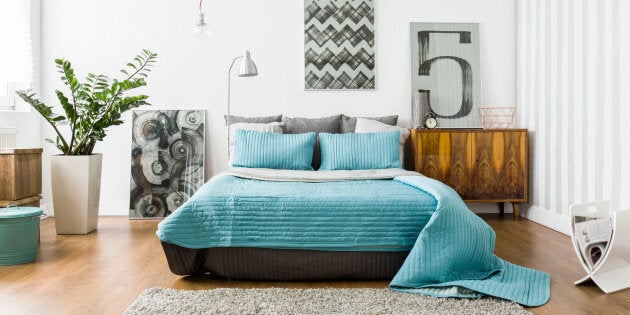 Though the good news is that it's pretty easy to turn your bedroom into a sanctuary. And it's not expensive, either.
To get started take a look at your storage and make sure it's ample. Visual clutter can create stress, so add extra space to put things away if you need it. Consider a bed with storage underneath, or use side tables with extra drawers to create more room.
Light and sleep are tightly linked. While your body clock is guided by sunlight, block out blinds will help you sleep better at night, especially if a lot of light floods into your room. Also consider switching your light globes to warm light (not bright white or fluorescent) which creates a more relaxing environment.
When it comes to bedding, spend a little extra on good quality sheets made of natural fibres. Layer sheets, blankets and doonas as opposed to having one heavy bedspread and adjust each night according to the temperature, as overheating can hinder sleep.
Check out the below infographic for more ways to tweak your bedroom to create a relaxing sanctuary and get a better nights sleep.

Click below to follow HuffPost Australia on Snapchat!