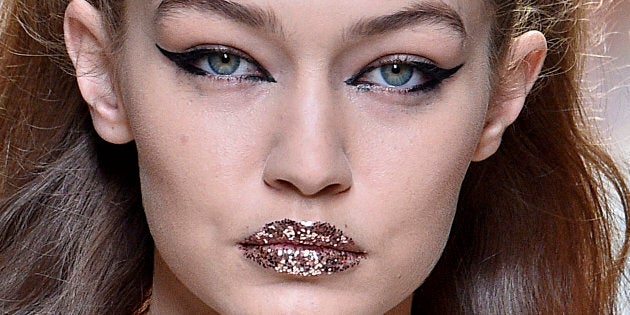 It could be said that our lips are reflective of the time we are in -- rouge lips in the 40s marked the end of the war and the birth of glamour, moody shades of brown accompanied the grungy 90s -- and today, lip injections confirm our obsession with reality TV culture.
Though like most fashion things, beauty trends move with the times and the latest craze, much to the disappoint of pouty celebrities, is much more arty than filler-y.
Yes, we're talking about lip art.
From glitter and crystals to ombre and marble, the emerging trend featured heavily on the runways of Milan with makeup artist Peter Philips drenching Gigi Hadid's pout in the most bedazzling sheen.
We've scoured Instagram for the coolest, most ingenious lip art creations.
1. Jazmina Daniel is a Sydney-based Youtube sensation who provides her fans with tutorials on how to recreate such works of art as this, using everything from eye shadow to glitter. Dory. Swimming. ON YOUR LIPS. Sign us up.
2. New York-based makeup artist Johannah Adams uses a combination of heavy glitter, a colour base and a thick clear gloss to create a geode crystal-inspired lip.
3. Molly Bee is a master at taking just a couple of shades, a brush and making her lips the canvas.
4. Pat McGrath, the British makeup artist that wannabe makeup artists idolise the world over, recently debuted her latest lip kit offering "Lust 004" on the catwalk of the Versace Fall Couture, giving the kiss of life to the most epic glitter lip yet.
5. Pick something delicious and Andrea Reed will paint it on her pout. From a pink-iced doughnut with multi-coloured sprinkles to honeycomb, her 'gram is as tasty as it is pretty.
6. Samantha and Andy pretty much have all bases covered from Aztec-inspired lips to drip lip art.
Click below to follow HuffPost Australia on Snapchat!