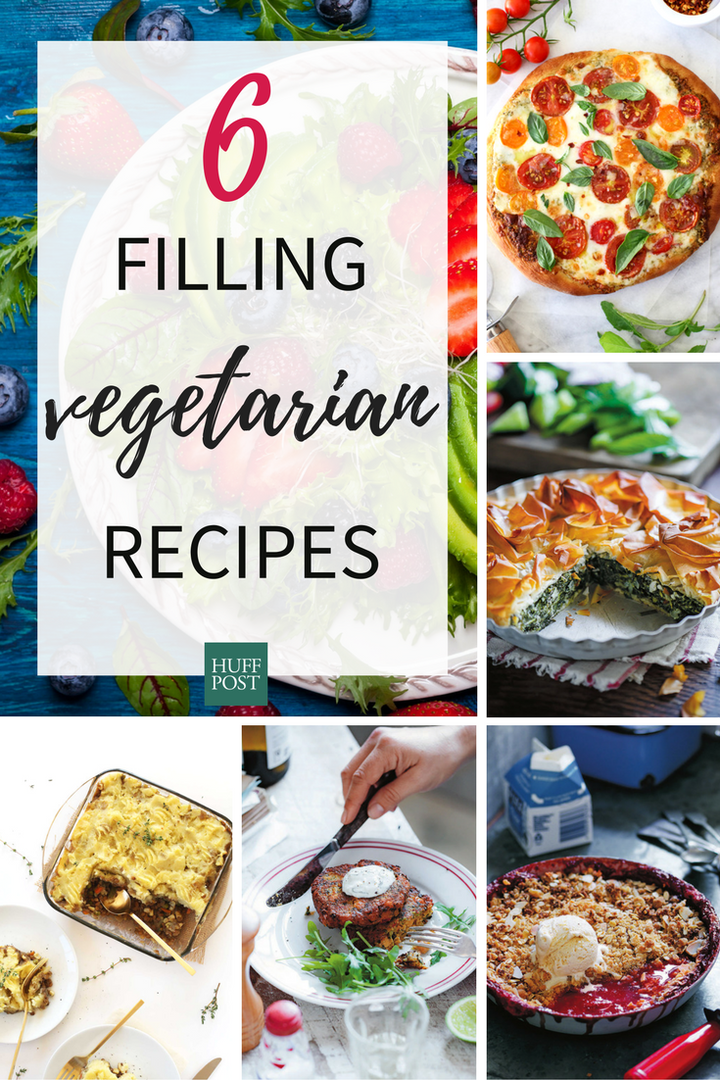 Today is World Vegetarian Day which means it's the perfect time to set aside the meat for one day and enjoy a delicious vegetarian dish (or three).
Now, we know what you're thinking: vegetarians only eat lettuce and salads.
Well you won't see any of that here.
Enter these droolworthy vegetarian recipes that will actually fill you up. Imagine hearty shepherd's pie, baked beans scrolls, flaky spinach and cheese pie, and a strawberry and rhubarb crumble for dessert.
1. Vegan shepherd's pie
If you love shepherd's pie, you need to try this protein-packed vego version. It's comforting, ridiculously filling and full of warming flavours thanks to the thyme, nutty lentils and brothy stock. Added bonus: this simple dish needs just nine ingredients and about one hour from start to finish.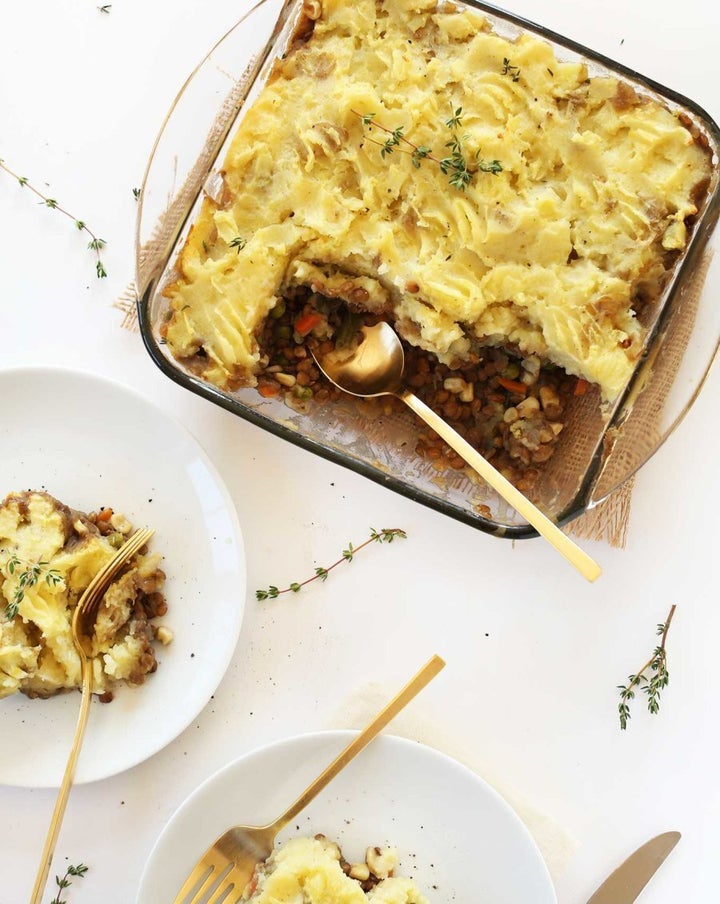 2. Pesto pizza with fresh tomatoes and mozzarella
Love pizza? Just because you're vego doesn't mean you can't enjoy a tasty pizza. This pizza is packed with herby flavour, melted mozzarella and fresh tomatoes. Swoon.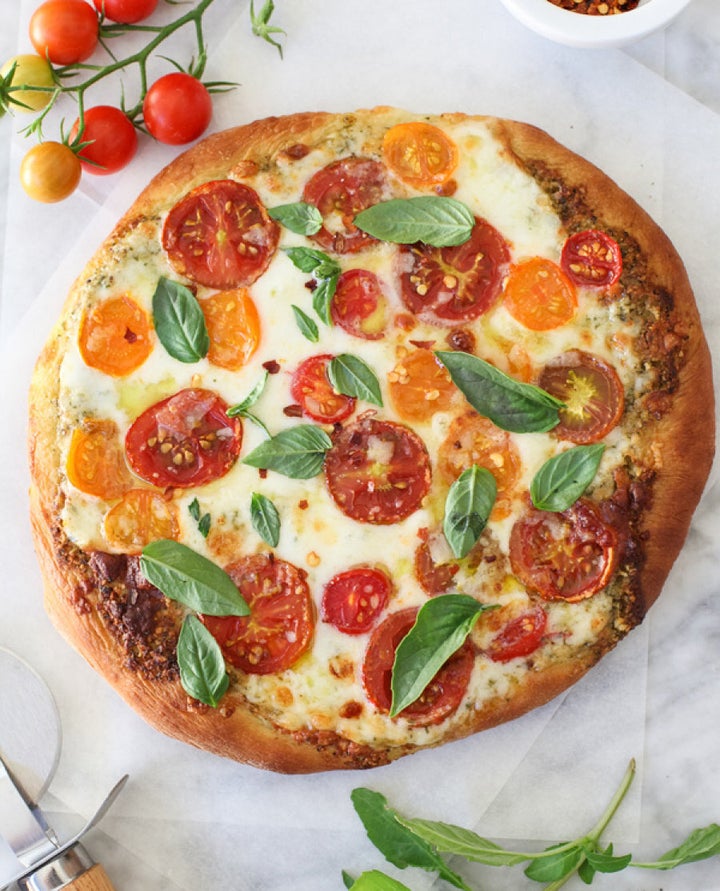 3. Spinach, feta and ricotta pie
Recipe and image courtesy of The Dinner Ladies by Sophie Gillatt and Katherine Westood (Murdoch Books).
INGREDIENTS
500g frozen English spinach
2 teaspoons olive oil
1 large brown onion, diced
1 teaspoon salt
1 garlic clove, crushed
1 large handful mint, leaves plucked and chopped
1 large handful parsley, leaves plucked and chopped
1 small handful dill, leaves plucked and chopped
Pinch of freshly grated nutmeg
1 large egg, beaten
150g good quality feta cheese, diced
150g ricotta (low fat if you prefer)
Olive oil spray
150g (8 sheets) filo pastry
Greek salad or a tomato salad, to serve
METHOD
1. Preheat the oven to 200°C (400°F).
2. Defrost the spinach in a colander. Squeeze out as much water as you can and set aside.
3. In a medium frying pan over low heat, heat the oil and cook the onion with the salt gently for about 10–15 minutes, until sweet and soft but not brown. Add the garlic and cook for a further two minutes. Remove and set aside to cool.
4. In a large mixing bowl, stir together the onion, garlic, spinach, herbs, nutmeg, egg, feta and ricotta. Feta's saltiness can vary hugely so taste the mixture for seasoning and adjust it to your taste.
5. Spray a 20cm spring form cake tin with olive oil spray.
6. Lay two filo sheets horizontally across the cake tin, patting them down into the tin. Take another two sheets and place them at a 90 degree angle across the first sheets. Turn the cake tin 45 degrees and place another two sheets across, horizontally, and another two sheets at a 90-degree angle. This all sounds very complicated and mathematical but it's very simple -- you should end up with the base of the tin covered by filo, with excess filo draped over the sides of the tin.
7. Spoon the pie filling into the centre and fold the filo over the top, as messily or as neatly as you choose -- messy creates more brown ruffles.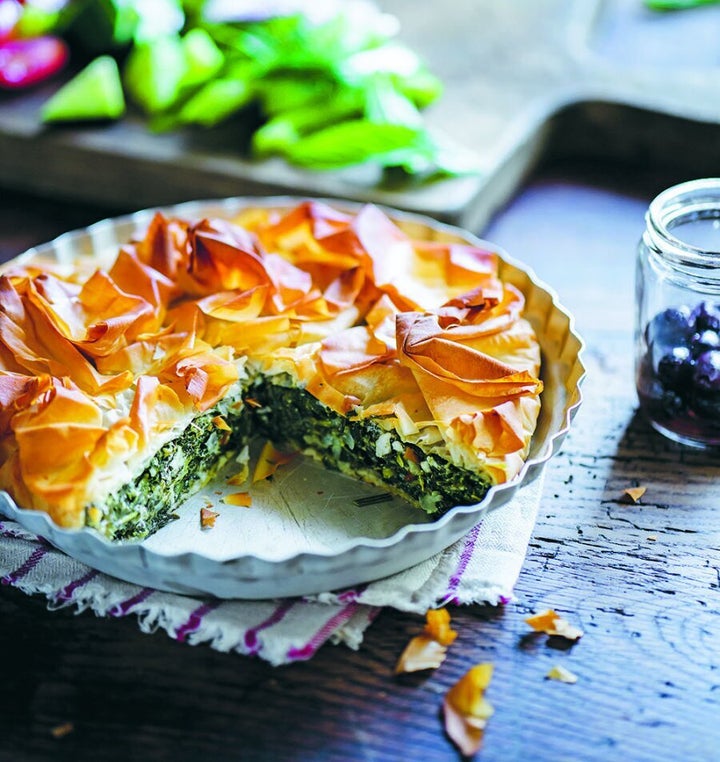 4. Baked bean scrolls
Recipe and image courtesy of IGA.
INGREDIENTS
1 x 420g can baked beans
⅓ cup grated cheese
2 cups self raising flour
30g butter, softened
¾ to 1 cup milk
Extra milk, for glazing
METHOD
1. Preheat oven to 200°C.
2. Combine beans and cheese. Mix well, then set aside.
3. Sift the flour into a large bowl. Rub the butter into the flour until the mixture resembles fine bread crumbs.
4. Make a well in the centre and pour in the milk. Mix slowly from the centre to form a soft dough. Turn onto a lightly floured board and knead the dough until smooth. Using a rolling pin, roll the dough into a rectangle shape, about 20cm x 30cm.
5. Spoon over the bean mixture. From a long side, roll up into a scroll to firmly enclose the bean mixture.
6. Cut the dough into 12 scrolls about 1-2cm thick. Place on a lined oven tray. Brush with extra milk.
7. Bake for 15 minutes, or until golden. Serve straight from the oven.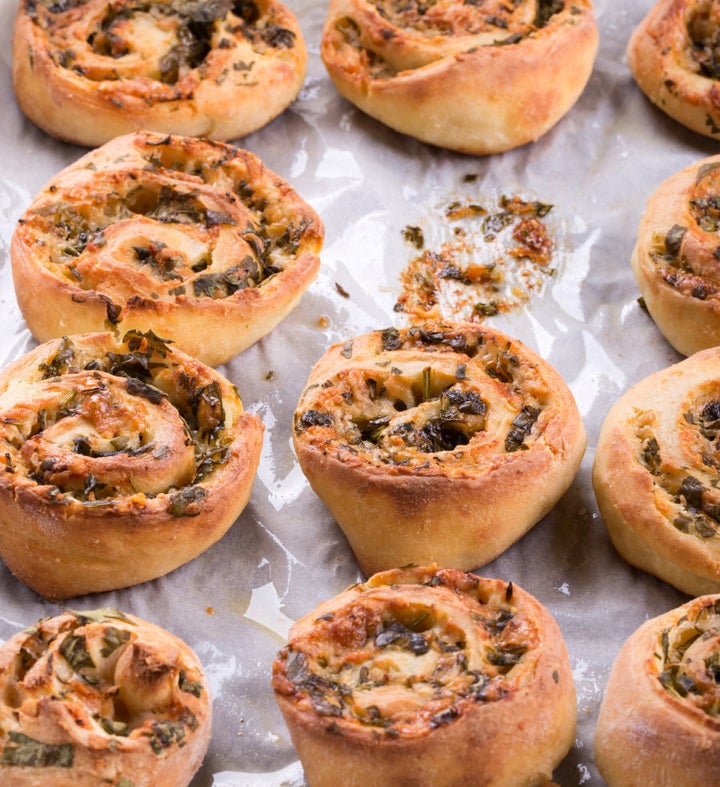 5. Chickpea and coriander burgers
Recipe and image courtesy of The Dinner Ladies by Sophie Gillatt and Katherine Westood (Murdoch Books).
INGREDIENTS
800g tinned chickpeas, drained and rinsed (500g drained weight)
1 egg, beaten
1 tablespoon ground cumin, toasted
½ red capsicum, seeded and diced
1 large handful coriander, leaves and stems finely chopped
1 handful mint, leaves only, chopped
4 spring onions, ends removed, thinly sliced
2 garlic cloves, crushed
Zest of 1 lemon
2 tablespoons rice flour
1 teaspoon salt
80ml (⅓ cup) olive oil
Rocket leaves
Cucumber yoghurt sauce (below) or spiced tomato chutney
Juice of ½ lime (optional)
Toasted panini (optional)
Note: For a vegan alternative, replace the egg with chia paste. To make the paste, mix one tablespoon chia seeds (crushed) with one tablespoon water.
METHOD
1. In a small blender, pulse-chop the chickpeas until some are coarsely chopped and some are puréed.
2. In a large stainless steel bowl, combine the chickpeas, egg, cumin, capsicum, chopped herbs, spring onions, garlic, lemon zest, rice flour and salt. Form some of the mixture into a little patty about 3cm in diameter and fry in olive oil in a non-stick frying pan over medium heat. This should only take two minutes per side. Taste the patty and decide whether you need to adjust the salt or any of the other ingredients.
3. Roll the mixture into eight evenly sized balls. Flatten them into patties, cover and refrigerate or freeze until using.
4. When you're ready to cook, heat the olive oil in a large non-stick frying pan over medium heat and carefully add as many patties as will fit in a single layer. Cook until a golden brown crust has formed on one side -- about four minutes -- then gently flip the patties and cook for another four minutes on the other side. Remove to one side and drain on paper towel, cover with a tea towel and leave somewhere warm (such as a low temperature oven) while you repeat with the remaining patties.
5. Serve with rocket leaves and cucumber yoghurt sauce or a spiced tomato chutney, and squeeze a little lime juice over the top if desired. If you need bread with your burger, serve with toasted panini.
Cucumber yoghurt sauce
A basic recipe to go with everything is 260g (1 cup) plain yoghurt, 1 Lebanese cucumber (peeled, grated and the water squeezed out), 1 tablespoon lemon juice, ½ garlic clove, ½ teaspoon salt and 1 tablespoon chopped mint. Mix together well.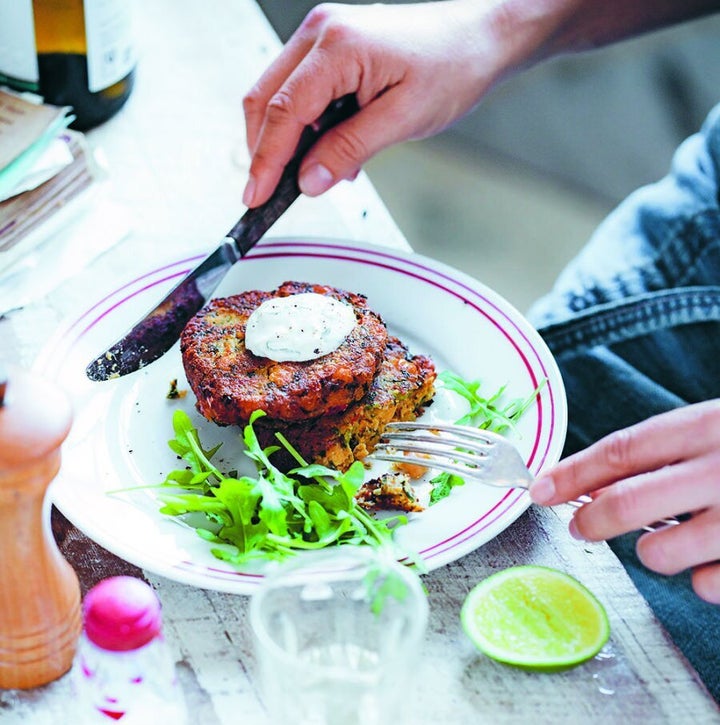 6. Strawberry and rhubarb crumble
Recipe and image courtesy of The Dinner Ladies by Sophie Gillatt and Katherine Westood (Murdoch Books).
INGREDIENTS
75g (½ cup) self-raising flour
100g (½ cup lightly packed) light brown sugar
Pinch of salt
50g cold salted butter, diced into 1cm cubes
50g (½ cup) rolled oats
Strawberry and rhubarb crumble:
1 quantity Basic Crumble Topping (above)
45g (⅓ cup) slivered almonds, toasted
400g (1 large bunch) rhubarb, trimmed and chopped
100g caster sugar
400g strawberries, hulled, halved if large
Cream or ice cream, to serve
METHOD
1. To make the basic crumble topping: In a small bowl, combine the flour, brown sugar and salt. Rub the butter into the mix with your fingertips until the mixture resembles clumpy breadcrumbs. Stir through the rolled oats. Set aside in a covered container in the fridge.
2. To make the strawberry and rhubarb crumble: Preheat the oven to 180°C (350°F).
3. Combine the basic crumble topping with the almonds and set aside.
4. Place the rhubarb and sugar in a heavy-based saucepan and cook gently over low heat for about 15 minutes until the rhubarb is completely soft. Add the strawberries and bring everything up to heat. Pour your filling into a greased ovenproof dish of about 1.5 litres (6 cup) capacity. Scatter the topping over your filling to cover.
5. Cook in the oven for 25–30 minutes until the topping is golden brown and the filling is bubbling up round the edges. Remove from the oven and allow to rest for 10 minutes before serving with cream or ice cream.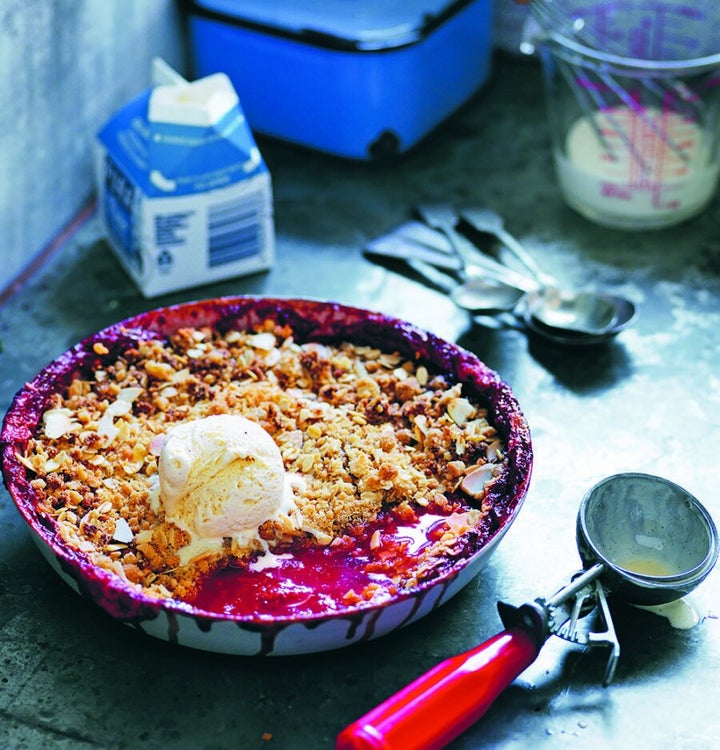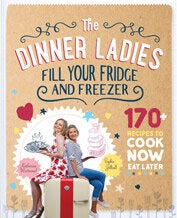 Click below to follow HuffPost Australia on Snapchat!