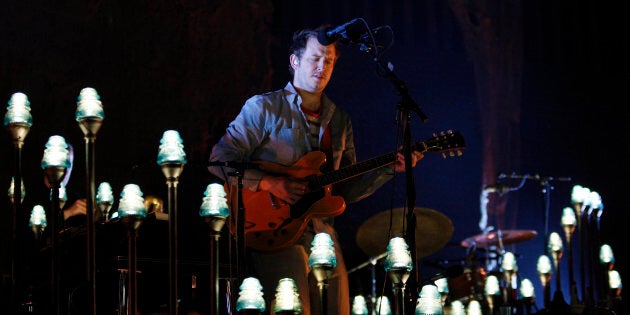 The mystery has been put to bed. And in true Melbournian style.
On Thursday, indie rock band Bon Iver released a series of cryptic posts on Instagram in the lead up to their new album launch of '22, A Million'. The pictures detailed a series of addresses across the globe -- including the Melbourne suburb of Fitzroy -- and a date and time that had fans bursting at the seams in anticipation.
Were Melbournians in for a secret show? Not quite.
Turns out the band had organised a string of pre-release listening parties that are now taking place worldwide -- from Berlin and Amsterdam to Brooklyn and Paris.
In Melbourne, crowds flocked to a tiny laneway last night to hear their dulcet tones on a tiny boombox. On cassette.
The intrigue continued for Bon Iver fans as they received a newspaper to accompany the tunes -- and another message from the guys:
Surprise gigs seem to be all the rage right now. Sydneysiders also had a taste of the action last night as British actor slash DJ extraordinaire Idris Elba put down his Thor script and picked up some vinyls at Good Bar for a cheeky house set. Did we mention it was free?
The recently re-opened Sydney bar on Oxford Street used the night to launch their new weekly "vinyl only" parties. All we can say is stay tuned.
Click below to follow HuffPost Australia on Snapchat!