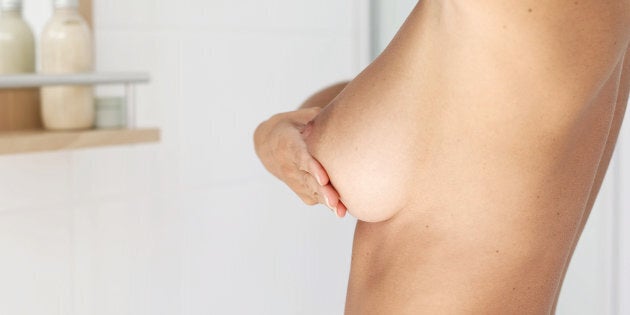 In Australia, 44 women are diagnosed with breast cancer every single day.
It's looming threat has become synonymous with everyday life as stories of survival fill our Facebook feeds and news of diagnoses and struggle become the subject of concerned phone calls and texts.
The cancer has come back.
This Saturday marks the beginning of Australia's annual breast cancer awareness month -- a time when we inevitably become hyper-aware of breast cancer -- the most common cancer diagnosed in Aussie women.
However, new research from the McGrath Foundation highlights while we are aware of its risk, there is a clear disconnect between our knowledge and our behaviour that follows.
"The results are quite alarming, showing only 15 percent of Australian women have good breast health understanding," Petra Buchanan, CEO of the McGrath Foundation told The Huffington Post Australia.
Become an expert in your breasts

Look - at the shape and appearance of your breasts and nipples in the mirror with your hands by your sides. Raise your arms above your head and have another look.
Lurve – your pair. Feel all of your breasts and nipples, looking for anything that isn't normal for you. Feel from your collarbone to below the bra-line, and under your armpit too.
Learn – what is normal for you! Breasts come in all different shapes and sizes, so get to know your normal. See your doctor if you notice any changes.

Source: McGrath Foundation
The findings come as the McGrath Foundation launches its first-ever annual breast health index which uses four criteria to measure breast health understanding: awareness, confidence in recognising changes in the breast, knowledge of risk factors for breast cancer, and behaviour in terms of frequency of checking.
"There's clearly a gap between what we think we know, what we actually know and then what we're doing," Buchanan said.
New research by HCF on Thursday mirrored this, revealing only one in four women check their breasts monthly, with 44 percent having never visited the doctor for a breast check.
The survey was conducted as part of HCF's partnership with the National Breast Cancer Foundation and showed while 92 percent of Australian women understand the importance of regular breast checks, almost 50 percent don't know what to look or feel for.
The key changes to look for when doing a breast self-exam include:

A new lump or lumpiness, especially if it's only in one breast
Your breast changing in size or shape
Any changes to the nipple, such as redness, inversion, crusting or discharge without squeezing
A change in the skin, like redness or dimpling
An unusual pain that doesn't disappear
"We're at a point now where we need to make sure we're going beyond general awareness and that we actually have true knowledge of what our breasts feel like and what to look for when carrying out self-checks," Buchanan said.
Emphasising the importance of having an open dialogue with friends, loved ones and colleagues around breast health and the risk factors is what Buchanan hopes the index will achieve.
"First and foremost know what the causes are -- by being a woman you are susceptible, know that your risk increases as you get older, be aware of family history and understand the difference between real risks and those things that are myths," Buchanan said.
Fortunately, we've made such amazing progress in the last few years. We now have a survival rate of 90 percent and we save lives through early detection," Buchanan said.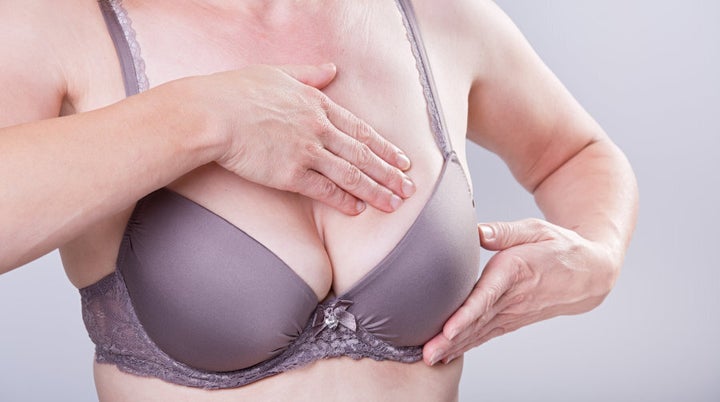 Dr Sarah Hosking, CEO of the National Breast Cancer Foundation agrees and said it is crucial Aussie women become familiar with the unique shape, texture and feel of their breasts to increase early detection.
"We know that one in eight Australian women will be diagnosed with breast cancer in their lifetime and eight women will die each day, which makes being breast aware so vital," Hosking said in a statement.
On Thursday, HCF and NBCF launched 'Hands On' -- a campaign which incorporates educational sets of replica breasts ranging from healthy to showing symptoms that should be flagged with your doctor, designed to teach Australians the breast cancer warning signs to check for in order to improve detection.
We're all time poor but it's about changing our behaviour and making breast checks a priority every month.
Throughout the month of October, Aussies can visit a "Hands On" learning station at an HCF branch and sit in on doctor-led Q&A sessions.
As for what we can do right now?
"Grab your phone and download the Curve Lurve app. It has all of the information you need on how to self-check and set a monthly reminder for yourself so that you actually do it," Buchanan said.
"We're all time poor but it's about changing our behaviour and making breast checks a priority every month."

Click below to follow HuffPost Australia on Snapchat!