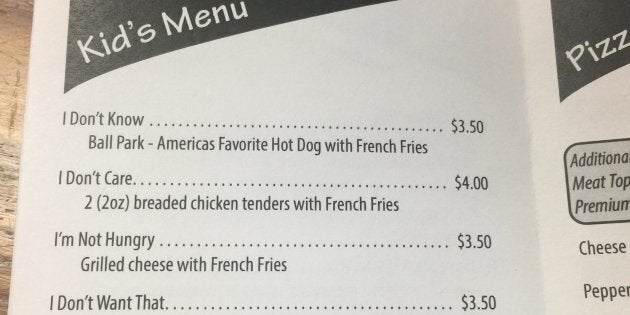 Whoever created the menu at this Pennsylvania deli knows what it's like to eat out with kids.
Reddit user Nick Moist posted a photo of the kids' menu at the Deli at Mansion Park (formerly Front Street Deli at Mansion Park) in Altoona, PA, and put simply, it's totally spot-on.
The menu items include the "I Don't Know" (a hot dog with fries), the "I Don't Care" (chicken tenders with fries), the "I'm Not Hungry" (grilled cheese with fries) and the "I Don't Want That" (fish sticks with fries).
Moist told The Huffington Post that he and his coworkers eat at the deli every week and got a real kick out of the kids' menu. "It's definitely relatable to most people," he said. "Whether you've had kids or not there has most likely been a time in your life where you've had to listen to a parent force the kid to choose their food at a restaurant."
Reddit users, especially those with kids, also chuckled at the menu. As one parent commented, "My kids' favorites aren't on there: 'I hate this' and 'I'd rather starve.'" Another parent said their kids always order the "Eeeeeeeew!" and "Do you have anything good?"
Added another, "Where's the $6 bowl of Kraft mac'n'cheese that my kids always order and don't eat?"
The deli manager, Brian Stroh, told The Huffington Post that they unveiled this new kids' menu last Thursday, and so far it's been a hit.
"The parents love it," he said. Stroh explained that inspiration for the menu came from real kids, of course.
"That's what I hear when kids are here ordering with their parents," Stroh said. "I don't know! I don't care! I'm not hungry!"
Too real.