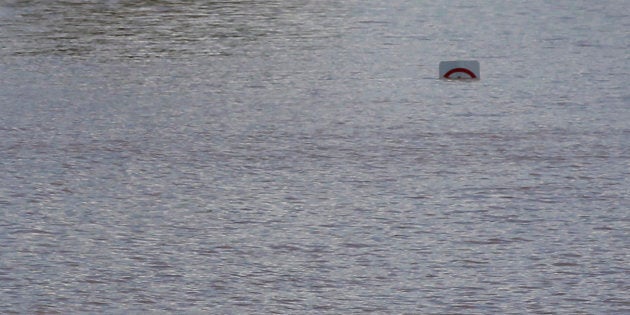 Opposition leader Bill Shorten has paid tribute to emergency workers as South Australia's flooding crisis continues, with a watch and act alert issued for residents around Gawler.
The SES said on Monday morning that flood waters were still rising in parts of Virginia, Buckland Park and Port Gawler.
It said other areas that may be impacted are Gawler River, Two Wells, Lewiston, Virginia, Port Gawler and Buckland Park.
"Significant amounts of water are still present which may threaten the safety of you and your family," the SES said.
After signs the floodwaters were stabilising, more rain hit late on Sunday and the Bureau of Meteorology (BoM) forecasts it to continue until Tuesday.
Adelaide Hills locals are also gearing up for a flood emergency, with 100 millimetres of rain predicted to fall in the Mount Lofty Ranges in coming days.
Shorten told reporters in Adelaide that all Australians could appreciate the impact of flooding.
"All of Australia has drawn breath when you see the meteorological maps and the news flashes for a whole state to be literally inundated has given all Australians pause," he said.
"Just like bushfires, all Australians can appreciate the impact of flood. We live in a fantastic country, but the natural elements can never be taken for granted."
He call on Prime Minister Malcolm Turnbull to "focus on supporting the full-timers and volunteers ... who are helping SA get through a once-in-fifty-year very significant storm".
He also hit out the PM for what he claimed was political point scoring after South Australia's storm-related blackout last week.
As the inundation continues, SES chief of staff Leanne Adams told the ABC that sandbags were being transported to Adelaide from other states.
"There's currently 20,000 sandbags coming over from the eastern states to support our sandbagging operations and after that most of the sandbags across Australia will have been used," she said.
Already 60,000 sandbags have been flown into SA's Edinburgh RAAF, most of those arriving on Saturday.
On the weekend, SA Premier Jay Wetherill praised those involved in the emergency relief effort.
"Please don't drive through floodwaters ...just don't do it," he said in Adelaide.
"Fatigue is dangerous and could cause people to make mistakes," he said, adding that the efforts of volunteers had been extraordinary.
Speaking at a press conference on Monday afternoon in Virginia, Prime Minister Malcolm Turnbull also thanked the services involved in efforts and pushed the importance of government-backed mitigation measures and flood prevention preparation to avoid similar situations in the future.
The latest bout of extreme weather comes after SA was battered by strong winds, wild weather and a statewide blackout this week.
It included a massive downpour, with up to 80mm received by north-western areas of the state and Adelaide copping up to 40mm in some parts.