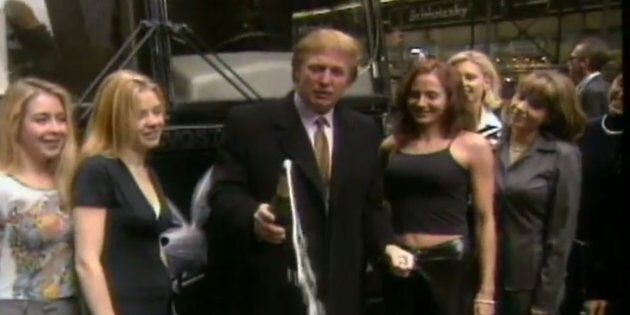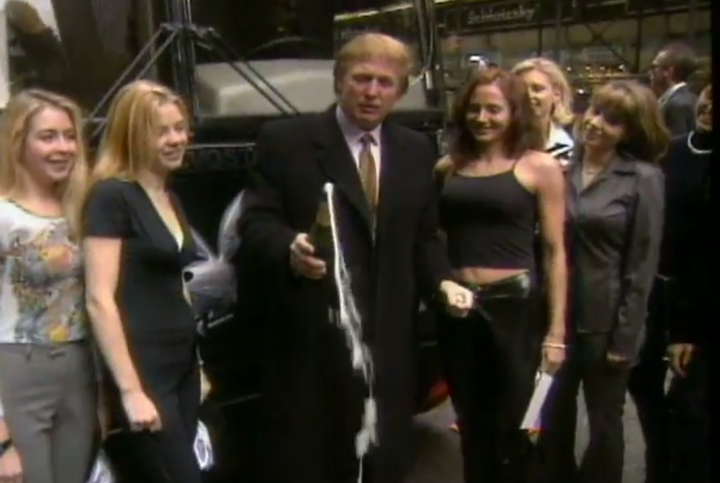 Early Friday morning, Donald Trump tried to disgrace former Miss Universe Alicia Machado by accusing her of having a sex tape.
Turns out, he sort of has one of his own.
BuzzFeed News recently uncovered a relic from Trump's past: a softcore video documentary made in 1999 called "Playboy Video Centerfold 2000."
As might be expected from the title, the video features lots of shots of naked women dancing and posing, as well as touching themselves (and each other).
There are also scenes of aspiring centerfold models rubbing honey on themselves and taking baths (presumedly to wash off that honey).
Don't worry: Trump doesn't do any of those things.
He appears in a brief cameo in which he opens a champagne bottle with the help of some playmates and then pours it on the Playboy bunny logo.
"Beauty is beauty, and let's see what happens with New York," Trump says.
No, his actions don't result in him being stopped and frisked by New York police.
Here's a SFW video trailer of this opus.
Usually, presidential candidates shy away from anything that smacks of the adult industry.
For instance, earlier this year, Ted Cruz pulled an ad after discovering it featured an actress, Amy Lindsay, who had previously appeared in softcore films such as "Carnal Wishes," "Insatiable Desires" and "Private Sex Club."
Trump, who has also appeared on the cover of Playboy, has no such qualms. The film is still mentioned on his IMDB page.
The Trump campaign did not respond to a Huffington Post request for comment.
Although Trump told Playboy in 2004, "I've always said, 'If you need Viagra, you're probably with the wrong girl,'" he seems willing to ignore his horn dog past if it gets him votes from Republicans who are much more conservative.
In August, Trump signed a pledge promising to crack down on pornography if elected.
It's unclear whether that includes videos and magazines featuring him.