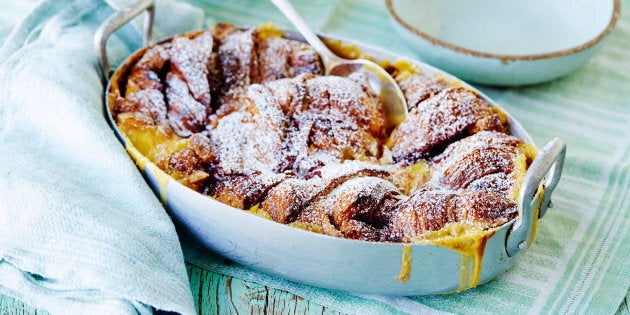 When you think of cooking with kids, you probably envisage inedible muffins, excruciatingly finicky cake pops and a mess of technicolour food confetti.
That's where these easy, fuss-free and fun school holiday recipes come in, which both your kids and you will love. Win win.
Getting the kids in the kitchen and creating tasty food is an easy way to encourage them to improve their cooking skills, eat more fruit and veggies, learn about where their food comes from, and give them confidence.
With a little less than a week left of school holidays (but who's counting?), what a better time than now to cook up a delicious storm using only four ingredients. Yes, really.
Plus, these recipes are very adult friendly. Hellooo, chocolate and pecan bark.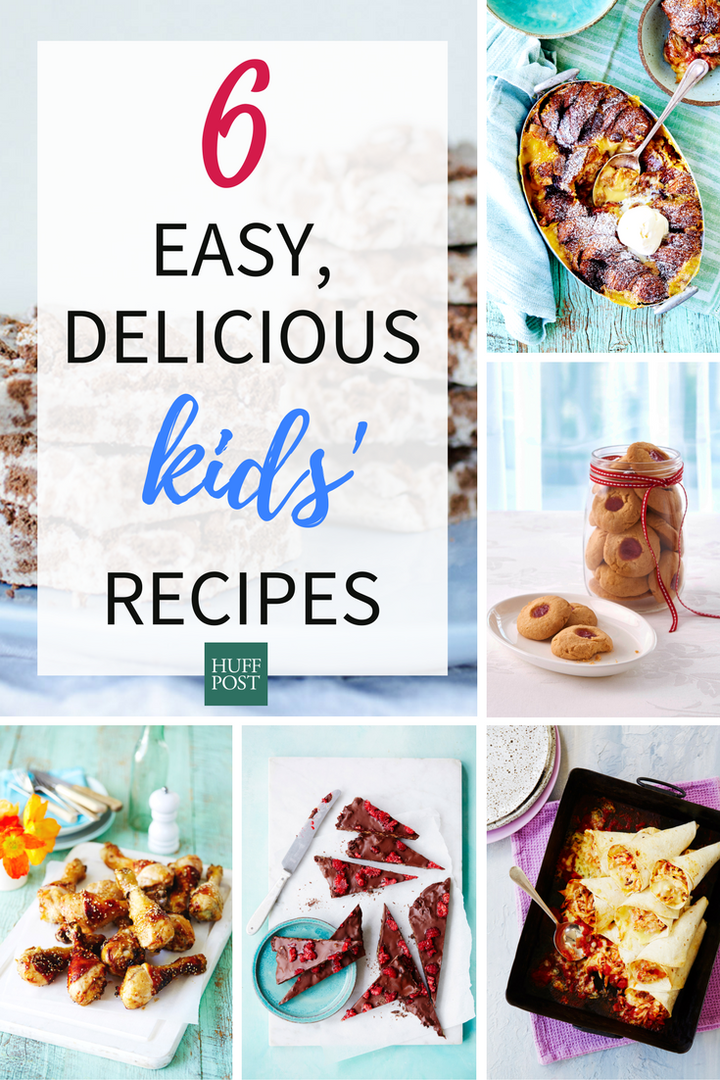 1. Asian style drummies
INGREDIENTS
16 chicken drumsticks
½ cup Kecap manis (sweet soy sauce)
1 tbsp finely grated ginger
3 tsp sesame seeds
METHOD
1. Line a large baking tray with baking paper.
2. In a bowl, combine Kecap manis, ginger and two teaspoons of sesame seeds.
3. Use a small sharp knife to make two cuts, about 3cm long and 1cm deep, in the thickest part of each chicken drumstick. Place the drumsticks onto the prepared tray and season with cracked pepper.
4. Brush liberally with the marinade, coating the drumsticks completely.
5. Cover the dish with cling wrap and put the marinated chicken in the fridge for 20 minutes. Preheat the oven to 200°C.
6. Bake the drumsticks in the marinade for 45 minutes or until cooked through, turning (with a pair of tongs) and basting the drumsticks every 10 minutes. On the last baste, sprinkle with remaining teaspoon of sesame seeds.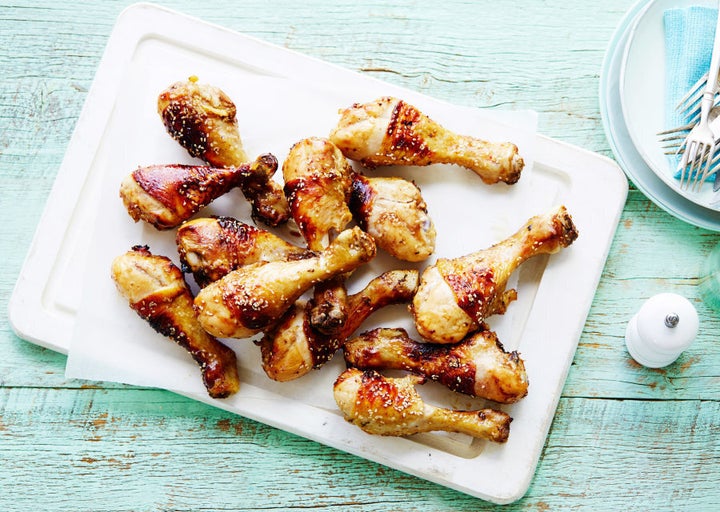 2. White chocolate and strawberry bread pudding
INGREDIENTS
4 croissants, coarsely torn
4 tablespoons strawberry jam
120g white chocolate, coarsely chopped
500g premium custard
METHOD
1. Preheat oven to 180°C. Lightly grease a shallow baking dish with butter.
2. Spread the torn croissants with jam and arrange in the dish. Sprinkle with white chocolate and custard.
3. Bake until the top is golden and the custard heated through -- about 20 minutes. Cool for five minutes before serving.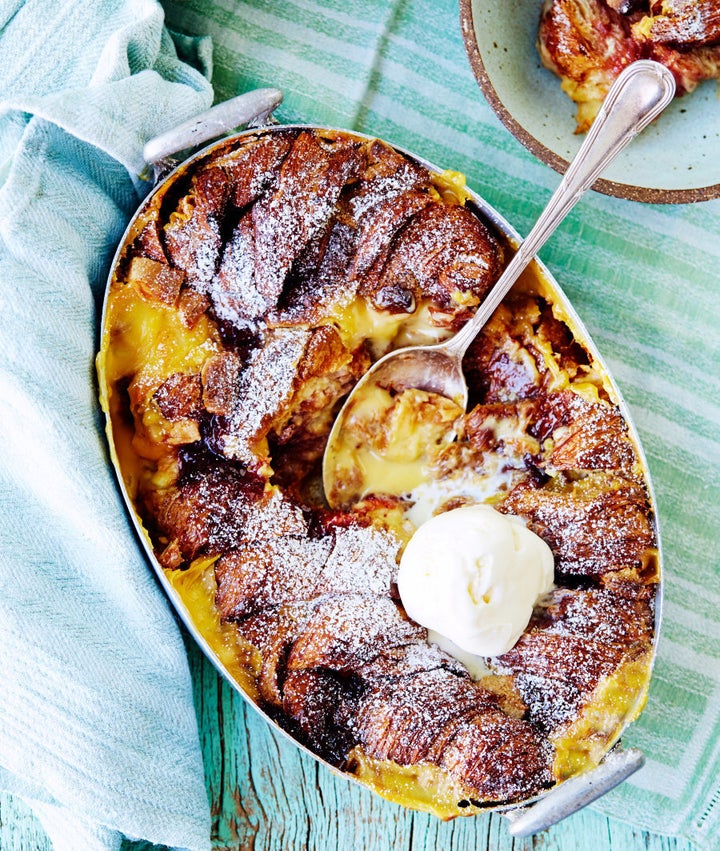 3. Carnival cones
INGREDIENTS
8 whole grain wraps
2 cups leftover shredded roast chicken
1 cup (180g) salsa
100g grated cheddar cheese
METHOD
1. Preheat oven to 180°C. Line a baking tray with baking paper. In a bowl, mix the chicken, salsa and one-quarter of the cheese.
2. Fold the bottom third of the tortilla up, pinch in the middle and roll over itself to form a cone. Stuff the cone with filling, then top with cheese. Lay on the prepared tray seam side down. Repeat the process until all ingredients are used.
3. Bake in oven for 15 minutes or until golden and toasty.
Optional: Smuggle in some delicious veggies when mixing the chicken and salsa by adding two tablespoons corn kernels, ¼ red capsicum finely chopped and ¼ small red onion finely chopped.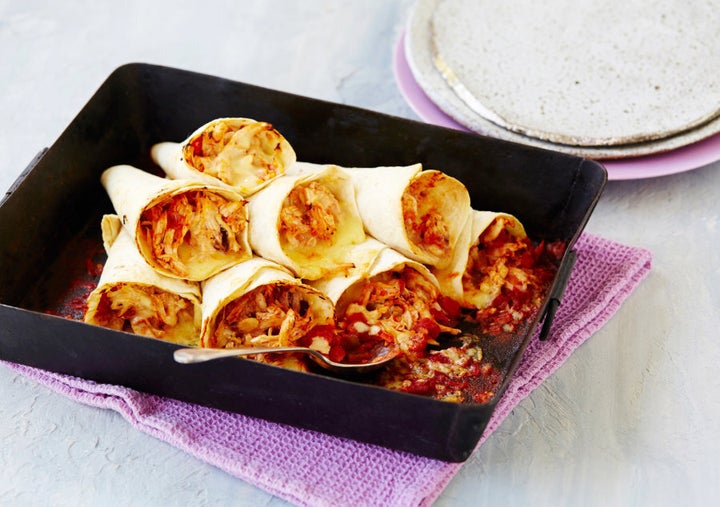 4. Chocolate and pecan shards
INGREDIENTS
400g good quality dark chocolate
1 cup pecans, toasted and chopped
6 Medjool dates, pitted and chopped
⅓ cup fresh raspberries
METHOD
1. With the chocolate in pieces, place in a microwave safe bowl for 30 second intervals, stirring after each until silky smooth.
2. Fold the pecans and dates into the warm chocolate.
3. Pour mixture onto a baking paper lined 20cm square tin and scatter with raspberries.
4. Set in the fridge for at least one hour. Slice into shards to serve.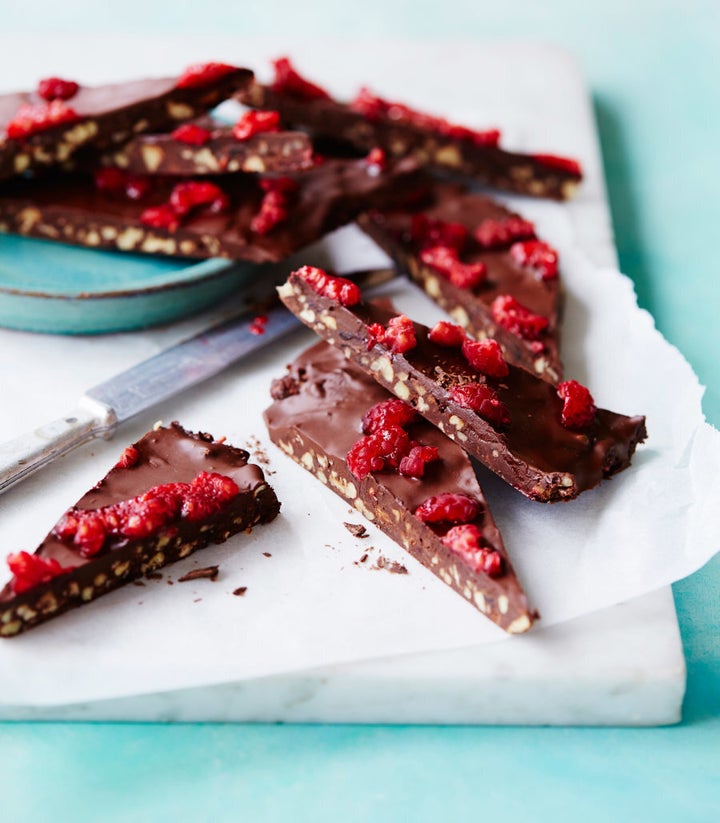 5. Jam bites
INGREDIENTS
150g butter, softened
¾ caster sugar
1 tsp vanilla essence
1 egg
1⅓ cups plain flour, sifted
1 tsp baking powder
Raspberry jam
METHOD
1. Preheat oven to 170°C. Line two baking trays with baking paper.
2. Beat the butter, sugar and vanilla in a large bowl with electric beaters, then add egg. Continue until fully combined.
3. Fold flour and baking powder into mixture and knead lightly until it comes together as a soft dough.
4. Take ½ tablespoons of mixture and roll into balls then place on baking trays and flatten slightly, leaving room for spreading. Make an indent in the centre of each cookie, then spoon in a small amount of jam. Refrigerate for 20 minutes.
5. Bake the cookies for 20-25 minutes or until golden. Cool completely then serve.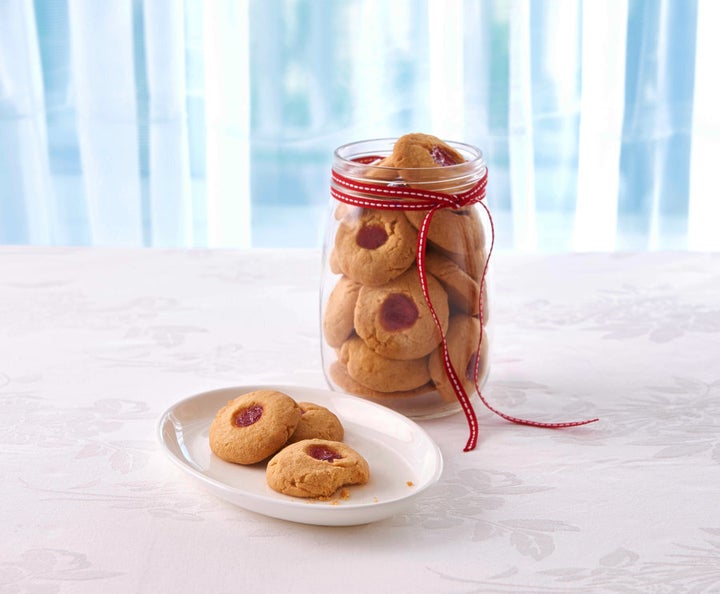 6. Cookie bark
INGREDIENTS
400g Cadbury Dream (2 x 200g bars)
13 Arnott's Monte biscuits, chopped, plus 4 more for topping (or other chocolate biscuit of choice)
METHOD
1. Line a 20x20cm baking tray with enough baking paper for a 2cm overhang on each side.
2. Melt chocolate in microwave or a bain marie until completely melted. Transfer chocolate to a heat proof bowl and cool for five minutes.
3. Add chopped Monte cookies and stir to combine. Pour mixture into tray. Use a spatula to smooth out top.
4. Finely chop remaining biscuits and sprinkle on top. Chill for about 10 minutes until chocolate becomes solid.
5. Lift whole bark out of pan by holding onto parchment or wax overhang. Split bark into pieces with a fork.