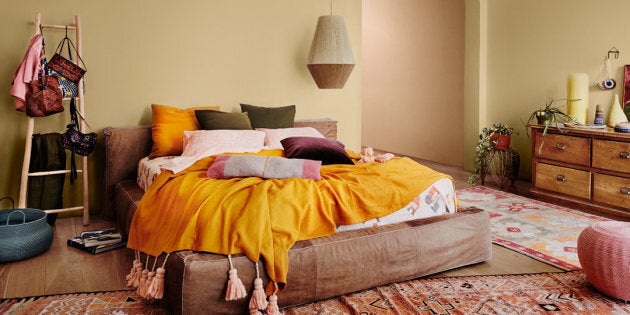 In news that will surprise no one, trends are cyclical. Fashion moves so fast these days that it's hard to keep up, and following in its footsteps are interiors.
It used to be that people decorated their home every decade, but now trends in homewares are seasonal, too. That's' not to say it's time to turf everything you bought last year and repaint the whole house, but you can make instant style updates with a few colour tweaks -- both with paint and accessories.
In terms of what colours were in this year, 2016 was all about pastel shades and soft pinks were big (in case a scroll of Instagram or look at Pinterest didn't already tell you that).
"A continuation of soft shades such as pink as well as an emphasis on botanicals in the home are two of the key trends we saw further emerge in 2016. Another strong direction was inspiration from the postmodern era -- the 70s and 80s in particular," Stylist Bree Leech told The Huffington Post Australia.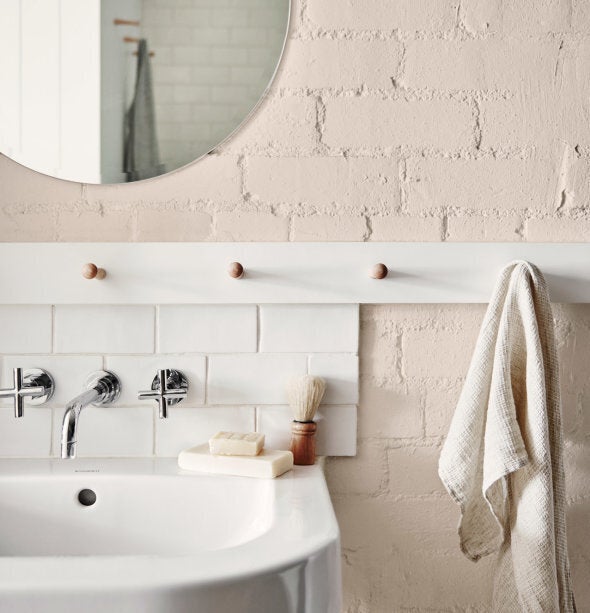 Andrea Lucena-Orr, Dulux Colour Expert agrees when it comes to washed out candy hues. She also saw a surge in the use of deep blues.
"The space theme in accessories was a popular trend in 2016, which brought about deep and dark blues. We also saw the customisation of design reaching an all-time high and this continues to increase, especially with 3D printing capabilities. The soft pastel shades started to emerge, and we also saw a resurgence of our country's past with traditional colours used in a more contemporary setting," Lucena-Orr said.
With regards to what was big in 2016 that we'll finally see the back of in 2017, you can decisively say goodbye to rose gold and copper.
"We are still seeing rose gold or copper, though in a smaller volume, and we are seeing tarnished metals in bronze, silver and golds becoming more popular. Glossy, perfect finishes are not as popular as they make way for more natural and imperfect surfaces -- we are definitely seeing this in interior elements such as urns, tiles, dinnerware and glass," Lucena-Orr said.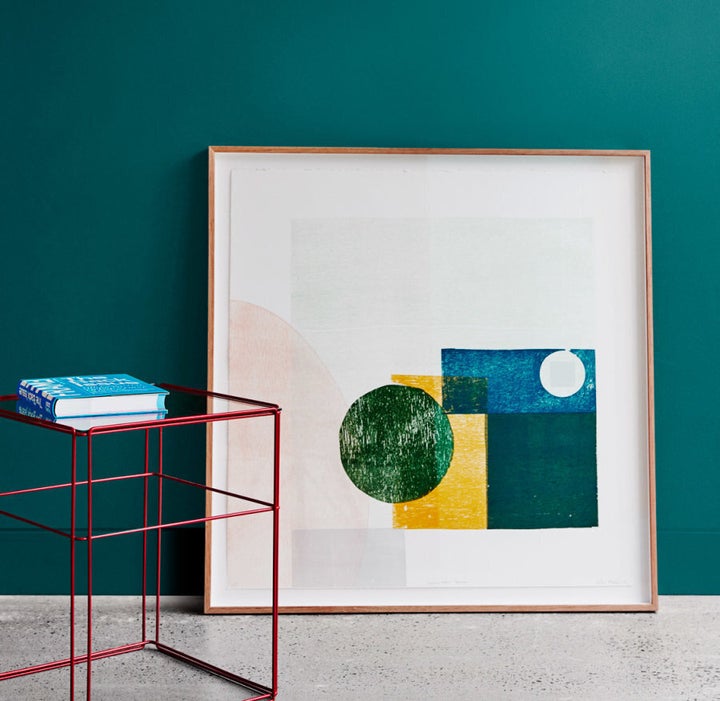 The good news is that, despite what's 'in' and 'out' in terms of trends each season, we're leaving the disposable interior culture and getting back to collecting pieces with meaning.
"Interior trends are moving away from being a 'throw away' culture. People are adapting older trends and renewing them with 'hacks' to existing décor, refreshing them with a coat or spray of paint, or simply changing a few key pieces in their home and adding new colour to walls. I think the first trend we see evolving in 2017 is the much loved Nordic style -- this is a classic style but we see it moving into a more textured look, less clean and 'poppy'," Leech said.
In 2017 we're going to be seeing a lot of blues, greens and greys on walls.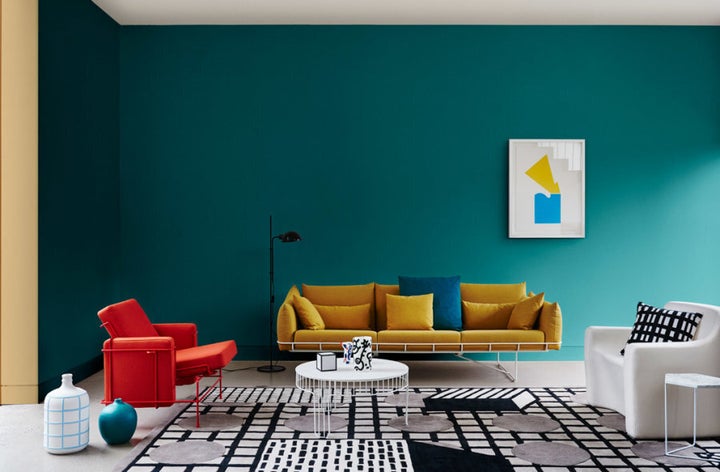 "Muted greiges (which is a grey-beige) are growing, and we're seeing a deep blue green along with coloured greys and deeper blues in general. Soft muted naturals with a hint of a mushroom pink and stone will also dominate. Khaki green takes another step forward in this trend year 2017 with a new Dulux colour, Army Fatigues, taking centre stage. We see this being influenced by fashion," Lucena-Orr said.
"We are also seeing deep orange and reds such as Temptress and Gold Pheasant, inspired by the diversity of cultural influences from as far as South America across to the Middle East."
For Leech it's all about beige, grey and inky blues.
"Tactility is one of the strongest directions for 2017 and with it comes soft, warm hues that are inviting and relaxing. Beige makes a return -- pink and tan base neutrals will be used tone on tone, rather than a backdrop for stronger hues. Grey continues to be popular and we see it used with inky blues and industrial materials such as concrete and metal, with Bauhaus and brutalism inspirations for interior looks," Leech said.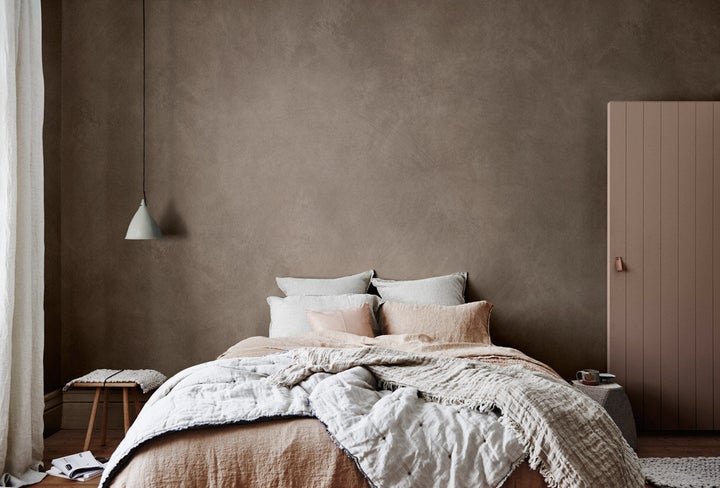 Trends aside, both Lucena-Orr and Leech agree that if you want to go for hues that are timeless, a neutral colour scheme is your friend.
"Unfortunately, everything will date at some stage. Even with cooler whites that are in now, these will move towards warmer whites in a cycle, it just may take a couple of years. Any neutral based colour or muted colour will normally take longer in the cycle to date, however even the undertones change with the trend cycles," Lucena-Orr said.
"Neutral shades are always a safe bet but to avoid making the space cold, try using tonal colour -- such as picking out architectural details in darker or lighter shades -- rather than opting for one colour on all surfaces," Leech said.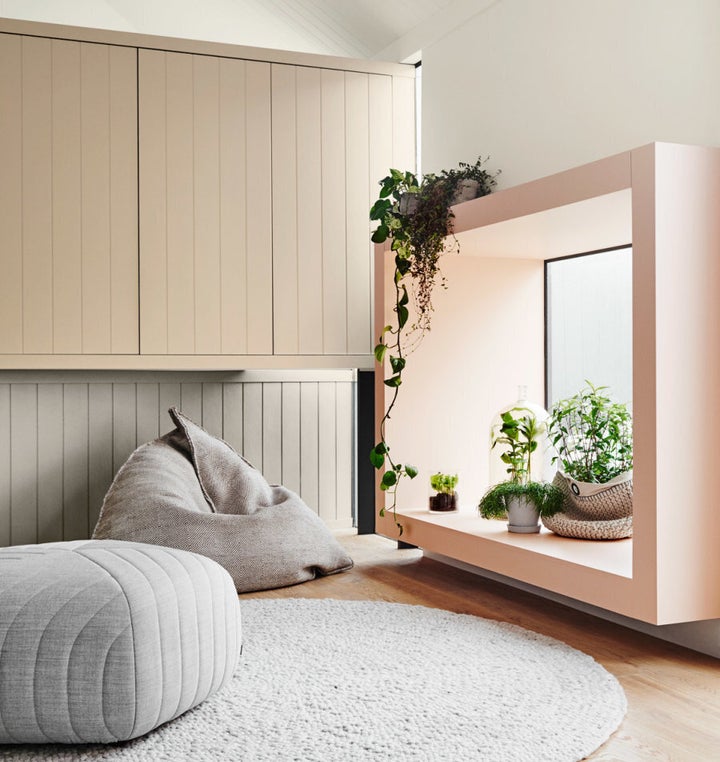 All colours have a place in your home if you love them, it's just about how you use them that makes all the difference.
"Every colour has its place and is worthwhile. It's such as personal choice with colour -- the only thing to consider is whether a colour is right in your space, taking in the aspect of the room and also your accessories. For example, if you were to paint a bright yellow in a space facing north west, you may have issues with glare and heat, so you do need to consider these elements when looking at colour selection. If you love yellow maybe look at a more muted shade, or do the higher volume walls in another colour and contrast with yellow accessories," Lucena-Orr said.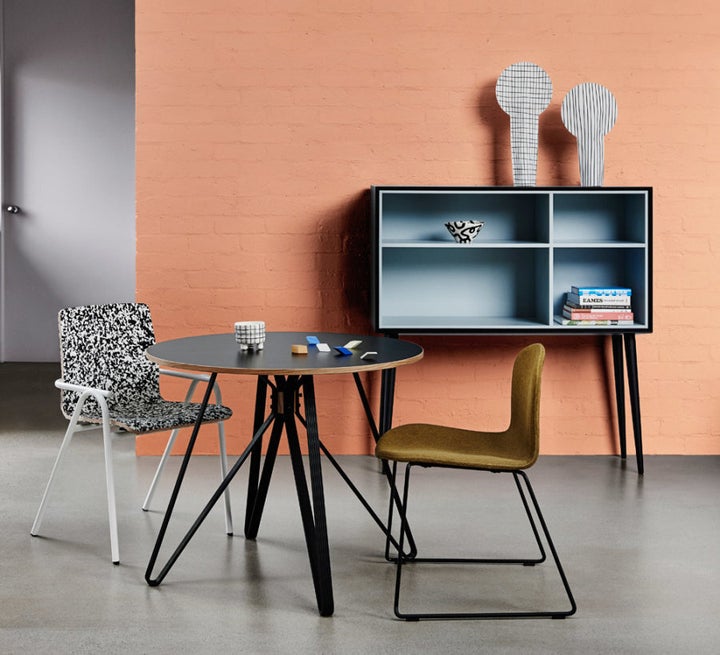 Click below to follow HuffPost Australia on Snapchat!