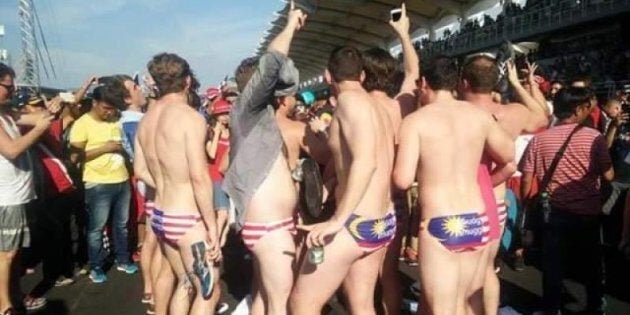 A group of Australian men who stripped off to their budgie smugglers at the Malaysian Grand Prix have escaped serious penalties, with a magistrate cautioning them and dismissing the matter.
The men, who were arrested four days ago after they stripped off and danced in Malaysia flag-emblazoned swimmers, are now free to return home.
The men, which include a ministerial staffer for Christopher Pyne, had been held in a Malaysian jail while they waited to see if they would be charged by prosecutors in the socially conservative majority Muslim nation.
During the court hearing, one of the men, identified by media as Thomas Whitworth, reportedly briefly collapsed in the dock while handcuffed to another man, shortly after they were brought to the Sepang magistrate's court on Thursday.
The nine Australians caused at a ruckus at the Sepang Circuit in Malaysia at the weekend when they celebrated countryman Daniel Ricciardo's victory by stripping down to their swimmers. They were then quickly arrested and placed in custody, and faced charges of 'intentional insult' by breaching the peace.
On Thursday they were set free with a fine and no conviction recorded.
"They'll go home and resume their lives," said John Walker, the father of Jack Walker, who was one of the men arrested and a staffer of Defence Industry Minister Christopher Pyne.
The men reportedly read a letter to the court expressing remorse and apologising for their behaviour, calling it a "moment of folly" and "purely an error of judgment on our behalf".
The Minister said the act was "clearly premeditated" as the men, aged between 25 and 29, bought the nationalistic swimwear before departure in Australia.
"When they come here with the intention to, you know, commit indecent acts to embarrass us, I think that's not how visitors should respond to our good treatment," the minister said.