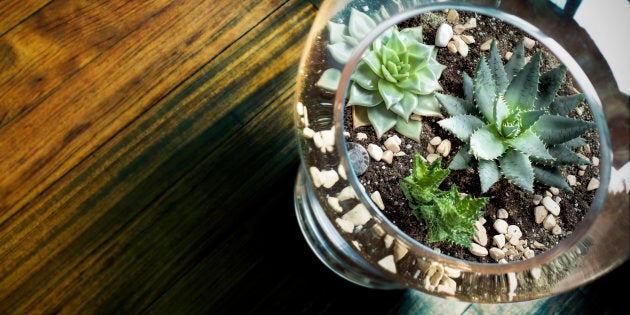 If you're a forager, or just like to bring a touch of nature into your home, safe to say you have (or need) one of these little guys STAT.
Terrariums are a sustainable, spherical and whimsical way to display your indoor plants -- and they are surprisingly easy to make.
We've enlisted visual artist Melissa Carey, with experience running her own terrarium workshops in Sydney, to show us the ropes.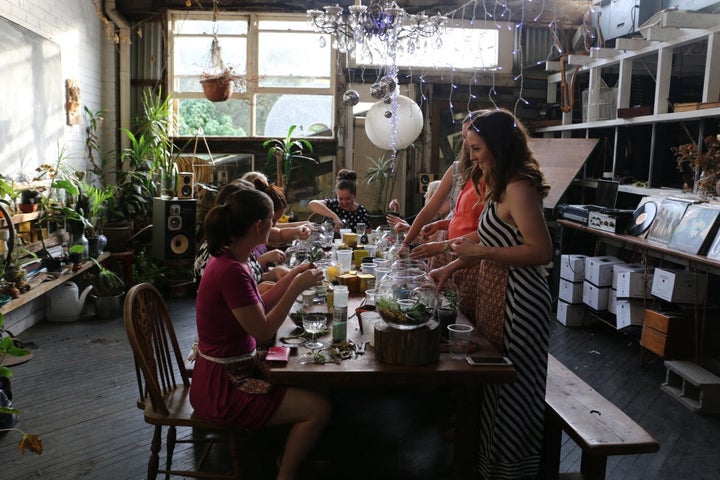 Start by grabbing yourself a container.
Any glass vessel will do. "A large fish bowl is a standard vessel that lots of people use," Carey told the Huffington Post Australia.
"There's lots of different containers that you can buy, but for a simple terrarium, you want to make sure that it has no lid."
Succulents are the best choice of plant, paired with some normal potting mix.
"Simply because they are quite hard to kill!" Carey said.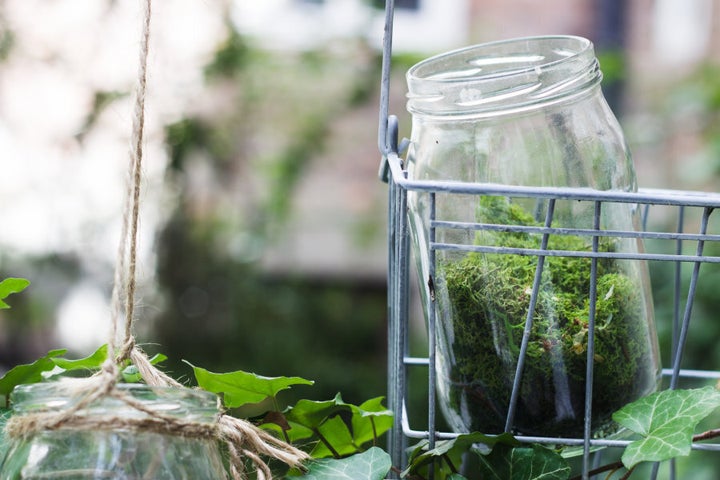 Start layering.
At the bottom of your container, pile in a nice, thick layer of rocks and pebbles.
"This acts as a drainage layer so that there is air between the soil and the container, allowing it to breathe and not become mouldy."
"These ones are up to you -- it doesn't really matter too much," she said.
"When you are adding each layer, make sure to gently add the materials so that it stays nice and neat. A spoon works well."
Carey recommends a second layer of moss, followed by a spraying of sand.
Up next is a thin layer of soil.
"When you are creating this layer, make a little hole where you want the succulents to grow.
"A good thing about succulents is that they don't need roots -- you can just snap them off if the stalk is too long, place them into the soil and they will grow new roots."
Carey recommends starting with your smallest succulents first, followed by any larger ones.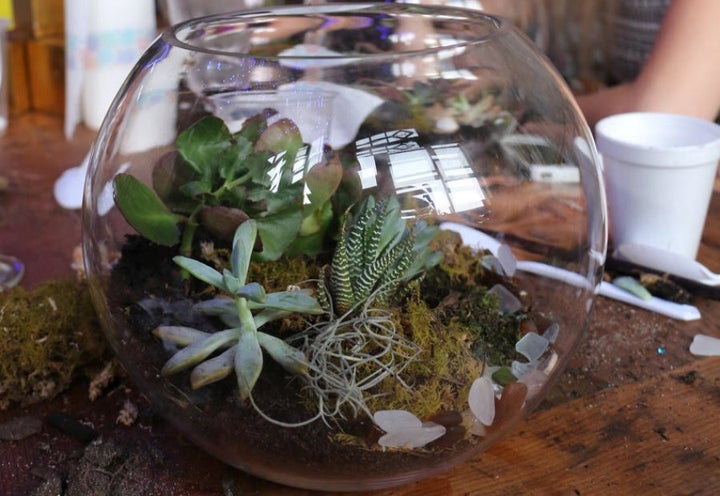 Be creative and start decorating.
All that is left is up to you. Carey's suggestions?
"Moss on the top is a good ground cover to keep some moisture in the terrarium. You can add shells, pebbles, pieces of sea glass or driftwood -- be creative."
Tips For Keeping Your Terrarium Alive

1. Water care: "You need to spray it once a week (maximum) with a spray bottle. Terrariums like to be dry (but not too dry)."

2. Sunlight: "Terrariums need to be in indirect sunlight -- otherwise they will sweat and burn."

3. Storage: "The best environment is the bathroom as the mist from the shower will provide enough moisture."
Start simply, and the world of terrarium-making becomes truly endless...
Click below to follow HuffPost Australia on Snapchat!