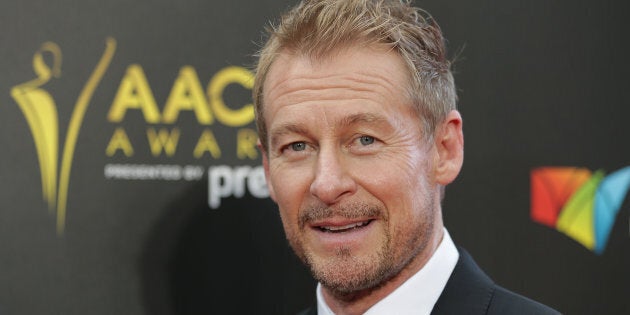 Rake's Richard Roxburgh has surprised many by writing a children's book on top of his stellar acting career.
The book, called Artie and the Grime Wave, is about to be published and Roxburgh is not only behind the writing but the illustrations, too.
In an interview with Leigh Sales on The 7:30 Report, the Rake actor also admitted one of his characters in the book, Wart, may have "elements" of Tony Abbott.
Yes, Wart eats onions while the other kids eat apples.
The Aussie actor also admitted he's become less like his loveable but roguish character, Cleaver Greene, as he's gotten older -- even offering up some life lessons that his on-screen persona could benefit from.
And you'll want to know his answers, so here they are.
On finding your passion (Roxburgh studied economics, before becoming an actor).
"I wanted to go to university because all my brothers and sisters had. But I think I knew in my heart of hearts that what I really wanted to do was something creative but I couldn't," Roxburgh told Sales.
"[Acting] was really the only thing that gave me insuperable pleasure while I was at university, and the rest of the time I was variously drunk and irresponsible and missing lectures all over the place. And a terribly lazy student.
"But then, you know, when I was involved in the university theatre productions, suddenly there was something that came to life. Suddenly there was something that I could devote myself to and I did."
"The most important thing my failures have taught me is that you have to go back to your own voice, to your own inner mechanics. To the voices that were beckoning you to do the thing in the first place. Which is why I will always go back to do theatre because it's a little but very, very important thing in my life. It's my home, my creative home if you like."
And as to that children's book he's writing?
Roxburgh started getting a "buzz" out of reading to his eight-year-old son and "couldn't wait to find out what happened in the next chapter".
"I started to muse on the possibility of writing something myself to that age range -- my own level of maturity if you like."