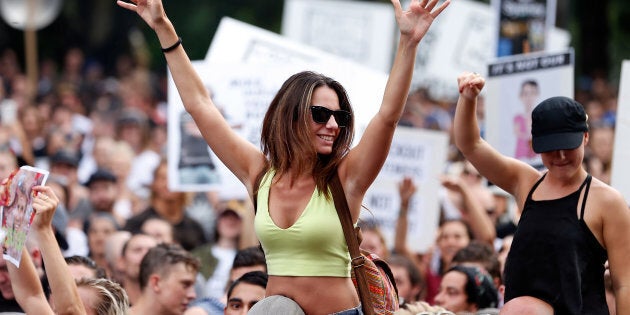 A big rally is underway in Sydney to protest the city's controversial pub and club lockout laws as live-music fans and revellers maintain their fight against the Baird Government.
The Keep Sydney Open rally kicks of at 12pm (AEST) in the long-running battle to wind back the controversial legislation brought in by former NSW Premier Barry O'Farrell.
Iconic Aussie rocker Jimmy Barnes has backed the rally, which is featuring popular musicians like One Day and The Jezabels' singer Hayley Mary.
In a video on the group's Facebook page Barnes said: "I made a career playing in live venues in Sydney. I learnt my craft playing in those venues".
"'The lockout laws aren't working. We've got to help keep music alive and keep Sydney alive. Let's find a better way to do it," Barnes said, adding that crowds at live-music venues had dipped 40 percent since the laws came in.
The measures include a 1.30am lockout at nightspots and 3am "last drinks" in the city and were introduced in March 2014 after a string of violent alcohol-related assaults around the Sydney CBD. These included the one-punch deaths of teenagers Thomas Kelly and Daniel Christie.
The legislation has been criticised as too heavy-handed and has been blamed for the shutdown of many Sydney clubs, pubs and venues, with opponents blaming the laws for destroying the city's nightlife.
But doctors and emergency services back the laws, and have praised them for reducing alcohol-fuelled admissions at Sydney hospitals.
Keep Sydney Open's Tyson Koh told AAP the group wanted to improve the living standard of all Sydneysiders.
"It has never been clearer that the lockouts are the wrong answer to the question of how to create a safe, fun and vibrant city," Koh's quoted as saying.
"Keep Sydney Open will march in the streets to call on the state government to let Sydney have the same, world-class late-night culture we all know this city is capable of having."