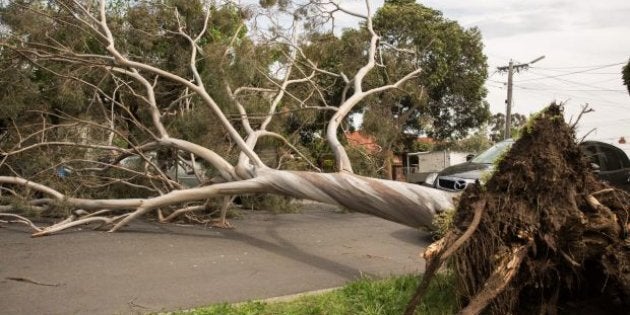 One woman has died after wind gusts of over 100 kilometres per hour caused major damage in Victoria this afternoon.
The woman in her 50s was trapped after a tree fell on her house in Milgrove, east of Melbourne. Victoria's Emergency Management Commissioner Craig Lapsley confirmed the death at a media conference and said that it took emergency services a while to find the woman.
He also confirmed that an 81-year-old lady was transferred to hospital after a tree fell on her Tecoma home east of Melbourne and that two firefighters have also been treated for minor injuries.
"The Bureau [of Meterology] were saying it's a one in five year weather event," he said.
"They were clear in the forecast yesterday that we would see in-excess-of 100 kilometres per hour winds over many hours across the state. And that's actually occurred."
The SES helpline received a very high volume of calls in Victoria.
"The key message for Victorians, if it's urgent, if it's life threatening, ring triple 0 and it will be dealt with," he said.
Most of the SES calls were relating to damage from fallen trees.
"With the amount of rain we've had, we've got very wet areas around trees so they're soaked and that means that they've got the potential to be impacted a little easier with high wind speeds," Craig Lapsley said.
About 120,000 properties across the state were without power and fallen trees caused local road closures and damage to power lines.
The Bureau of Meterology stated on their website that winds will gradual ease from the west during this afternoon and this evening. The winds are averaging 50 to 70 kilometres per hour with peaks of 120 kilometres per hour in elevated areas and the central district predicted until the evening. Wind gusts of around 130 km/h are possible about the Alpine area until around midnight
Melbourne airport is open, however severe winds closed all but one runway at Tullamarine Airport causing flight delays.
Trains are operating with some service interruptions due to power outages. Zoos were forced to close due to the high winds.