CANBERRA – The Donald's 2005 groping and adulterous admissions have led to a clash in the corridors of the Australian parliament.
The vile, seemingly indefensible comments by Donald Trump have been defended of sorts by One Nation Senator Pauline Hanson, with Senator Derryn Hinch firing back that the Republican Presidential candidate was a "sexual predator" and a disgrace.
One Nation Senator Pauline Hanson has told Channel's Seven Trump's comments were "vulgar" and she did not support them, but offered the Presidential hopeful an out -- he was just saying what other men say in private.
"It was said, not on camera, it was said behind the scenes and was a tape recording," Senator Hanson told the Sunrise program.
"There are a lot of men out there that say horrific things."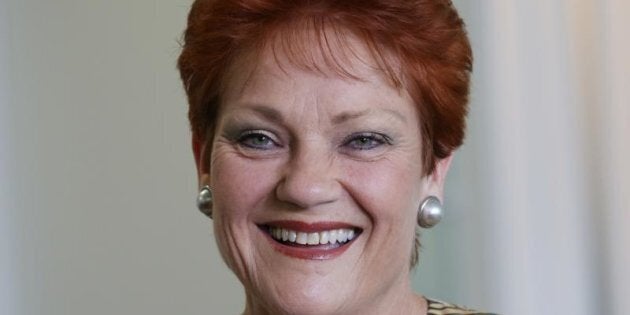 Senator Hanson was having an on air debate with Senator Hinch, who took umbrage at her words, particularly as she said it was "up to the people to decide".
The heat spilled over into the corridors of the press gallery, as captured by the ever-present broadcast cameras.
"To manage to support Donald Trump in any manner or form is absolutely disgraceful. [That] you as a woman can even make any justification for what he has said..." Hinch spat out.
Hanson replied, "I didn't condone what he said".
As Senator Hinch moved for the elevator to take him back to his office, he seemed he was just warming up, saying, "If you are even slightly right then God help the country. The man is a sexual predator and he is a disgrace".
Senator Hanson smiled "well you have had your say" as she moved towards the stairs, or another elevator.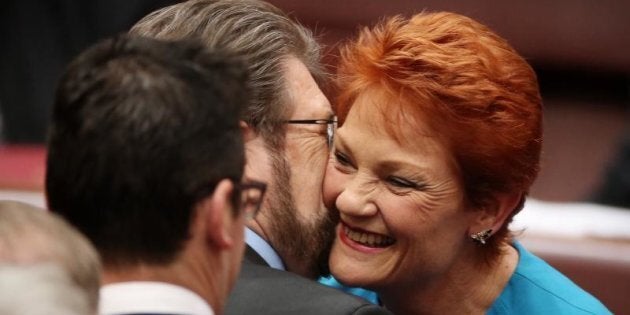 The testy exchange between the Senate newbies overshadowed strong condemnation by Prime Minister Malcolm Turnbull as he joined Donald Trump's Republican colleagues in disavowing and criticising him ahead of the second U.S. Presidential debate.
"They were loathsome and they deserve the absolutely universal condemnation that they have received," Mr Turnbull told reporters in Canberra ahead of the start of parliament.