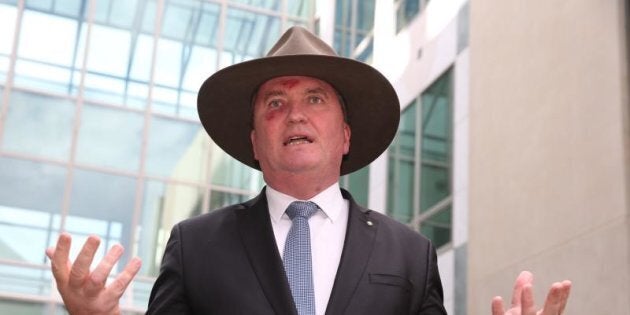 CANBERRA – Known marriage equality opponent and Deputy Prime Minister Barnaby Joyce has rejected the advice of LGBTI people and mental health experts and claims "no one has really been insulted" by the debate so far on the same sex marriage plebiscite.
The February 11 plebiscite remains set to be killed off with the federal opposition expected to formally vote Tuesday to block the Turnbull Government's enabling legislation.
Barnaby Joyce has told ABC radio Monday that there is already a plebiscite debate, and "I don't see anybody's been assaulted or killed, or even really insulted".
"I believe and respect the Australian people's capacity to have that debate. And later on we will want them to have the same debate when it comes to indigenous recognition."
But, Labor's equality spokeswoman Terri Butler has told The Huffington Post Australia that Mr Joyce is out of touch.
"I think he has no idea about how hurt people are already feeling in the relation to the fact that their relationships are being openly debated and whether or not they should have the same status as other people is being openly debated."
"Whether or not they are really equal to other people is being openly debated and whether or not they make as good parents as other parents is being openly debated."
"And I think it is pretty insensitive of Barnaby Joyce to say that on the start of Mental Health Week."
The Deputy Prime Minister and National Leader backs the plebiscite as the only way forward, but won't say what will happen if Labor moves, as expected, to stymie the plebiscite.
"Everybody says that they are in the majority. Everybody says that they know best," Joyce told the AM program.
"The best way to resolve this issue is to go to a plebiscite. At the end of the plebiscite then we can move forward."
"If the Labor Party believe they know better than the Australian people then they will tell you so after their caucus vote."
Prime Minister Malcolm Turnbull has dismissed concerns about a "yes" and "no" plebiscite campaign, insisting the debate would be conducted respectfully on both sides.