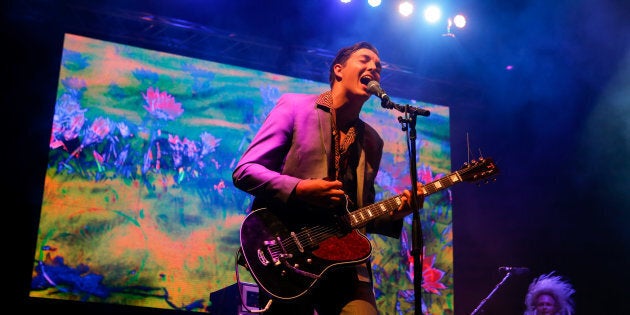 They call it the 'Leisure Coast'. The strip of lush forest and sandy beaches slotted between the mountains and the sea south of Sydney. Most know it as Wollongong, but to many in the thriving local creative community that has sprung up in recent years -- musicians, artists, designers, DJs, clothing labels -- it's the Leisure Coast.
The name is about the vibe. Thanks to a burgeoning artistic hipster scene, it's now the sort of area where you can wake up late most mornings, handcraft your artisan organic jewellery or clothing or soap to sell at the local markets and independent stores, and have enough to rent a shack within spitting distance of the beach and cover your weekend cold brew. It's the spirit and the ethos behind Yours and Owls festival, quickly establishing itself as one of the premier small festivals in the country by bringing the country's best alternative acts to a smaller town infused with an intimate, relaxed vibe. "Chill" is the word that will come up most often.
The Huffington Post Australia went along last year, when a full day's worth of bands lit up a beachside park where the smell of salty air was just as strong as the aroma from the market alley of food stalls. When they invited us back, promising a full two days of music over two big stages, we couldn't resist.
It is one of the most picturesque festival surroundings going around today. In a large green park on the shores of a long beautiful and pristine beach, the sea breeze carried salted air into the festival grounds. Listen closely during a quiet moment and you can almost hear the waves breaking just a few hundred metres away. Seagulls filled the air, as did skydivers borne on parachutes, who regularly appeared high above the site before gliding softly to the ground in the parkland next door; their multi-coloured chutes whipped above them, as if some art installation and part of the festival.
To do a conventional review, a shopping list-style essay where we simply list the bands on stage and the songs they played, would be selling the festival short. This is a rare festival in that it felt more like a massive house party than a gig. That isn't to say the bands weren't great, because they were -- we could tell you The Jezabels and Ball Park Music headlined night one, putting on soaring uplifting sets that closed out the evening on a high; we could tell you The Living End on night two showed why they're still one of Australia's most successful and popular rock units after so many years; we could tell you DMA's and Tkay Maidza casually stamped themselves as future festival headliners with arguably the two best sets of the weekend, or that Hermitude turned it on for the most raucous and wild performance of the festival, or that a host of local acts grinned their heads off playing to massive hometown crowds.
But with all honesty, the festival was more than that. It seemed like almost everyone was having just as much fun wandering the grounds, sitting under a tree with a beer, or running into friends in the park as they did during the music.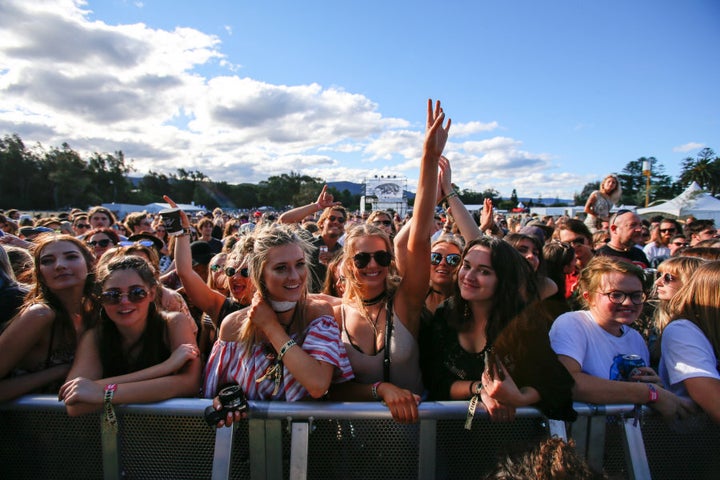 Girls in flowing dresses and bikini tops, faces encrusted with glitter and makeup with unbelievable staying power, flitted by in rounded mirrored sunglasses. Boys with long hair in caps and ironic moustaches and loud shirts danced in the field. There was a guy with an electric blue glitter beard As we said last year, the crowd looked like it was ripped from the pages of a General Pants catalogue, a lineup of pretty beachy people decked out in some combination of bohemian, hippie, surfer dude, op shop chic and -- thanks to an insane amount of body glitter, technicolour dyed hair and clothing/accessories featuring a lot of chrome and silver, and the aforementioned blue beard -- future alien.
It was the most incredibly relaxed, laid-back, chill festival this reviewer has seen. Where many other festivals feature people charging between stages and stalls, muscle-bound hulks throwing their weight around and unruly lines for the bar, it wasn't the case at Yours and Owls. Most people stood around chatting, laughing, laying on their backs and staring at the sky. Most of the lineup complemented this vibe, the idea that people could have fun just dancing or swaying in the warm breeze. The festival was full of brooding, shimmering indie pop in the afternoon -- Vera Blue, Little May, Big Scary and Thelma Plum were the afternoon favourites across the weekend, but broken up by the occasional burst of energy. Skeggs pumped in a blast of punk scuzz, while local metal band Totally Unicorn -- a group whose standard performing attire is topless and decked in tie-dye clothing -- scared a bunch of parents taking their kids on a quiet sunny Sunday bike ride on the public path just over the fence from their stage. Their roaring chaotic metal pulsed around the park and beyond into the town, scaring many but delighting and confusing more.
Art installations and a graffiti wall showcased local creatives, while a custom-built gazebo-type structure made of wooden crates housed the tiniest dance floor of them all. Bars showed the football grand finals. A corner of the park was devoted to food and market stalls.
Local heroes like Hockey Dad, Bec Sandridge and The Pinheads, all picking up national support through Triple J and playing sold-out shows across the country, had their own rock star moments. Playing to what would have been the largest crowds of their career, they each proved their worth -- not too long ago, they had been playing the tiny cafe up the road which launched the Yours and Owls collective which has since grown to a fully-fledged national promotion and management company.
The sun burst out on Sunday, a brilliantly warm day which held most of the festival's biggest drawcards. Pint-sized hip-hop star Tkay Maidza owned the stage from note one of her new song, spitting raps at breakneck speed as she danced frenetically across the stage in front of a live drummer and DJ, long black hair flying and clearly having an awesome time. Big Scary got the crowd singing and swaying and dancing with their groovy indie-pop. Sydney guys DMA's, looking unlikely as rockstars in their op shop catalogue baggy clothes, put on the most impressive rock set of the weekend with their Oasis-tinged Britpop and more than few true hands-in-the-air singalong moments; it was a sea of humans on shoulders, singing, dancing as the thumping indie rock echoed around the park, a squalling wall of sound.
Electronic duo Hermitude had the honour of ending the festival on a high, their booming hip-hop inspired EDM tunes sparking the crowd into action one last time. The pair are true festival veterans, having blown up crowds across the country for several years now, and truly know how to put on a show. After a massive weekend in the sun, Hermitude's high-energy dance tunes still moved the tired audience into frenzy.
Moving to a two day format, with two stages, essentially meant quadruple the work and effort for organisers. They seemingly pulled it off without a hitch. They managed to nab some of the country's biggest indie names. We're looking forward to next year.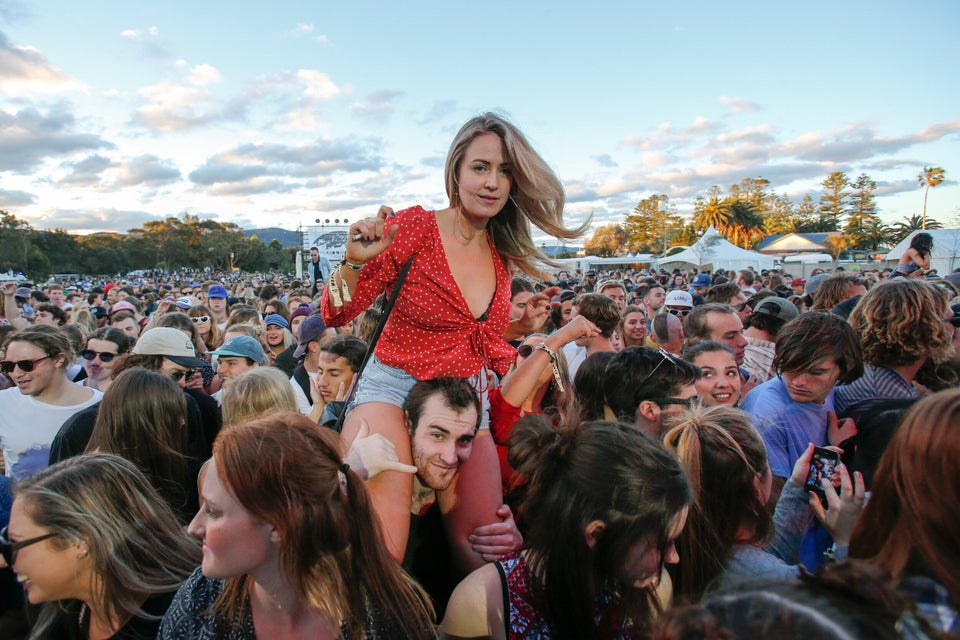 Yours and Owls festival 2016