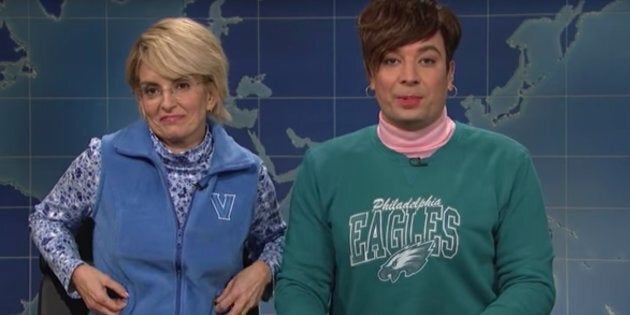 Tina Fey and Jimmy Fallon appeared as two undecided female voters from Philadelphia on this weekend's "Saturday Night Live."
Colin Jost introduced the duo during a spoof segment about the presidential election and swing states. In light of the leaked audio of GOP nominee Donald Trump making offensive comments about women, Jost said women in the suburban areas of the city may now prove crucial to the election's outcome.
He then asked the comedians, named Denise McDonough and Doreen Troilo for the skit, how they felt about their status as the "most sought-after voters in the country" and for their opinions on the candidates.
While Fallon as Troilo said he thought both Trump and his Democratic rival Hillary Clinton "are bad," Fey as McDonough couldn't resist breaking character to poke fun at "The Tonight Show" host's playful interview with the brash businessman from September.
"You love Trump," Fey said to Fallon. "You're always like, 'Oh his hair's real, ya know.'"
Check out how else Fey mocked Fallon in the clip above.