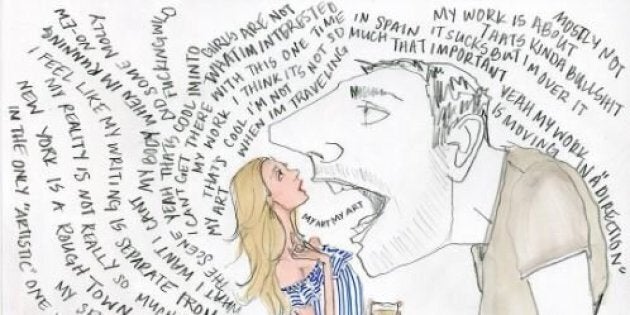 Ever feel like a tiny part of your soul dies with each consecutive bad date you suffer through? Illustrator Julie Houts feels your pain.
The 29-year-old womenswear designer at J.Crew has gained quite a following on Instagram thanks in part to her witty, all-too-real takes on modern work life (oh, joy, another depressing desk salad for lunch!) and modern love.
Her drawings on the performance involved in dating are particularly relatable. Really, who hasn't experienced this real-life nightmare?
Or had a "conversation" with a dude like this?
Or worried if anyone in the universe would ever come to appreciate your distinct highbrow/lowbrow taste?
Too. Real.
Houts said her dating illustrations are "very much" drawn from personal experiences.
"I used to go on marathon weeks of dating where I'd be meeting people three or four days a week. It was sort of emotionally exhausting," the Brooklyn-based artist told The Huffington Post. "While I've never punched myself in the face to get out of a date like one of my characters has, I've definitely fantasized about it during the course of a bad one."
Collectively, Houts' dating illustrations remind us of Carrie Bradshaw, if the "Sex and the City" protagonist had a much darker sense of humor and a Tinder account. (Of course, Carrie would hate Tinder, but damn, think of all the material she'd get out of it for her column.)