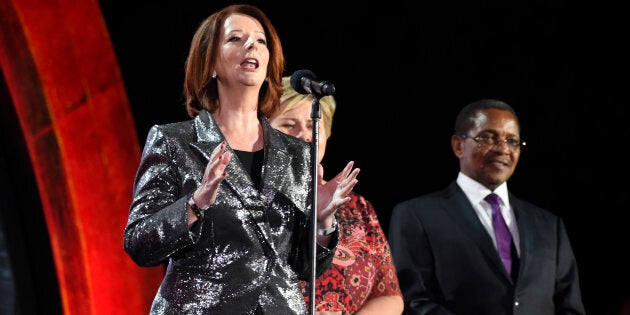 Former Australian Prime Minister Julia Gillard has a sobering warning for young women looking to enter public life -- expect to receive rape threats "almost daily" -- and criticised the way media covered her and Hillary Clinton.
Gillard, the nation's first female PM, spoke in London this week in memory of British MP Jo Cox. Cox was shot and stabbed in June, with a man to stand trial for murder in November. Gillard has spent much of her post-politics life travelling the world and advocating for women's rights, and has spoken bluntly about how women in positions of prominence or power are treated today, especially by anonymous commenters on social media.
"[Critics] have the power to fire barbs directly at their targets without any fear of consequence. At best, these can be snarky and occasionally witty criticisms of a politician's decisions or actions. At worst, they can take the form of detailed death threats, or threats of violence against family, friends and staff," Gillard said.
"And of course, as a woman in public life, the violent threats take on another sickening dimension. Threats of violent abuse, of rape, are far too common. A woman in public view may expect to receive them almost daily."
Gillard also detailed some of the abuse she received -- online and in person -- while PM, as well as criticising some of the media commentary around her and especially her appearance.
"'Ditch the witch' on placards at rallies. The ugly ravings about how 'women are destroying the joint' from a conservative and cantankerous radio shock. The pornographic cartoons circulated by an eccentric bankrupt. The vile words on social media," she said.
"Before becoming prime minister, I had also worked out that what you are wearing will draw disproportionate attention. It did when I became deputy leader of the Opposition. Pleading, 'I like to wear suits' or 'I have been on the road for days' simply did not cut it."
"On another occasion, whilst in a bilateral meeting with then Secretary of State Hillary Clinton at the Earth Summit in Rio, a respected female journalist opened her article with: 'As well as matters of state, US secretary of state Hillary Clinton and Prime Minister Julia Gillard have had a chat about their hairstyles.' Six paragraphs then followed on the matter of our respective hairstyles."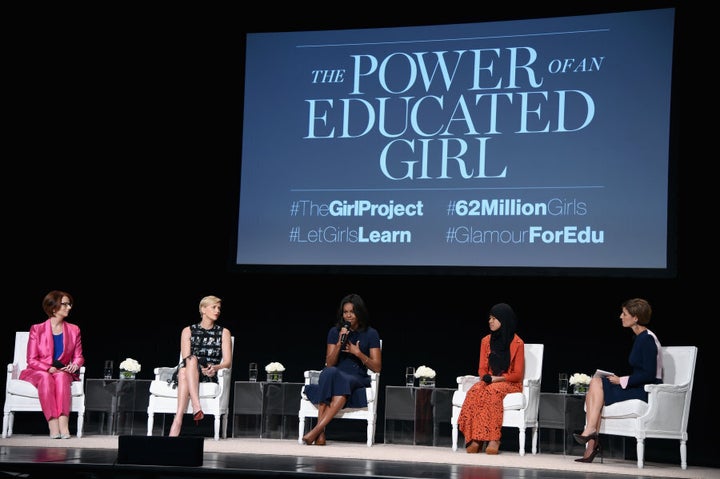 Gillard said the issue of online abuse targeting women today was worsening.
"In the United Kingdom, the number of cases of extremely offensive online abuse against women is sharply rising, despite concerted efforts to highlight and challenge this type of abuse," she said.
"Our community would not consider it acceptable to yell violent, sexually charged abuse at a female politician walking down the street. Why is it okay to let these voices ring so loudly in our online worlds?"
"These voices weaken, ridicule, humiliate and terrify. Not only do they challenge the resolve of the women who cop the abuse, but they deter other women from raising their hand to serve in public life. For all the structural barriers to women's participation in politics, and for all the gender bias and sexism that must be addressed, so too must we challenge and defeat the online abuse."
She went on to draw connections between online abuse and physical violence against women.
"We don't yet know to what extent online abuse translates into physical violence. But I am certain the connection is real, that women feel and fear it, and that it is preventing women from standing up and serving in public life," she said.
This week marked the four-year anniversary of Gillard's famous misogyny speech in the federal parliament, where she took then-opposition leader Tony Abbott to task for his comments about sexism.
To read Gillard's full speech in memory of Jo Cox, click here.