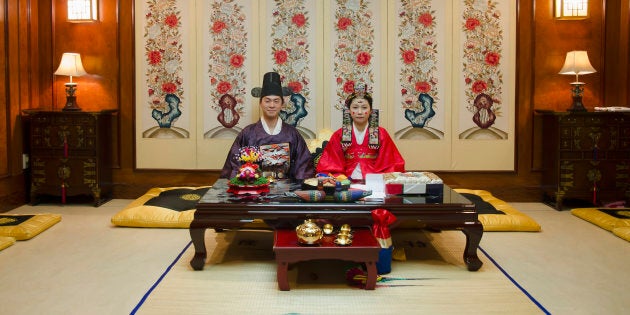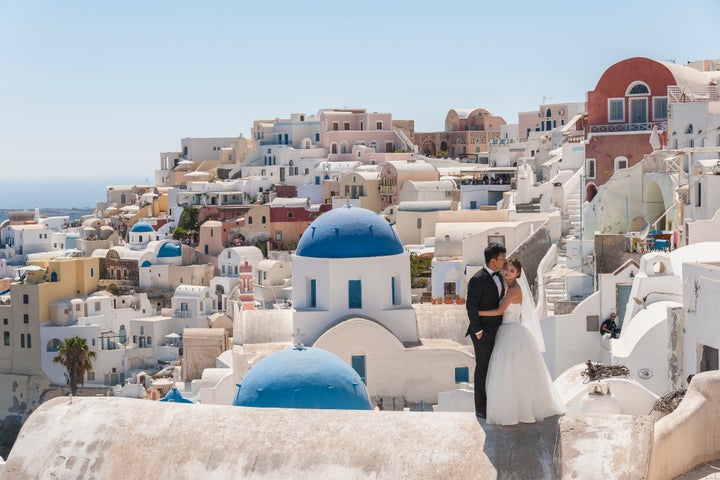 You might already know this, but Greek weddings are extravagant affairs with scores of strange, fun customs. Before the wedding begins, the "koumbaros," or best man, gives the groom a shave. The bride writes the names of her single friends on the soles of her shoes ― and the names that rub off belong to future brides. The list goes on.
We wanted to know what people eat, wear, play and dance to at weddings around the world, so international editors for The Huffington Post gave us some insight.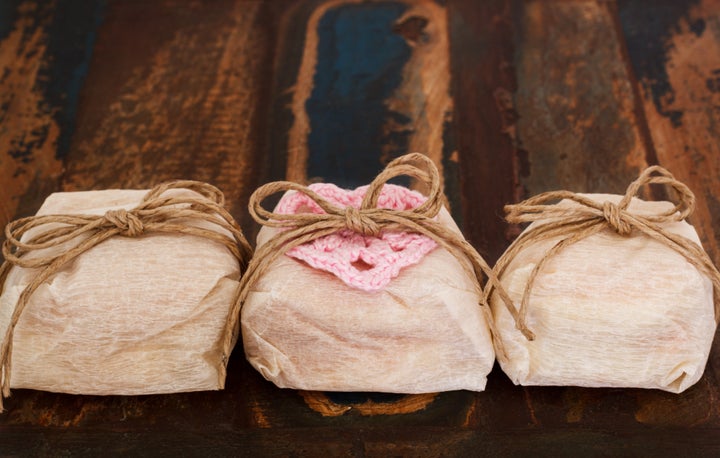 Guests at Brazilian weddings often indulge in quirky games. In one, the best man cuts the groom's tie into several pieces and sells them to the wedding guests at whatever price they choose to pay for it. The money that's collected usually goes toward the couple's honeymoon.
Brazilian weddings wouldn't be complete without pastries called "bem-casados," or "happily married." These are tiny sweet vanilla cakes with a condensed milk filling that are meant to bring good luck to the newlyweds.
―Andrea Martinelli, HuffPost Brazil
Spain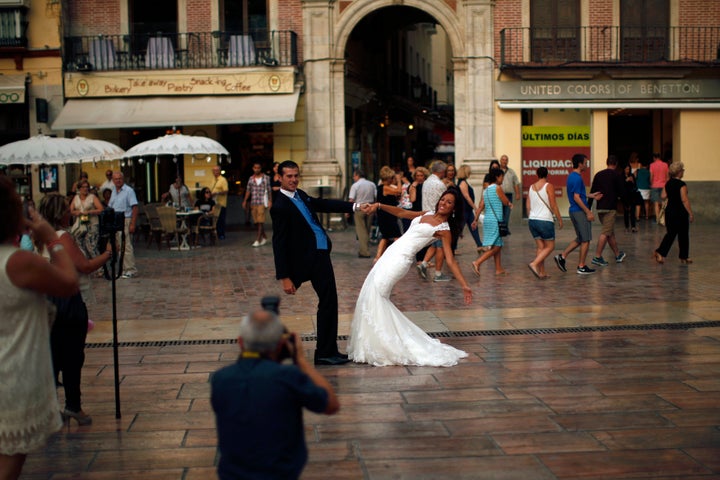 Spanish wedding ceremonies, whether religious or civil, always begin with the exchanging of rings. Traditionally, the groom walks into the church or town hall with his mother, and waits for the bride to be walked in by her father.
There are generally no bridesmaids in Spanish weddings, and instead of throwing the bouquet, the bride often hands it to a sister or close friend or saves it to be placed on a loved one's grave.
Wedding guests used to throw rice at the newlyweds, but these days, rose petals are usually used instead. After the ceremony, there's a long lunch or dinner, often followed by a party with an open bar.
― Margarita Lazaro, HuffPost Spain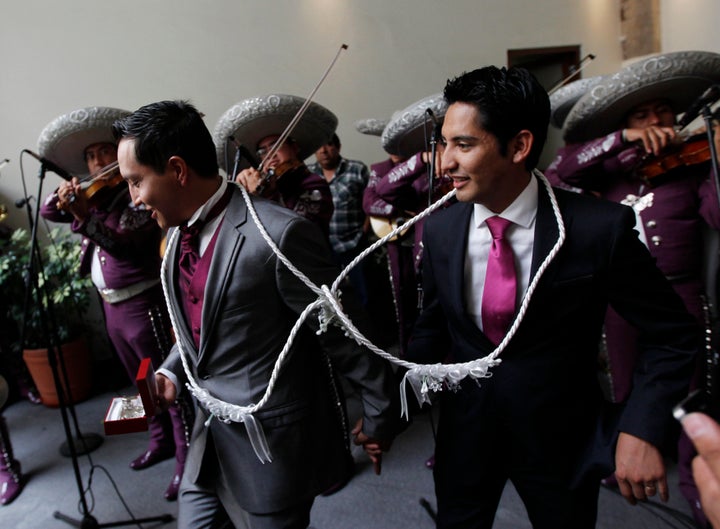 Mexican wedding ceremonies are similar to Spanish ones, but the parties tend to be more elaborate affairs. We celebrate with a huge Mexican fiesta in large venues that can receive hundreds of guests. In some weddings, people play a traditional singing game called "la víbora de la mar," or "the sea snake," in which two people raise their arms to form an arch, and whoever passes under the arch takes a shot of tequila.
There's usually an expansive desert table featuring snacks and traditional Mexican candies — often made with chile, chamoy and tamarind. In states with warmer climates, you'll also find alcohol-flavored popsicles.
There's often mariachi music at midnight, and a second meal is served before the wedding ends — closer to dawn!
― Roberto Sierra, HuffPost Mexico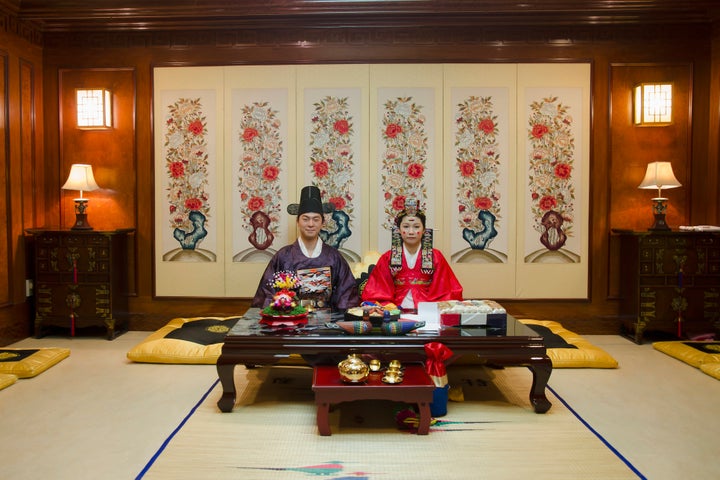 While many Koreans are opting for Western-style weddings in which the bride wears a white gown, some couples are still carrying out the "Pyebaek" — a Korean wedding custom.
The Pyebaek is held after the official ceremony, and is when the bride pays respects to her parents-in-law for the first time. The newlyweds bow deeply before the parents, and they exchange jujube and chestnuts — symbols for children and good fortune.
― Sujean Park, HuffPost Korea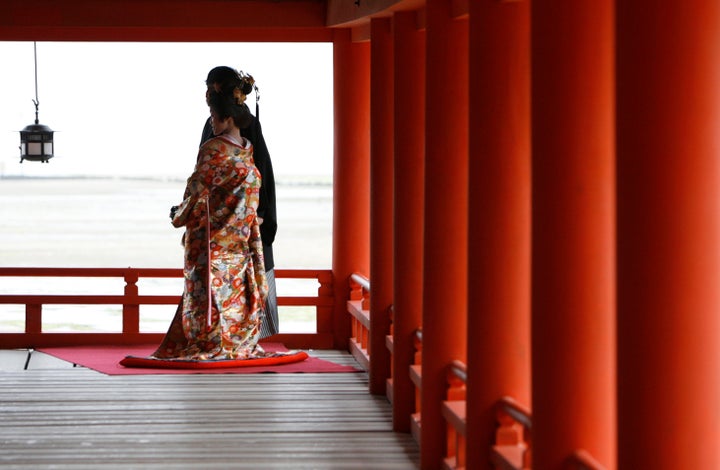 For Japanese weddings, it's customary for guests to bring cash as a gift for the newlyweds. The amount depends on the guest's relationship to the couple — on average, friends would give $300, and family members may give up to $1000.
The bills should be unfolded, freshly printed and lack any creases. They're typically enclosed in a special envelope signed by the guest. Guests leave the envelopes at a reception desk at the ceremony and receive wedding favors in return.
― Ryan Takeshita, HuffPost Japan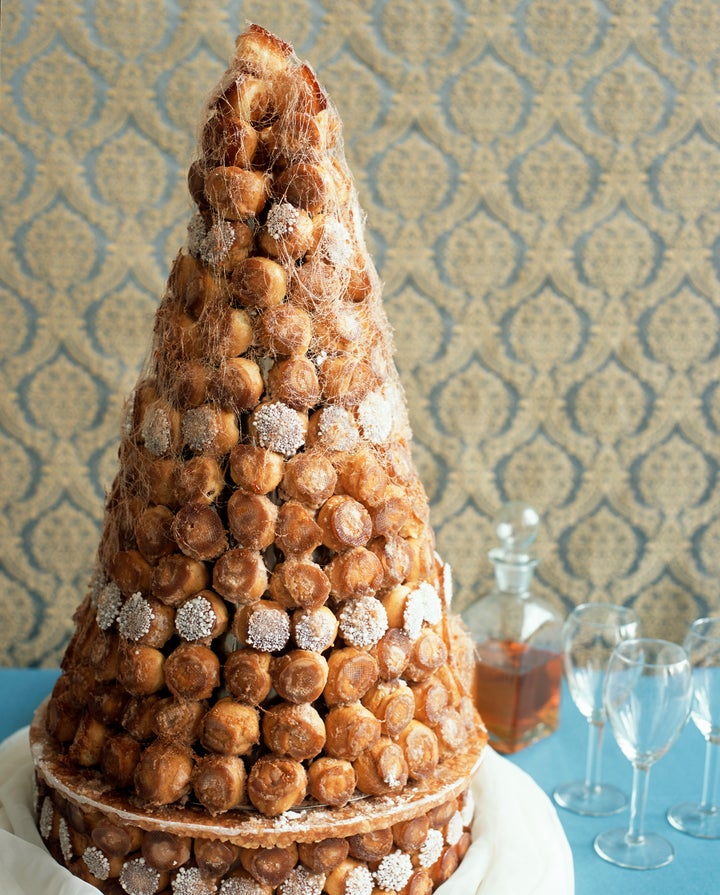 After the civil ceremony at city hall and, in some cases, a religious ceremony, the wedding party and dinner begin, which can easily last up to 5 hours.
The cars the newlyweds take from one venue to the next are often heavily decorated with colorful ribbons, and the drivers honk loudly in celebration.
Everyone looks forward to the wedding cake ― a mountain of small cream puffs dubbed "chou à la crème."
After the long wedding celebration, guests might wake up the sleeping newlyweds and feed them onion soup.
― Sandra Lorenzo, HuffPost France
United States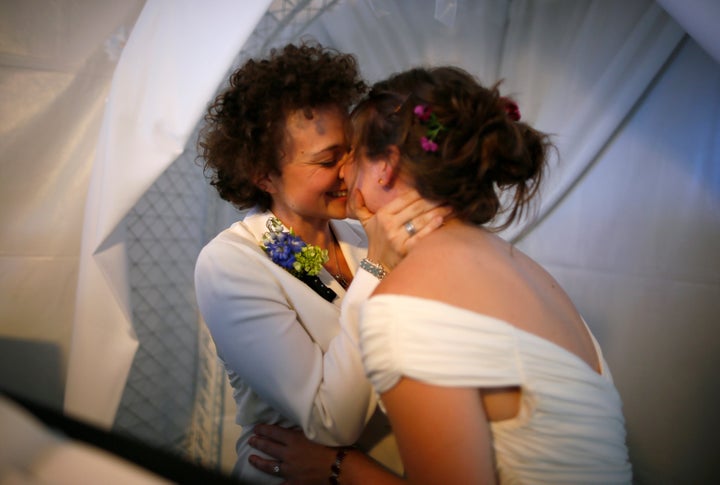 For good luck, brides in the U.S. sometimes incorporate "something old, something new, something borrowed, and something blue" into their wedding attire or accessories.
A close family member may provide one of these good luck charms as a gift, or the bride may choose them herself. The items might include jewelry, shoes, a garter, a hanky, a bouquet charm, a ribbon or a special memento sewn into the dress.
Another tradition is for couples to freeze the top tier of their wedding cake and eat a piece together on their first anniversary as a way to celebrate the occasion. Just make sure you remove any decorations and wrap/store it properly so it's safe and enjoyable to eat! These days, some cake makers will even prepare a special (and separate) mini cake just for this purpose that is wrapped perfectly and ready to be popped in the freezer.
― Kelsey Borresen, The Huffington Post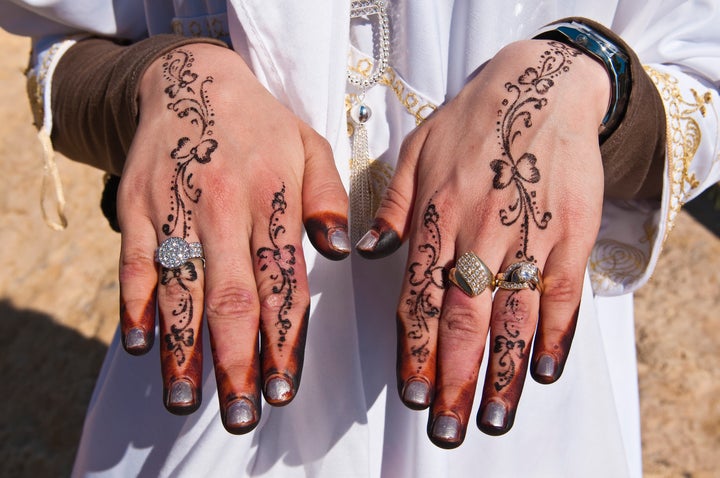 These days, some young, urban Tunisian couples are opting for simple wedding parties. For everyone else, there is an elaborate seven-day celebration.
On day one, known as the "Saboun," the bride's female family members and friends prepare her trousseau, decorate her new home and assemble her new clothes and toiletries. On day two, or "Hazzen el Farch," guests visit the couple's new home and close friends and family attend the "Henna," a party where henna paste and rose water are applied on the bride's hands and feet.
There is a second, bigger "Henna" party the following night, when the henna is reapplied and a group of female musicians play traditional songs. On day four, the couple participates in an "Outiya," when the groom gives the bride jewelry and everyone dances in traditional Tunisian garments.
On day five, the bride's friends take her to a hammam, where she can get a traditional steam bath. They sing and dance, and the mood is very intimate. The groom holds a private dinner for his family members on day six, followed by a night of music and dancing.
On the wedding day, the groom meets the bride at her parents' home, and before heading to the ceremony location, they share a cup of milk — which symbolizes purity and a happy life. When they're not dancing with their guests, the newlyweds sit on two large throne-like chairs like royalty.
― Rihab Boukhayatia, HuffPost Tunisia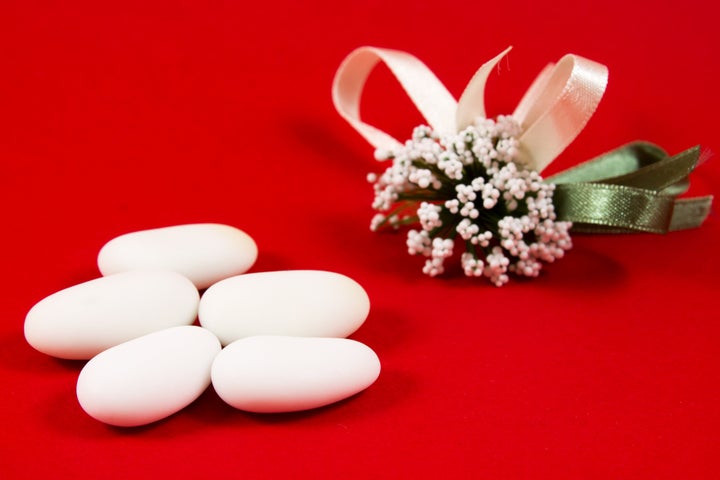 Italians often say, "Di Venere e di Marte ne'si sposa ne' si parte," which basically means that you should never get married or leave for a trip on a Tuesday — which is dedicated to Mars, the god of war — or Friday — the day the evil spirits were created.
Italian tradition also indicates that couples should avoid scheduling their wedding during Lent, Advent, and the months of May and August.
Once they've found a date that won't bring them bad luck or illness, the festivities can begin. One of the most popular traditions in Italian weddings involves the bride's garter. During the 17th century, bachelors at the party would steal the garter and attach it to their hats. Nowadays, the groom removes the garter off the bridge's leg and tosses it to a group of bachelors.
In terms of wedding favors, guests should always receive an odd number of sugared almonds — so that they are indivisible, as a marriage should be. Traditionally, there are five almonds in the party favor box, representing such things as health, wealth and happiness. Contemporary weddings tend to feature a confettata, or a candy table, with an assortment of almonds that guests can choose from.
― Linda Varlese, HuffPost Italy
This story originally appeared on HuffPost Greece. It has been translated into English and edited for clarity.