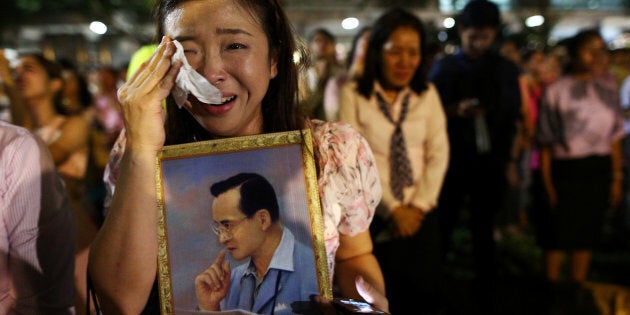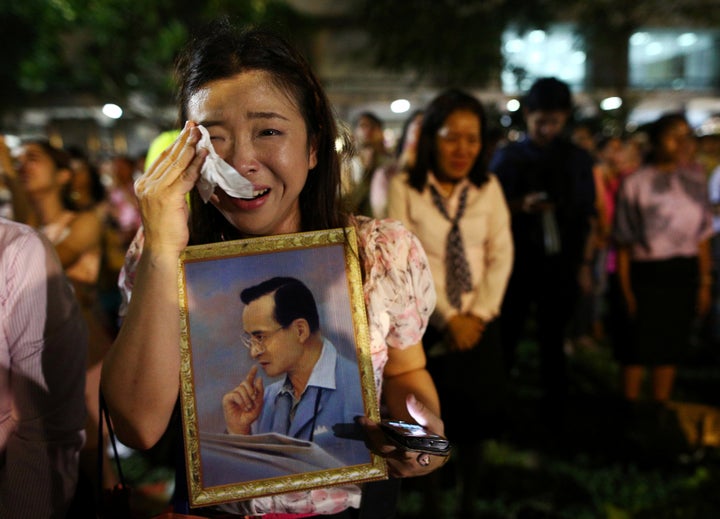 Thailand is in a state of national mourning after its king, Bhumibol Adulyadej, died at the age of 88. The king was the world's longest-serving monarch up until his death on Thursday and a key pillar of Thai society for generations.
Distraught citizens held pictures of King Bhumibo and prayed in the streets of the Thai capital of Bangkok. Many who gathered outside Sirraj hospital, where the king had been receiving care, wore pink in an attempt to bring him good luck.
King Bhumibol was a beloved figure in Thailand. His image is ubiquitous in the Southeast Asian country and many Thai citizens regard him with an almost spiritual reverence.
Thailand is officially a constitutional monarchy, but the king played a huge role in government affairs. During his 70-year reign he served as a consistent political force amid coups and political upheaval. The country has been under the rule of a military junta since 2014, after a coup that the king endorsed.
King Bhumibol's death now pushes Thailand into a period of uncertainty as his lesser known son Maha Vajiralongkorn is set to assume the throne. The new king may not hold the same public and political clout as his father, leaving questions as to what groups or individuals will emerge as significant power brokers.
Thailand's strict lese-majeste laws that protect the country's senior royals from insult or threat made open discussion of the king's potential death and plans for succession difficult. In 2015, a man faced up to 15 years in prison for a Facebook post involving the king's dog that was deemed to be defamatory.
These photos capture just how revered the king is, as the country grapples with their monarch's death.