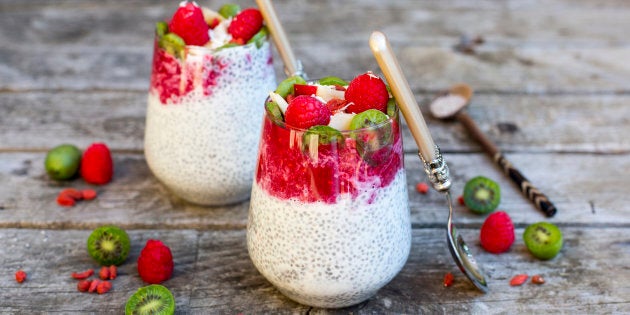 If you're reading this, you probably ate instant mie goreng for dinner last night, are paying for your lattes with five cent coins and have become a complete social hermit for the sake of your dwindling savings account.
We feel you, which is why these quick, easy meals and snacks you can make at work are where it's at.
Buying lunch every day may be one of the reasons we're in this position before payday in the first place, but let's not get into that. This is about what delicious foods we can make in the office that are easy on the wallet.
These recipes from Made in the Office by Rachel Maylor include lunch, breakfast and even a snack. Imagine falafel pita pockets, zucchini ribbons with cheese, tropical chia pudding, apple crackers, and one-jar soba noodles with an Asian-style dressing.
All you need is a microwave, toaster, mug and a few minutes to spare.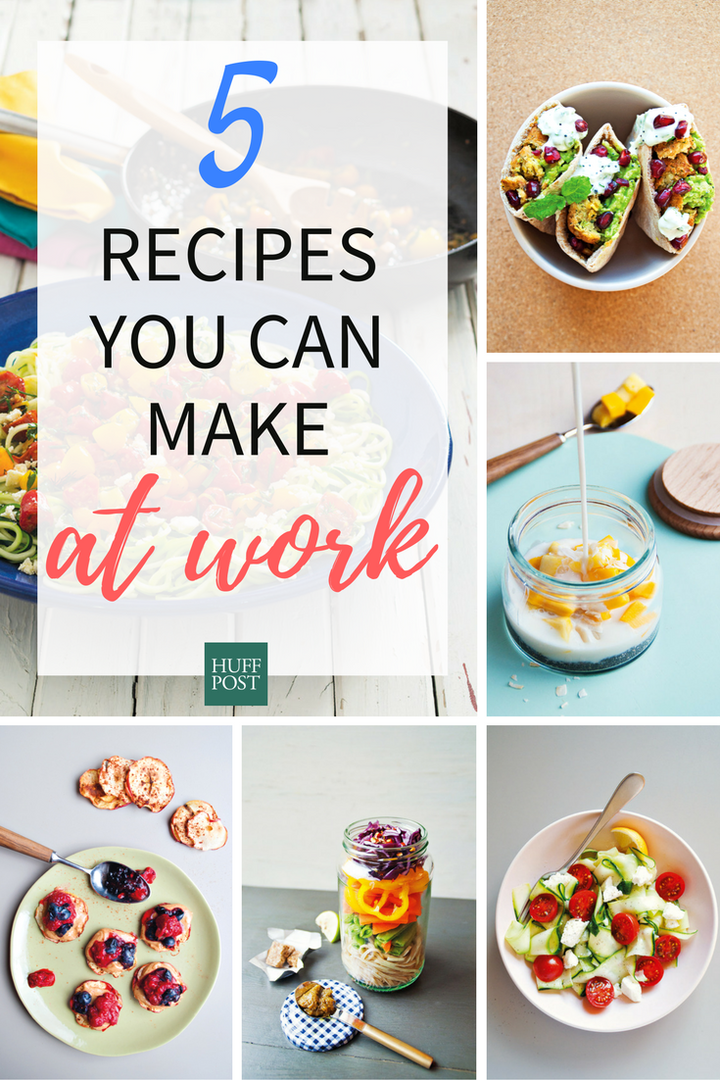 1. Tropical overnight chia pot
"This really is such an effortless breakfast. You can make it during your lunch hour or just before you leave at the end of the day -- it'll be ready and waiting for you the next morning," Maylor said.
Time: just over five minutes (plus overnight refrigeration).
INGREDIENTS
¼ mug chia seeds
¼ small pineapple
¼ ripe mango
½ mug coconut milk
1 teaspoon honey or agave nectar
Coconut chips
Mango and pineapple for raspberries and strawberries, pomegranate and orange, blueberries and peaches
Coconut milk for almond milk, rice milk, oat milk or soy milk
Coconut chips for mixed seeds, nuts or dried fruit
METHOD
1. Pour the chia seeds into a jam jar or mug.
2. Using a sharp knife, cut a small section off your pineapple. Slice the skin off this section and discard. Chop the pineapple into segments around the hard core, so that it can be easily removed. Cut these segments into small chucks and tip them into the jar, along with any leftover juices and pulp.
3. Take your mango and slice off a small section. Cut into the flesh length and widthways to create a small checkerboard of chunks. Slice just deep enough to create the pieces but be careful not to pierce the skin. Use a spoon to scoop out the mango chunks and tip them into the jar along with the pineapple.
4. Next add the coconut milk and honey. Seal the jar with a lid, or tightly cover your mug with some cling film/plastic wrap, and give it a good shake to mix everything together.
5. Pop the jar into the fridge and leave to set overnight.
6. The next morning, tip the mixture into a bowl and top with some crunchy coconut chips.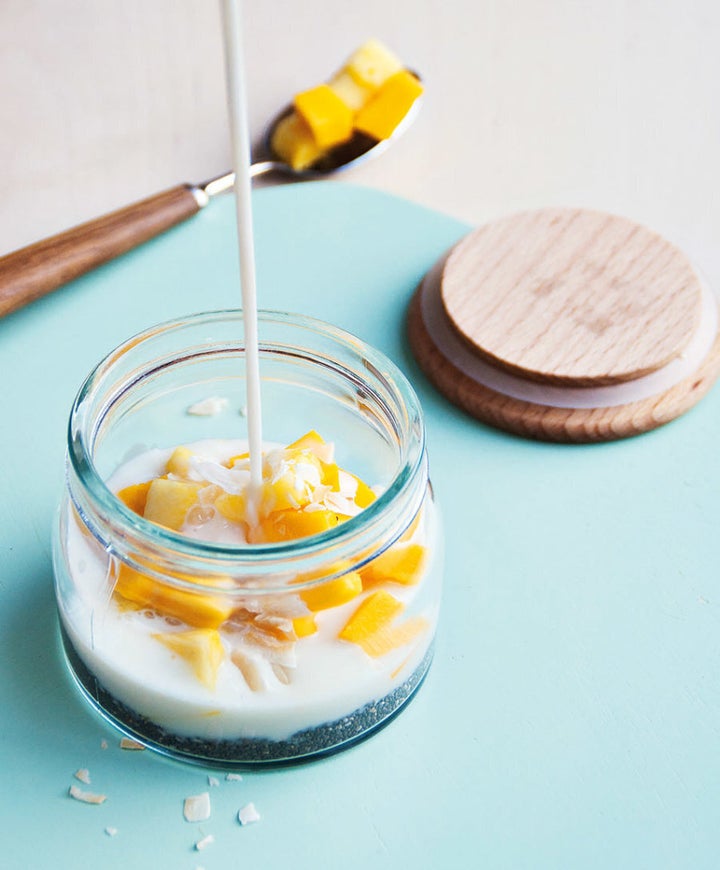 2. Falafel and pomegranate pita with a seeded yoghurt dressing
"These pita pockets will take you a matter of minutes to throw together. Falafel balls are quite tricky and time-consuming to rustle up from scratch, so I've cheated a little here and used pre-made balls you can buy in packets from the supermarket," Maylor said.
"To make up for it, I've used my own mashed avocado accompaniment instead of shop-bought hummus. Perfect if you've got half an avocado leftover from earlier in the week."
Time: just over five minutes.
INGREDIENTS
½ avocado
A squeeze of lime juice
Salt and pepper
1 or 2 wholemeal pita breads
4-5 falafel balls
2 tablespoons pomegranate seeds (optional)
A few mint leaves
1 tablespoon natural yoghurt
½ teaspoon olive oil
A pinch of poppy seeds
METHOD
1. Scoop the flesh from half an avocado into a bowl. Mash with the back of a fork until soft and spreadable. Add a squeeze of lime juice, a pinch of salt and pepper and mix it all together.
2. In a separate bowl make the dressing. Finely dice the mint leaves and mix them with the yoghurt, half a teaspoon of olive oil and a pinch of poppy seeds.
3. Put the pita in the toaster.
4. Next, place the falafel balls on a microwaveable plate and heat on a medium setting for 45-60 seconds until warmed through.
5. Now take the pita out of the toaster. Cut it in half and gently open the pockets. Spoon the guacamole and yoghurt mixtures into the pockets along with the pomegranate seeds. Crush the falafel balls and push them into the pittas with your fingers. Garnish with a few more pomegranate seeds and any leftover yoghurt.
Note: Swap guacamole for hummus if you like.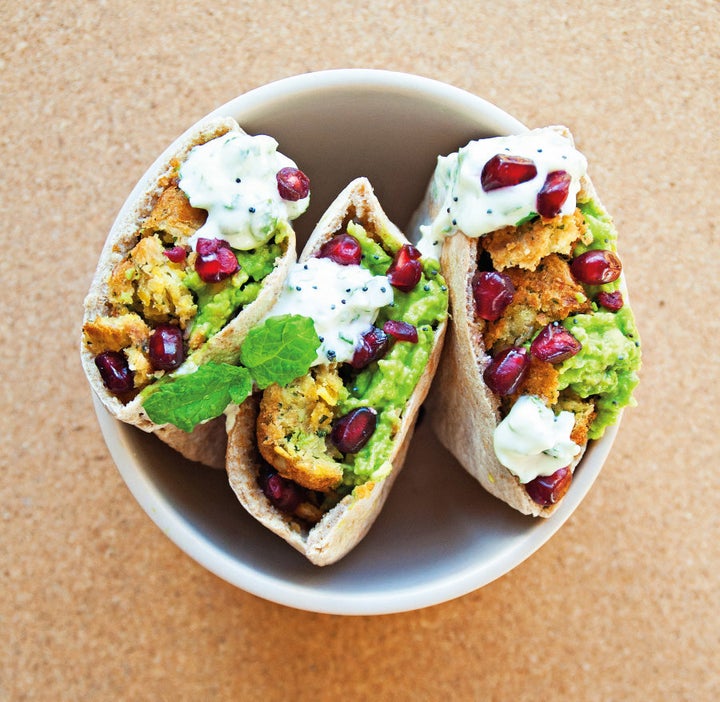 3. Zesty zucchini ribbons
"Thin strips of zucchini are a healthy alternative to pasta -- just add a burst of citrus and some creamy goats' cheese for a taste of summer," Maylor said. "Scale up by topping with some cooked prawns or a poached chicken breast."
Time: just over five minutes.
INGREDIENTS
½ small garlic clove, grated
A squeeze of lemon juice
1 teaspoon of olive oil
Salt and pepper
1 large zucchini
¼ teaspoon chilli flakes
1 handful of cherry tomatoes or sundried tomatoes
1 heaped tablespoon soft goats' cheese, feta or cheese of choice
A couple of slices of crunchy ciabatta bread (optional)
Poached chicken breast (optional, recipe below)
METHOD
1. In a bowl or mug, mix together the grated garlic, lemon juice and olive oil. Add a pinch of salt and pepper and set aside.
2. Chop off the ends off the zucchini and using a vegetable peeler, peal once or twice from top to bottom all the way around to remove the skin. Discard this and then peel again on one side from top to bottom to form long, thin ribbons of zucchini. Keep going to about midway through the zucchini and then turn over and repeat the step on the other side of the zucchini.
3. Place the zucchini ribbons into the bowl with the lemon and garlic oil. Sprinkle the chilli flakes on top.
4. Chop the cherry tomatoes in half and add them to the bowl. Place a plate over the bowl and give it a shake to toss everything together.
5. Lastly, crumble over the cheese, add a pinch of salt and pepper and tuck in.
Cooking chicken and turkey
Chicken or turkey cooked in the microwave is both tender and moist.
1. Place a chicken or turkey breast in a microwave bowl and cover with cold water. You can also add stock to the water if you like for extra flavour. Add a pinch of salt and pepper and a squeeze of lemon juice and then cover with a plate or cling film/plastic wrap.
2. Microwave on high for three minutes. Once done, cut into the thickest part of the breast with a knife to check it is cooked -- the flesh should be white throughout. If still pink, microwave for another 30 seconds at a time until cooked through.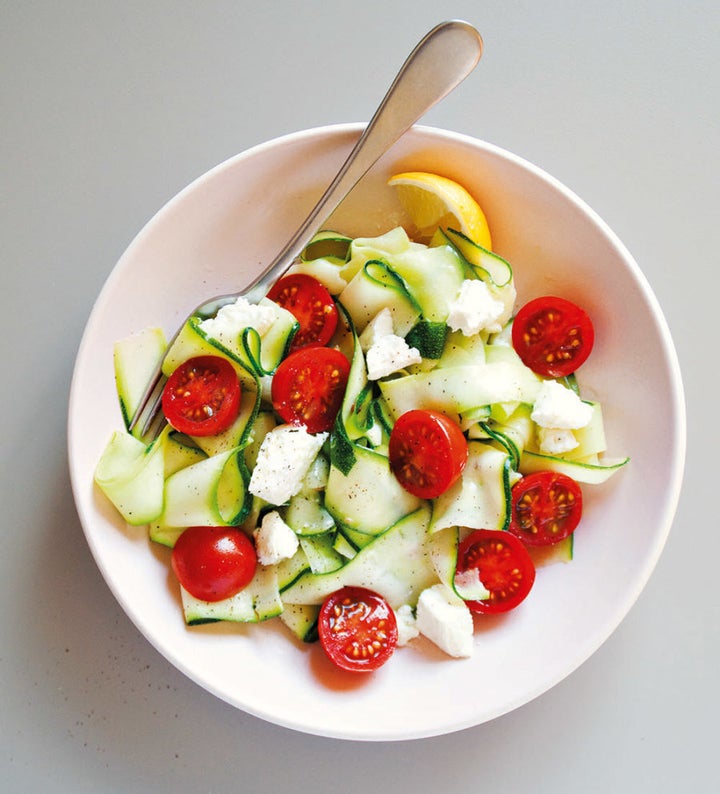 4. Apple crackers with almond butter and mashed berries
"Dried apples are a brilliant way to scratch that 4pm sugar itch," Maylor said. "Here I've topped them with some almond butter and crushed berries, but they're just as moreish on their own."
INGREDIENTS
1 large apple
A sprinkle of cinnamon
1 tablespoon raspberries
1 tablespoon blueberries
2 tablespoons almond butter
Almond butter for peanut butter or cashew nut butter
Raspberries and blueberries for sliced banana and strawberries
METHOD
1. Cut the top and bottom off the apple and thinly slice it horizontally, removing the pips as you go.
2. Cover a large microwave plate with a piece of parchment paper (I find tracing paper works for this too). Lay the apple slices onto the paper ensuring none of them overlap. Sprinkle with the cinnamon and then microwave on high for three minutes, or until the edges of the apple slices turn upwards.
3. While the apple cooks, tip the raspberries and blueberries into a bowl and gently mash with the back of a fork.
4. Once the apple slices have turned up at the edges, take them out of the microwave and turn them over. Pop them back into the microwave and heat on high for another 30 seconds.
5. Once cooked, take the apple slices out of the microwave and set them aside for two minuted. They will crisp as they dry out.
6. When the slices have crisped, pop them on to a plate and spoon a small amount of almond butter on to each slice. Top with the mashed berries and another pinch of cinnamon.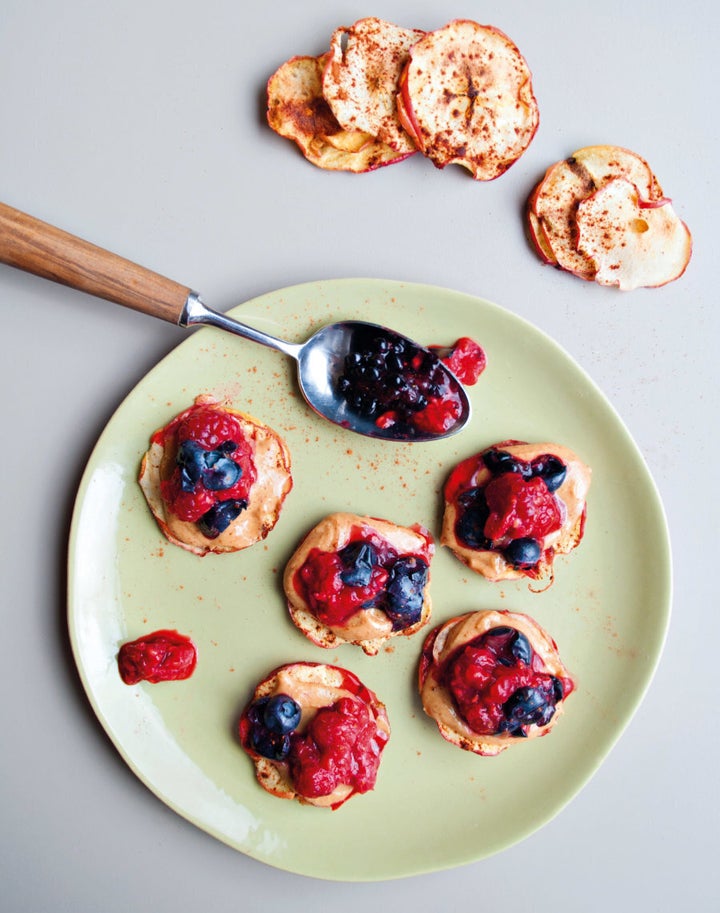 5. One-jar noodle soup
"This is a really flexible lunch method -- you can use any vegetables you have to hand, so it's rarely the same twice," Maylor said.
"The staple ingredients are noodles and a stock cube, and everything cooks neatly in a jar."
INGREDIENTS
1 nest of dried noodles (I use wholemeal or soba noodles)
1 teaspoon miso paste
1 tablespoon soy sauce
1 teaspoon tom yum paste (or ½ teaspoon thai red curry paste)
A squeeze of lime juice
A pinch of chilli flakes
A few drops of hot sauce (optional)
1 small capsicum
½ carrot
A handul of red cabbage
1 spring onion
A handful of sugar snap peas
A handful of beansprouts
Salt and pepper
½ vegetable stock cube
A few coriander leaves
METHOD
1. First, boil the kettle -- you will need enough water to fill the jar and cover the nest of noodles in a separate bowl. Put the noodles in a bowl, pour over some boiling water and cover with a plate or cling film/plastic wrap. Set aside for two to three minutes to soften, or just one minute if you're using rice noodles.
2. While the noodles par-cook, take a mug and add the miso paste, soy sauce, tom yum paste and lime juice. Sprinkle in a few chilli flakes and stir everything together. If you like spice, add a few drops of hot sauce (I use Tabasco).
3. Drain the water from the noodles and tip them into a large jar. Pour over the miso paste.
4. Next, chop the pepper, carrot, cabbage and spring onions and add them to the jar, along with the sugar snap peas, beansprouts and a pinch of salt and pepper.
5. In a mug, crush the stock cube with the back of a fork and fill the mug with boiling water. Stir until the stock cube is dissolved. Pour the stock over the contents of the jar, making sure everything is covered. Top the jar up with some more boiling water if you need to.
6. Add a handful of coriander leaves, seal the jar and leave to stand for a couple of minutes. The stock will deepen in colour as it mixes with the paste. Open the jar, give it one last stir and slurp away.
Note: Swap out and add whatever vegetables you like. To bulk out the meal, add cooked king prawns or chicken to the jar just before you add the stock.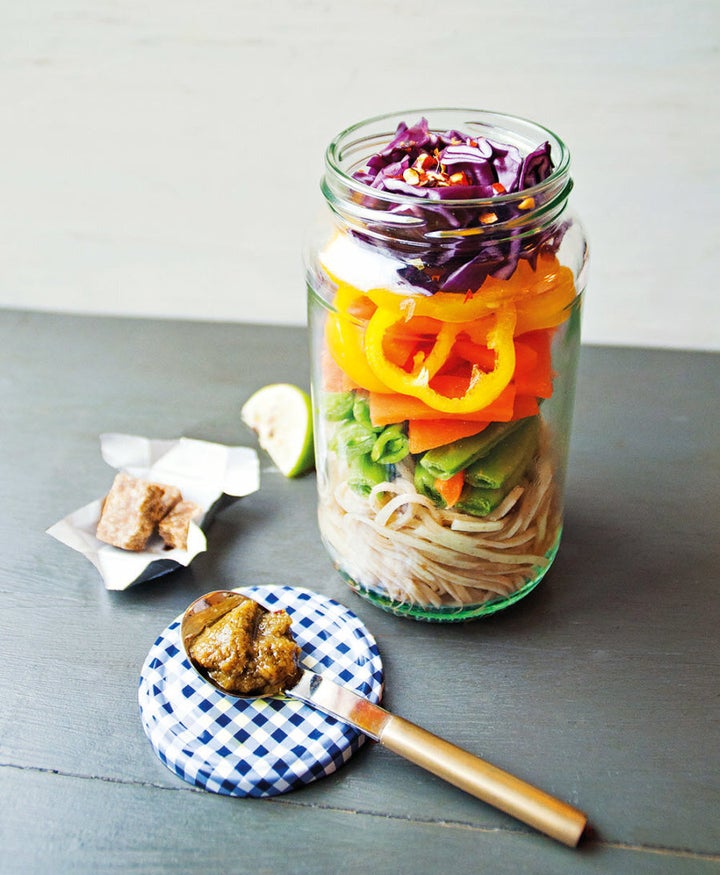 Recipes and images from Made in the Office by Rachel Maylor, published by Frances Lincoln.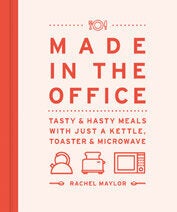 Click below to follow HuffPost Australia on Snapchat!