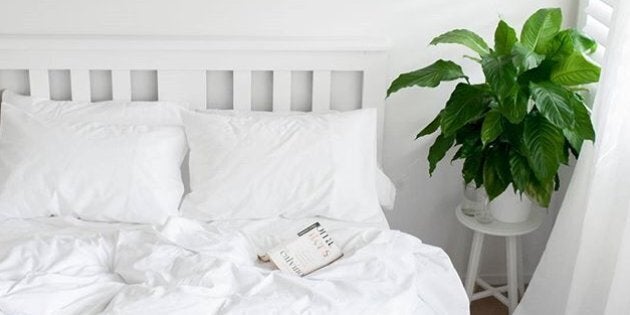 Making and dressing your bed takes your bedroom from boring to stylish with only a little effort.
It also means creating an uncluttered space for you to relax and more importantly, get a good night's sleep.
"Hotels use brilliant white to create the illusion of more space as well as enabling the bed to become the centrepiece of the room. And it's always best to stick with high quality bed linen in pure white, natural colours," Foster said.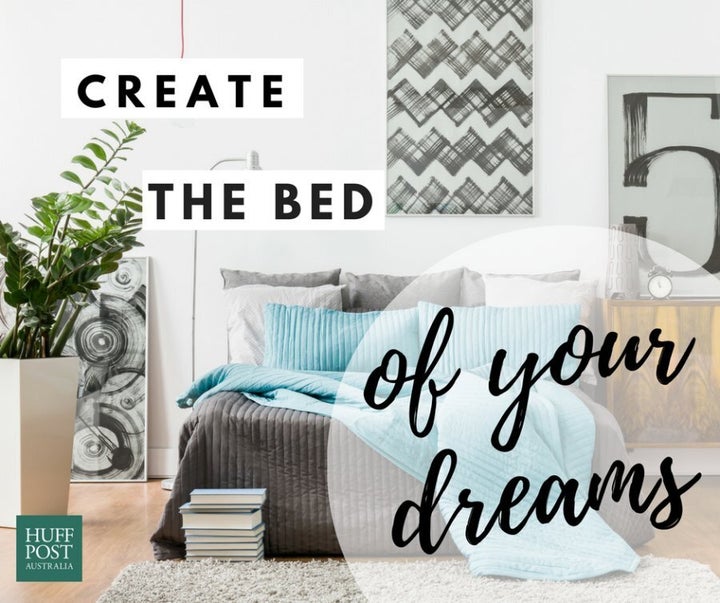 Back to basics
"Start with a plain base colour for your sheets and duvet. Think white, dove grey or charcoal which can be easily matched to your decor and then bring in some colour," Lamb told HuffPost Australia.
Foster adds, "Look for quilt covers that have clean lines, hidden buttons and an uncluttered, luxury feel."
Ensure your fitted sheets actually fit!
"They should fit properly taking into account mattress sizes differ in depth and also increase if you add mattress toppers," Foster said.
Learn how to quickly do hospital corners for summer flat sheets. Unsure how? Check out this tutorial.
Forget the iron
Yes, you read that right. It's ALL about keeping the style relaxed -- plus it will save you time and money.
"Whether you have flax or cotton linen sheets, you don't need to waste time or money ironing and pressing them," Foster said.
"Line dry if you can to keep sheets both whiter and with a beautiful look," Foster said.
Mix and match
"Go back to your colour wheel and make sure opposite colours are matching. Otherwise pick one colour palette and mix and match different hues to create a bit of contrast and mood," Lamb said.
"This year we're seeing lots of blues come through, so navy, sky blue as well as pops of green, aqua and teal," Lamb said.
Bring in a print
As for incorporating print and patterns Lamb advises investing in a printed sheet rather than going all out on a printed duvet or quilt which can quickly feel outdated.
"Having a printed sheet folded over the top of your duvet is going to give your bed a hint of fun without being too overpowering," Lamb said.
Though if you've already got a printed duvet, make sure you're choosing a block colour underneath for the flat and top sheet to break it up (or vice versa).
Consider monogramming
As we've seen with purses, phone covers and notebooks, monogrammed pillow cases is a trend we'll be seeing more of this year.
"This is a great option for those who like to keep it simple though are looking to add a little extra something," Lamb said.
Add some character
"Don't go for the conventional throws you see in the homewares stores," Lamb said. Instead, choose something that adds a bit of quirk to the room like a fake sheep skin or something unique to you.
Foster recommends drawing on patterns from your travels, loves or experiences like deep indigo from Japan, coastal striped blues, beautiful Turkish Ikat or Australian charcoals, earthy colours and deep greens.
"At the end of the day, styling a bed is most importantly about creating a sanctuary for you," Foster said.
A final note
"If you're guilty of having a 'floor-drobe' get hold of a few beautiful natural woven baskets, patterned or wooden boxes and place them at the end of the bed as a means to get rid of the clutter of clothing, coat hangers or shoes that too often lurk on the bed or floor throughout the day," Foster said.
"This is often a feature in styled photo shoots but has a wonderfully practical side too," Foster said.
Click below to follow HuffPost Australia on Snapchat!