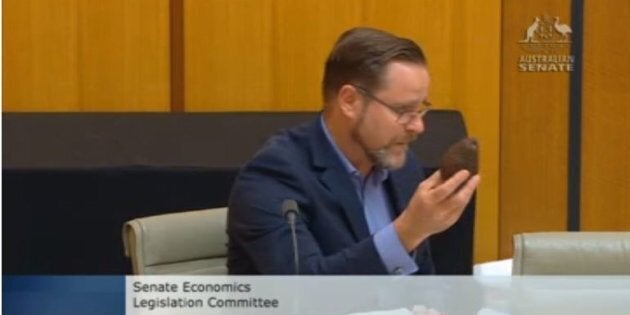 The unlikely link between delicious breakfast toast and the property market has come under scrutiny in the federal parliament, with the boss of the treasury department saying housing affordability for young people was a "worry".
In a Senate estimates hearing on Wednesday, treasury secretary John Fraser was up before the economics committee. Greens senator Peter Whish-Wilson turned the conversation to how the treasury department is addressing housing affordability for young people and lower-paid people.
Fraser said it was "unfortunate" that young people had been locked out of the housing market, and that many are forced to rely on parents to scrape together a housing deposit.
"I haven't found many people who are not saying we've got to help the kids," he said.
As Whish-Wilson turned the questioning to young people, he came prepared with a relevant prop:
"Have you managed to upgrade your advice for the price of smashed avocado in this country? Do you agree with Bernard Salt that young Australians are spending too much money on $22 smashed avocado at cafes rather than saving to invest for a house?" Whish-Wilson asked.
Yes, smashed avocado came up in parliament. Here's a bit of background.
Demographer Bernard Salt wrote in The Australian over the weekend that young people buying "smashed avocado with crumbled feta on five-grain toasted bread at $22 a pop" was contributing to their inability to buy a home:
"I can afford to eat this for lunch because I am middle-aged and have raised my family. But how can young people afford to eat like this? Shouldn't they be economising by eating at home? How often are they eating out? Twenty-two dollars several times a week could go towards a deposit on a house."Bernard Salt in The Australian
The glib line kicked off a social media storm, with many quick to point out other factors -- such as soaring home prices, the high costs of tertiary education, the decreasing prospects of well-paying stable jobs after education, negative gearing and an eye-watering property boom across the country -- may be more to blame than the occasional breakfast of avocado and cheese.
The Guardian put together this informative interactive that showed you would to skip more than 9000 avocado toasts to scrape together an average house deposit in Sydney, while Junkee wrote this piece explaining the other non-avocado-related difficulties young people face in entering the housing market, and others shared graphics showing that, actually, young people are spending less on luxuries and more on housing than generations past.
Back in estimates, Fraser's answer to the avocado question began with a joke that he'd like someone to check out the "exorbitant" cost of coffee in Melbourne, but soon returned to the issue at hand.
"It's a huge issue. A big factor is the wealth is in houses. That's the circle we've got. High prices, high wealth, people feel comfortable about taking more debt... It's a worry. The bank of mum and dad is becoming more and more prevalent," he said, referring to the practice of young people being forced to borrow money from parents to afford a housing deposit.
"It has impacts on superannuation, where super is going to, impacts on why people are saving in their older years to fund their children's housing needs."
"This is an issue that is prevalent around the world."John Fraser
Whish-Wilson pointed to the 35 percent rise in house prices in Sydney in recent years, saying the number of new homebuyers had fallen dramatically.
He asked what treasury was doing about the issue.
"The most important thing coming out of the studies is supply issues. It's a supply issue predominantly," Fraser said.
"I think the only thing we can do short-term that is sensible, in terms of the supply side, is facilitating land release, helping with building regulations, getting a proper balance, and of course productivity in the building sector."