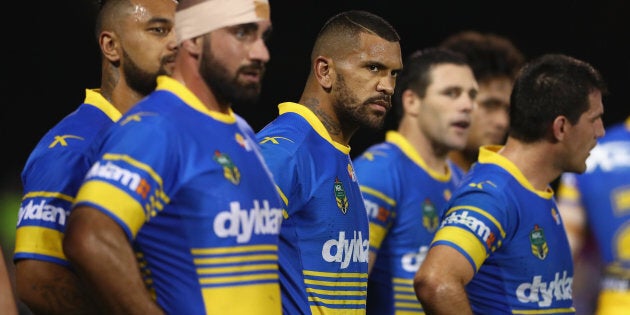 The Parramatta Eels Salary Cap scandal -- which saw the embattled NRL club stripped of 12 competition points and fined $1 million earlier this year -- has taken a dramatic turn, with four prominent player managers raided on Friday morning by police from the NSW fraud squad.
As background, the Eels have been a club in turmoil for years. They were fined $525,000 in 2015 for repeated salary cap breaches the two previous seasons. Despite implementing over 100 changes to the club's governance, the entire board was sacked after this year's salary cap scandal broke.
As further background, NRL clubs have up to $6.1 million to spend on the salaries each season of their top 25 players. That's the cap, and it's designed to even up the competition. The Eels this year were found to be $3 million over the cap since 2013.
Thursday's raids are part of the ongoing investigation into the systemic salary cap rorting. It is alleged players were paid "under the table".
Shortly after 9.30am police with search warrants arrived at the homes or offices of four player agents.
All four are prominent managers. They are Sam Ayoub, George Mimis, Paul Sutton and Wayne Beavis -- who acts on behalf of Jarryd Hayne, the former Parramatta star turned NFL player who has returned to the NRL with the Gold Coast Titans.
Former Eels chief executive Scott Seward told the NRL earlier this year that several of Beavis' clients were the beneficiaries of a series of off-the-books payments.
In one case which illustrates the lengths agents go to, a third party payment deal was struck by one of the agents named above on a napkin in a cafe. This, despite the fact that all NRL third-party agreements must have the written approval of the NRL's salary cap auditor.
Agents' fees range from 4 to 7 per cent of their players' earnings.
Salary cap deals are covered by the provisions of the NSW Oaths act, which can make it a criminal offence if such declarations are found to be knowingly false.
We'll add more information to this story as it comes through.