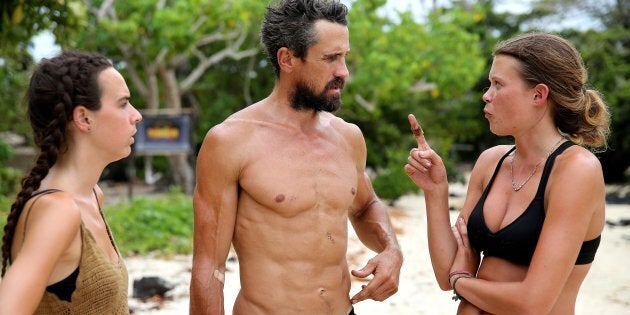 It's been a long and winding road for the cast of Channel 10's "Survivor Australia" with twists, turns and a whole lot of blindsides along the way.
Fans of the franchise have been kept guessing and as the the game enters it's final week, we'll no doubt witness peak sneakiness on the tropical island.
This week we saw Kristy, Flick and Matt form a new alliance while ex-cricketer Lee pulled out a secret award which saw fellow contestant Sam out of the draw to vote, ultimately sending him home.
So, with Kristy, Flick and Matt now a thing, it leaves Lee and El which suits them just fine, actually.
"It is my dream to make it to the end with Lee. Together, we are a power couple in this game and I think we could take on anything," El revealed earlier in Monday night's episode.
Whether or not a camp romance will work for or against Lee and El, time will tell.
And if it is in fact, true love, the chances of Lee being cast as next year's Bachy, much to the disappointment of fans, look slim.
As Sunday night's all-important tribal council approaches each castaway's moral values will be put to the test with many no doubt, flipping and deceiving in order to bring them closer to the prize.
And come Tuesday, it's back to regular life.
Click below to follow HuffPost Australia on Snapchat!