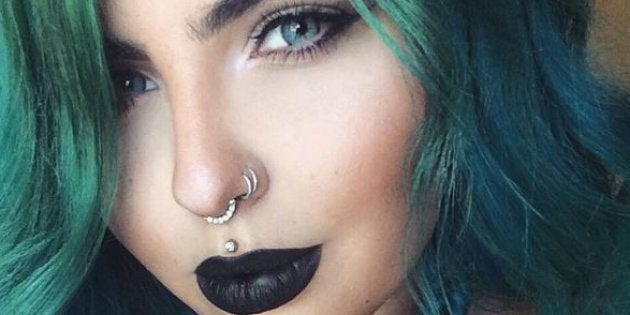 Jazmina Daniel hadn't yet celebrated her 15th birthday when she was diagnosed with a brain tumor.
Severely ill and constantly passing out at school, Daniel had no choice but to leave her friends and complete her year 10 studies from home between regular hospital visits and scans.
"At the time of the diagnosis there was so much we didn't know. We didn't know how long it had been there for, whether it was still growing and what symptoms would follow," Daniel told The Huffington Post Australia.
It was a waiting game. And with so much time at home, Daniel needed an outlet.
"I started playing with makeup and discovered I had a real passion for it. It helped me block out everything else that was going on -- it was therapeutic," Daniel said.
As a kid, Daniel always loved painting and drawing, and one day she began painting her face. Because, why not?
"I had this idea to paint an ice-cream on my lips. It was difficult to get it so small but I kept working on it, and eventually it looked really good," Daniel said.
It sparked something in Daniel and from that moment forward, her lips became a canvas for her imagination.
Two years later, Daniel's tumor suddenly began to grow. Rapidly and aggressively.
"It was getting dangerous because it was extremely close -- a millimetre or so -- to the part of my brain that controlled speech and movement," Daniel said.
She had a choice: leave it and risk a disability -- or have surgery.
Having the tumor removed posed its own risks but Daniel knew what she had to do.
At 17, while her friends were getting ready for adulthood, Daniel was having life-changing surgery.
Thankfully, the procedure was a success and now, at 25, Daniel is able to look back on that period as not so much a time of pain but rather as self-discovery.
"I believe that it was makeup that helped me get through it. In a way, it saved me," Daniel said.
Today, Daniel has one million followers on Instagram -- a platform that has enabled her to become somewhat of an inspiration for wannabe makeup artists around the globe, but also a source of support for people whose lives have been changed by a brain tumor.
Whether it's somebody who's going through the same thing or has a family member who's been diagnosed, Daniel said she makes the time to respond to them.
"It feels good that I can help people by sharing the experience I've had. And it feels good to give them hope," Daniel said.
More of this please, world.
Click below to follow HuffPost Australia on Snapchat!